Creamy, crunchy Apple Potato Salad that's sooo easy to prepare and perfect to enjoy with your rainy day meals!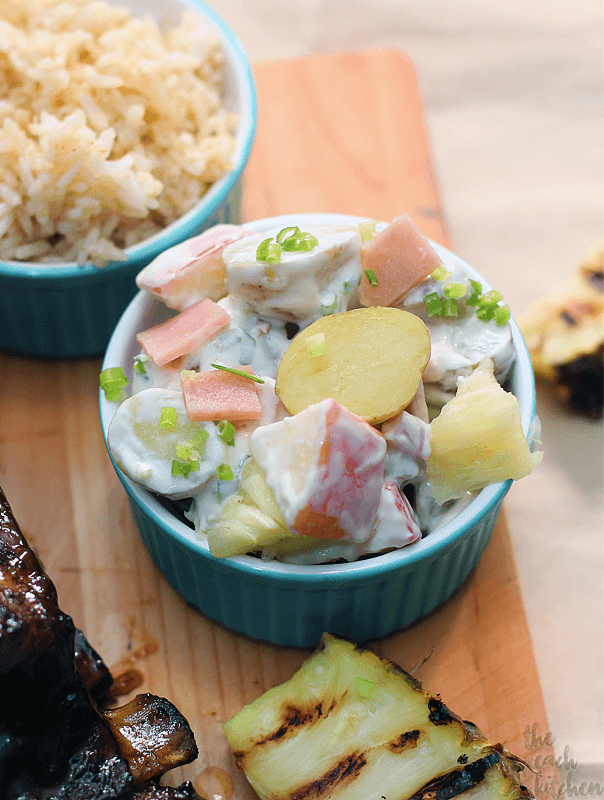 I thought you'd never ask. It's the most delicious side dish to roasted pork or chicken. It's awesome when eaten by itself as a snack too. Most of all, this Apple Potato Salad is the easiest thing to do…
You just gotta start with clean marble potatoes which goes right into a pot of water and gets boiled until tender. Just let it cool into room temperature and then combine it wit th rest of the ingredients in a large bowl. Mix Mix Mix until everything's combined
Transfer into a keeping container and let it chill in the fridge before serving…
No sweat, right?
Of course, THIS Apple Potato Salad was lovingly paired with Hawaiian Barbecue Ribs and Dirty Rice for lunch the other day….
But you can pair it with Roast Chicken as well.
I'm preparing myself for the weekend because I'm headed out for another event  and the last of Twinkle's monthly celebration…
Happy Weekend!
Print
Apple Potato Salad
3 cups

marble potatoes, scrubbed clean

3

ham slices, chopped

1 cup

mayonnaise

1

large fuji apple, diced

1/2 cup

diced fresh pineapples

2 tbsp

spring onions chopped
salt and pepper to taste

1 tsp

sugar
Instructions
Boil marble potatoes until cooked and let it cool into room temperature.
Combine all the ingredients in a large bowl and mix well.
Chill for 2 hours and it's ready to serve.
Enjoy it by itself as a snack or as a side dish to chicken or pork