This Hawaiian Barbecue Ribs will make you swoon with its sweet and tangy sauce. It's a perfect rainy day meal!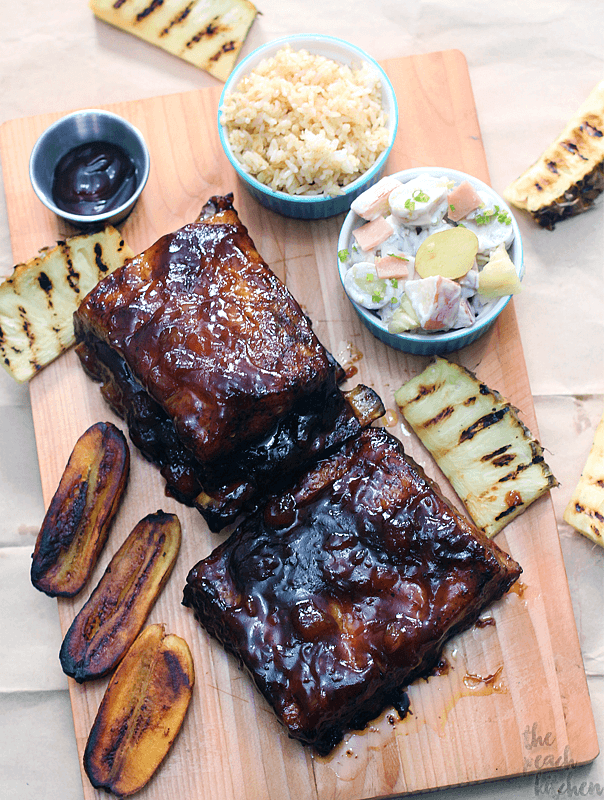 I love it when it rains in the evening… even in the afternoon.
I love it when there's soft cool air blowing in my face instead of the sweltering heat we experience every single day. The rain makes for a cooler evening and even cooler blow of the air conditioner.
Today for lunch is a meal maybe reminiscent of the Summer grilling and outdoor barbecues.. only everything was done indoor. Thank God for ovens, grill pans, and inspiration to make awesome lunch for the loves of my life…
We had the juiciest and tastiest Hawaiian Barbecue (Baby Back) Ribs, Apple Potato Salad, Dirty Rice, and Fried Saba. Yeah, you could say it was a production number and I'd say I was able to pull it off… and there was a standing ovation…
Everybody's tummy and tastebuds were happy.. my heart was happy.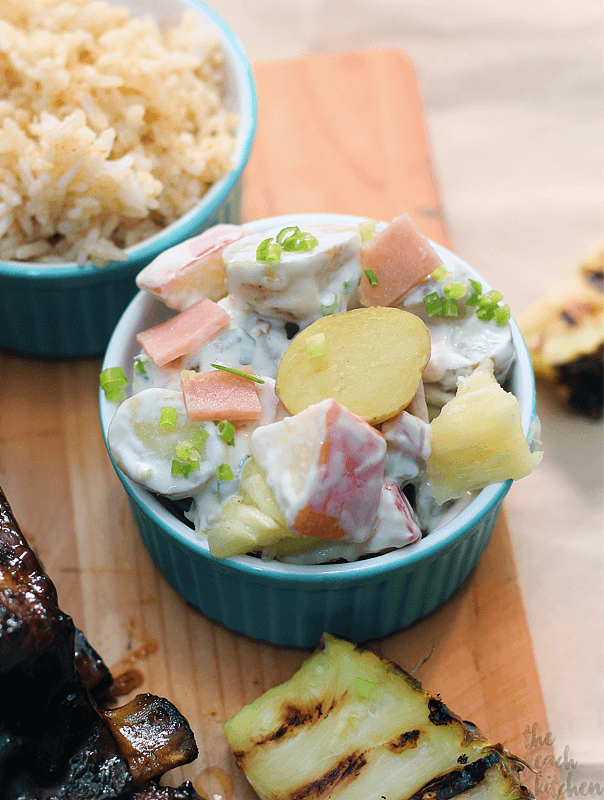 Can I just say I missed eating potato salad? That's why I made this creamy and crunchy Apple Potato Salad… It is just the perfect side dish to baby back ribs!!
Plus I had an easy-to-do "Dirty Rice". It needs a little improvement so I won't be sharing with you the recipe just yet.
*Wink* Wink*
After lunch, I got myself a nap with Twinkle, watched a couple of episodes of Scandal…. and inquired at this gym near our house.
Yeah, I've been contemplating on going to the gym for the last couple of months. I realized  Hip Hop Abs-ing at home is not working for me at this time because I see too much work and I get tired of my exercises (Boooring!) *Sob*. I haven't decided yet but I figured that if I go to the gym and there's a trainor then my exercises will be varied and it won't bore the hell out of me.
Wish me luck.
Print
Hawaiian Barbecue Ribs + Apple Potato Salad + Dirty Rice
Baby Back Ribs (around 1.1kg)

1 tsp

Salt

1 tsp

pepper

1 tbsp

brown sugar

1 tsp

spanish paprika

1 tsp

garlic powder

1 tsp

cumin

1 tsp

chili powder

1 tsp

instant coffee

1 cup

BBQ Sauce (I used Hunt's BBQ Sauce)

1 tbsp

Liquid Smoke

1/4 cup

Pineapple marmalade
Instructions
Preheat oven to 300ºF (150ºC). Cover your pan with aluminum foil.
Peel the silver skin (that's the film like skin) off the back of the ribs – lift with a sharp knife and grab with a paper towel to remove.
Prepare dry rub by combining the following ingredients in a bowl: salt, pepper, brown sugar, paprika, garlic powder,cumin,chili powder, and instant coffee.
Coat the baby back ribs with dry rub and place bone side down in your pan.
Cover with foil to prevent it from burning.
Roast Ribs in the oven for 2.5 – 3 hours depending on the thickness. This pair I roasted for 2.5 hours.
Combine BBQ sauce, liquid smoke, and pineapple marmalade in a bowl, mix well.
Brush all sides of ribs. Return in the oven without the foil cover and cook until bubbly.
Serve with apple potato salad, dirty rice and fried saba.