Suam Na Mais is a must during rainy days. It's a very flavorful soup you can eat as is or with rice.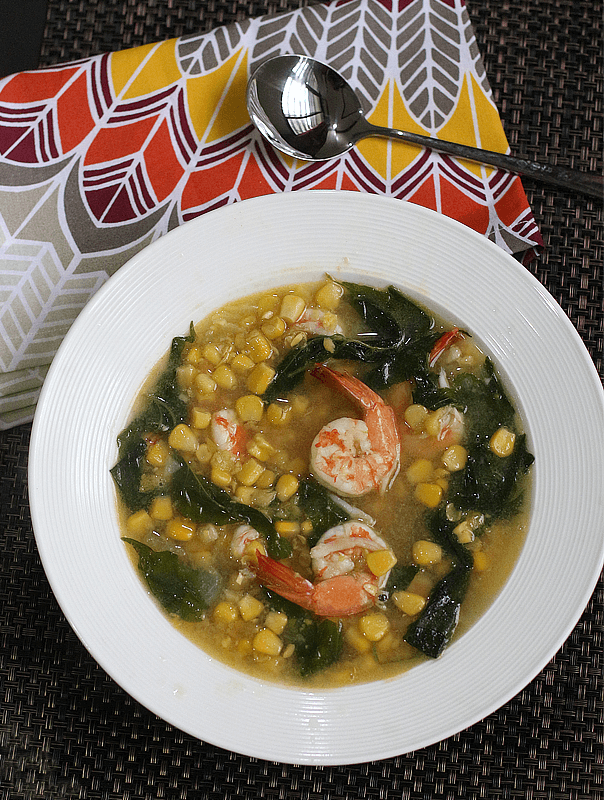 One of the soups that I've come to love growing up is Suam na Mais. I remember posting about it in 2009 and calling it Shrimp and Corn Soup.  This soup is one of our lunch staples during rainy days. Most recipes of Suam na Mais calls for chicken for flavoring but our family loves using shrimp as it gives a really nice flavor to the soup. As expected, it's carried over to my family now… this is one of the soups that they love.
I know I've told you that you have to use fresh corn and it is best to use because aside from bringing freshness to this dish,  fresh corn also thickens the soup a little. Since it's been raining for almost a week now, some vegetables are hard to find at the wet market — including corn — so I ended up using canned corn today.
It's still mighty tasty but not as thick as I want it to be… slurping soup on this cold, wet day is very calming. It's been such a stressful week and even a much stressful weekend.
Ykaie had been sick since thursday night. The fever went through friday and today. peanutbutter♥ and I thought it was just because of the weather. Today's check-up confirms she has tonsilitis and UTI! At least it's something that's easy to cure. She needs to take antibiotic for 7 days and that's it. Now, I can finally breathe because I know what's going on with her. I'm sure she'll feel so much better tomorrow.
How's your weekend so far? I knew you've been cooking soupy meals! Let's share recipes!
♥ If you make this recipe, be sure to snap a photo and tag @thepeachkitchen on Instagram (OR hashtag it #thepeachkitchen). I'd love to see what you cook!
Print
Suam Na Mais
2 tbsp

oil

1

white onion,chopped

3

cloves garlic, minced

1

can whole corn kernels

1

can creamed corn

500g

shrimp, shelled and deveined (heads saved to make shrimp broth)

8 cups

water

1

piece shrimp cube

2 cups

chili leaves
fish sauce to taste
Instructions
Make the Shrimp Broth: Boiling shrimp heads in 8 cups of water. Remove the shrimp heads by poring broth through a strainer into another pot/container. Set aside.
Heat oil in a pot.
Sauté garlic and onion until onion becomes translucent.
Add shrimp and sauté for a few seconds until shrimp becomes half-cooked.
Add shrimp broth, whole corn kernels, and creamed corn. Bring to a boil and simmer for a minute.
Add shrimp cubes and stir.
Turn off heat and add chili leaves.
Serve hot.