No campfire needed for this S'mores Dip and you still get that melted chocolate and gooey, toasted marshmallows deliciousness!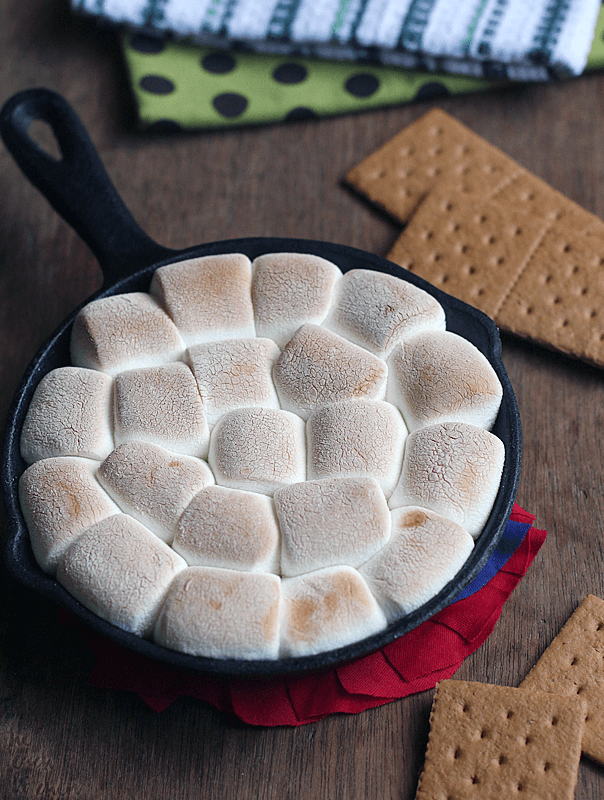 This is what you do when you have leftover marshmallows, Hershey's chocolate bar, and graham crackers at home. Those leftover ingredients are from these Chocolate Chip S'mores Cookies. Rather than eat each of those food items separately, I decided to turn them into dessert last weekend.
This is such an effortless dessert because all you have to do is layer them out, pop them in the oven, and you can enjoy them a few minutes after. You can put this in a microwaveable plate or bowl and microwave instead of broiling but don't! The charred, melty, ooey gooey toasted marshmallows makes a difference in taste.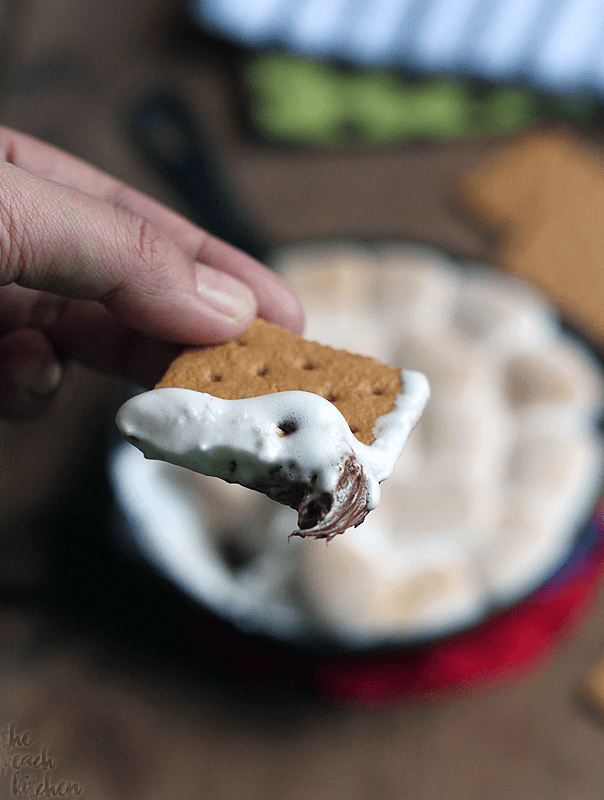 Dip a graham cracker and bite into heavenly gooey toasted marshmallows! I have no other words for you except this is really addicting.
It's been a loooooong tuesday for me. Sorry I haven't been cooking much lately but I'll be back in my regular programming after Twinkle's 1st Birthday. I promise.
P.S. I inquired at the gym yesterday. Crossing my fingers I enroll myself (and peanutbutter♥) next week.
P.P.S.
Should you decide to try out this recipe, don't forget to tag your photo #thepeachkitchen so I can share it on my Instagram/Facebook Page.
Print
S'mores Dip
2

Hershey's Milk Chocolate bars

18

–

20

Large Marshmallows
Graham Cracker Squares
Instructions
Preheat the broiler on high.
Unwrap your Hershey's Milk Chocolate bars and break them into the little individual pieces. Layer the Hershey's Milk Chocolate bars in a 6″ skillet.
Top the chocolate pieces with large marshmallows to fill the skillet.
Start on the outside and worked to the center until the skillet is full.
Place the skillet in the oven about 6 inches below the broiler. Broil for about a minute or 2 until the marshmallows are toasted just the way you like 'em. Remember to leave the oven door ajar when broiling and watch them closely. Marshmallows burn quickly.
Get your graham cracker squares and start dipping!