Chocolate Chip S'mores Cookies that's lower in calories and uses less sugar but still tastes as amazing……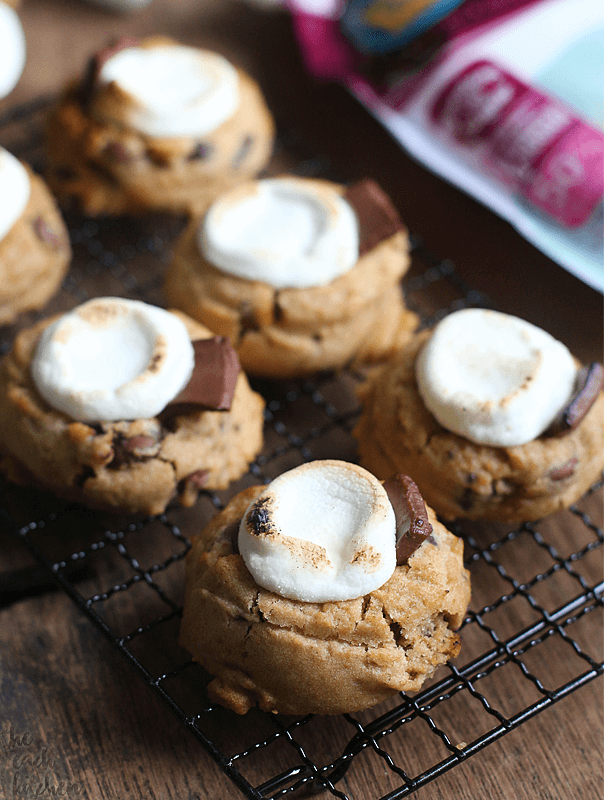 There's nothing that could get my family more excited than smelling something baking in the kitchen. We all love cakes, cookies, cheesecakes, cupcakes — anything that is sweet and spells d-e-s-s-e-r-t.
Just like any other Filipino household, as per the 2013 Food Consumption Survey by FNRI-DOST, sugar is also one of the most consumed food products here at home… that's especially because we love coffee (peanutbutter♥ and I drink 2-3 times per day) and because I bake a lot. I also use sugar in cooking specially on marinades.
I know that we were consuming a lot of sugars so earlier this year, I vowed to make an effort to cook healthier meals for our family. It was really hard and an EFFORT because we all have a sweet tooth. Thankfully, I discovered Sugar Blend.
What is Sugar Blend? Sugar Blend is a versatile and affordable sweetener product made with a blend of sugar and sucralose. It works well with all types of desserts and our everyday dishes that needs a little sweetness. Basically, anything that calls for sugar in the recipe. This can also be used to replace sugar in our coffee, tea, and juices.
Last night, I made some Chocolate Chip S'mores Cookies to surprise my daughter who is in a vacation at her Lolo and Lola. We're going to fetch her today and I just knew that she would love these cookies. How did I know that? Well, our love for anything s'mores is through the roof and making it a cookie is just something that she would think is amazing and cool.
What I found amazing and cool, though, is that it didn't change nor alter the taste of the cookies. Sugar Blend indeed sweetens like sugar. Normally, a recipe like this would call for 1½ cups of sugar. I only put  3/4 cup of Sugar Blend and it sweetens just as well.
I can just imagine that if I start using it, not only would our family consume half the amount of sugar we normally do, we would also consume half the calories. Yaayy!! that sounds like we're really on our way to being healthier.
Sinking my teeth into these delectable Chocolate Chip S'mores Cookies makes it hard to believe that it's made with only half the amount of sugar. It makes me feel good that I'm serving healthier versions of sweets and desserts. You may even #SweetAllYouCan if you want…
What do I love about Sugar Blend?
Sugar Blend is a healthier alternative for pure sugar. It deliciously sweetens our favorite food and beverages the same way as sugar but with only half the calories.
It is suitable both for cooking and baking.
It's healthier because you'll end up using only half as much Sugar Blend. 1 teaspoon of Sugar Blend (16kcal) is equals to 2 teaspoons of sugar (32kcal)
It's very affordable at only ₱89.00 at supermakets nationwide.
One pack can sweeten up to 100 cups of coffee. That's great news for a coffee drinker who needs to cut back on sugar!
It is made by a trusted brand that guarantees expertise in calorie saving solutions.
Give this Chocolate Chip S'mores Cookies a try and I'm so sure that you and your family will love it.
To know more about Sugar Blend, follow Equal Philippines Facebook Page.
♥Should you decide to try out this recipe, don't forget to tag your photo #thepeachkitchen so I can repost it on my Instagram/Facebook Page.

Chocolate Chip Smores Cookies Made with Sugar Blend
Ingredients
2½ all purpose flour
1 cup crushed garham cracker
1¼ tesp baking soda
¾ tsp salt
1 (8oz) unsalted butter, softened
¾ cup Sugar Blend
2 eggs
2 tsp vanilla extract
1¾ cup semi-sweet chocolate chips
18 large marshmallows cut in half
Hershey's Bar, 1 link cut in half
Directions
Preheat oven to 350ºF and prepare a parchment lined baking sheet.
In a large bowl, combine the all purpose flour, crushed graham cracker crumbs, baking soda, and salt. Set aside.
Cream the butter and the Sugar Blend until light and fluffy. Scrape down the side of the bowl. Continue mixing while adding the eggs one at time. Make sure each egg is incorporated before adding the next one
Add the vanilla. Scrape down the bowl with a spatula.
With the machine on low, slowly add the flour mixture. Mix until just combined.
Fold in the semi-sweet chocolate chips with a spatula.
Using a small ice cream scooper, scoop cookie dough onto your baking sheet about 1 inch apart.
Bake your cookies for about 8½ minutes.
Remove your tray from the oven and top each cookie with half a mashmallow and half a hershey's bar link.
Place cookie sheet back into the oven to bake for 1 ½ minutes.
Remove from the oven and allow to rest for a couple more minutes on cookie sheet before moving to a cooling rack.
Consume after 1 hour, if you can wait that long. I ate some after five minutes...