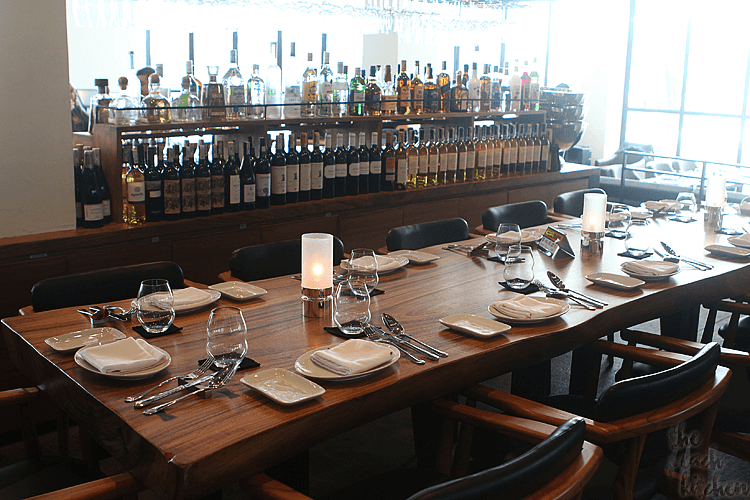 One of the goals of Luigi Vera and Richie Yang of Am-Phil Group and their partners is to raise the bar of Italian food in the Philippines. That's why when the opportunity arose to bring a taste of true Neapolitan cuisine to Manila came up, they wasted no time and brought home Salvatore Cuomo & Bar which opened it's doors last June 2, 2016.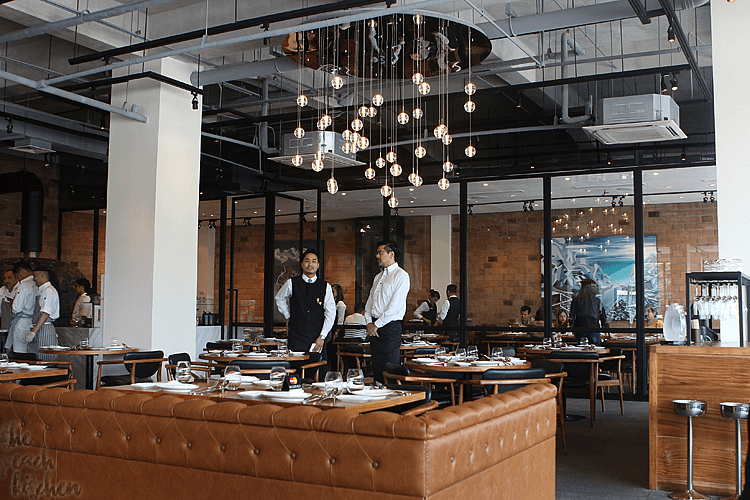 Salvatore Cuomo & Bar is where fine dining and casual dining meets in between to bring about premium casual dining where one need not worry about what they wear or how they would act. They need only to bring their appetite, look forward to good quality food and premium service in an elegant restaurant without the stiff ambiance, and enjoy a fine meal.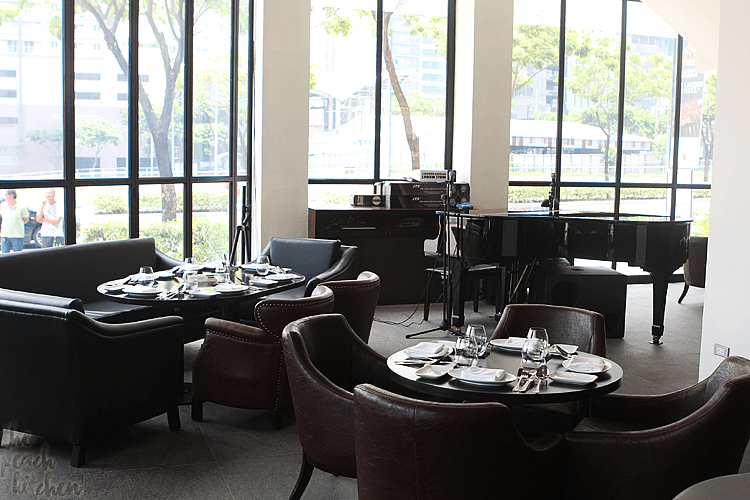 Upon entering the restaurant, peanutbutter♥ and I were greeted with a hearty "buon giorno" at the door. We were welcomed by a modern and elegant ambience complemented by high ceilings and exposed pipes that gives the place an industrial feel.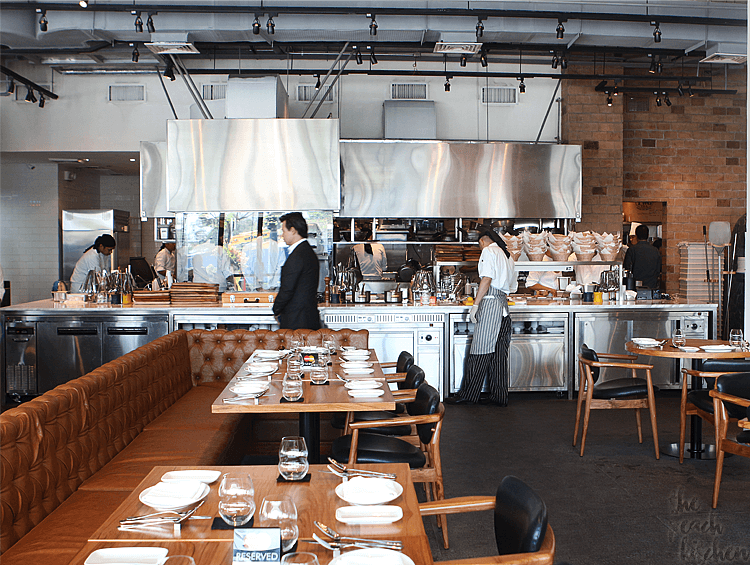 Guests can see how the dishes are prepared in the open kitchen, where chefs are hard at work perfecting each order to be served by the efficient staff. They are being trained by a Japanese team from the kitchen, dining, and barista/bar in Salvatore Cuomo Japan, who are currently in Manila to help with the opening.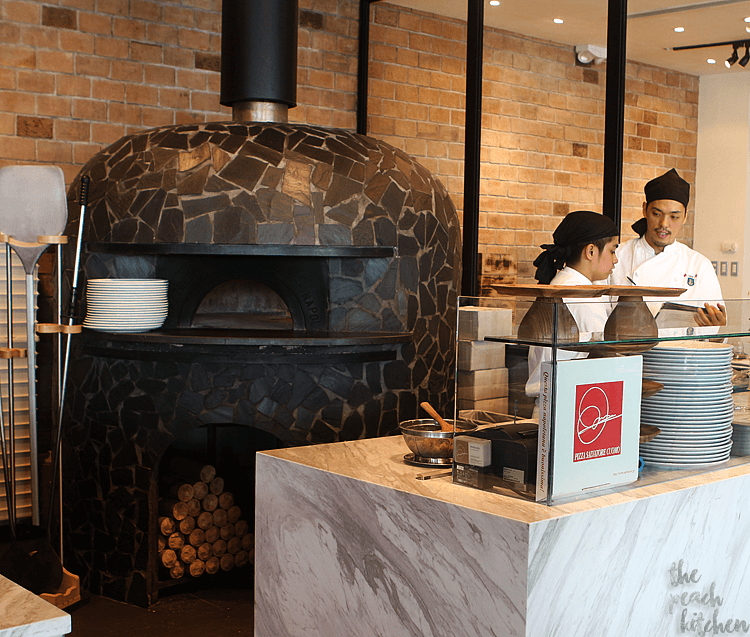 A custom-made oven for their pizzas was even shipped from Naples, Italy. The oven uses a combination of local beech wood and imported composite wood that gives the pizza its distinct taste and texture.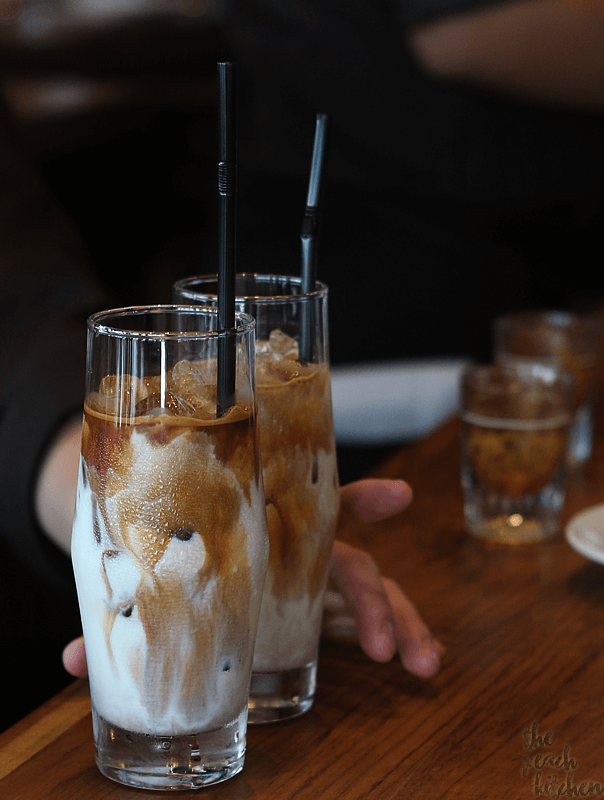 What I am so thrilled about is that they serve premium coffee by Paul Bassett which just tastes heavenly. Paul Bassett, Australia's famous coffee prodigy, won the World Barista Championship at the age of 25. He sources coffees of the highest quality and have refined roasting and brewing techniques, which best highlight the coffee's intrinsic characteristics.
Italian food is best paired with good coffee after a hearty meal but a tall glass of Iced Latte was actually our starter for lunch that day…..
There was a complimentary bread basket served with a small plate of olive oil for dipping. The bread basket contained what seemed like Rosemary Focaccia and this round chewy bread called Zeppole, an italian pastry that is kinda like donut holes only it's fried. Their Zeppole is flavored with seaweed, responsible for its umami taste. Oh, I think I could easily finish a basket of Zeppole in one sitting if I wasn't to share it with my lunchmates that day.
To go with the bread basket is this Caprese con Mozzarella di Bufala (₱750), a fresh salad made with fresh buffalo mozzarella, cherry tomatoes, basil, and arugula drizzled with olive oil. I love caprese salad and I'm telling you that this one is made of the freshest ingredients, you can tell by the softness of the buffalo mozzarella and the sweetness of the cherry tomatoes. The serving is quite big for an appetizer and it can be shared by five especially when you pair it with the complimentary bread.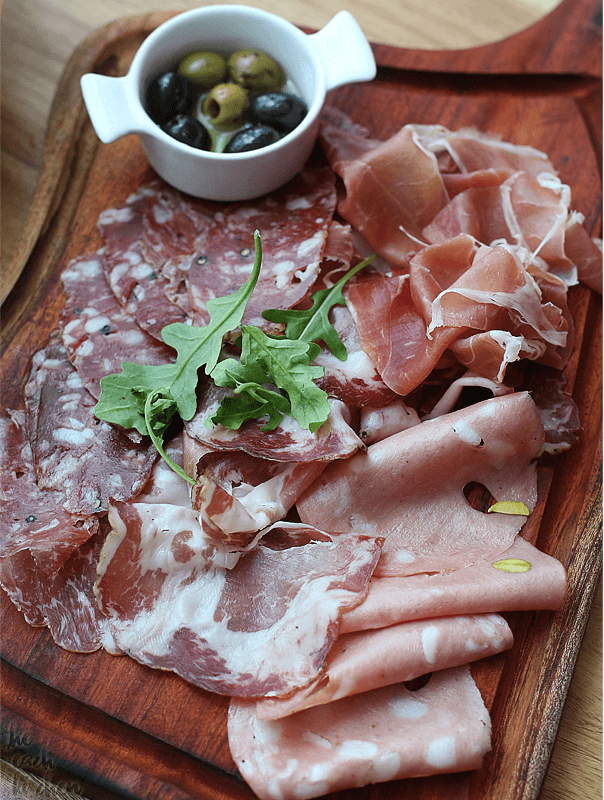 Tagliere di Affetatti (₱960), a chopping board full of assorted fresh parma ham, neapolitan salami, and mortadella ham sliced paper thin and served with some marinated olives on the side. Oh how I was tempted to ask for a glass of wine! This is the perfect appetizer!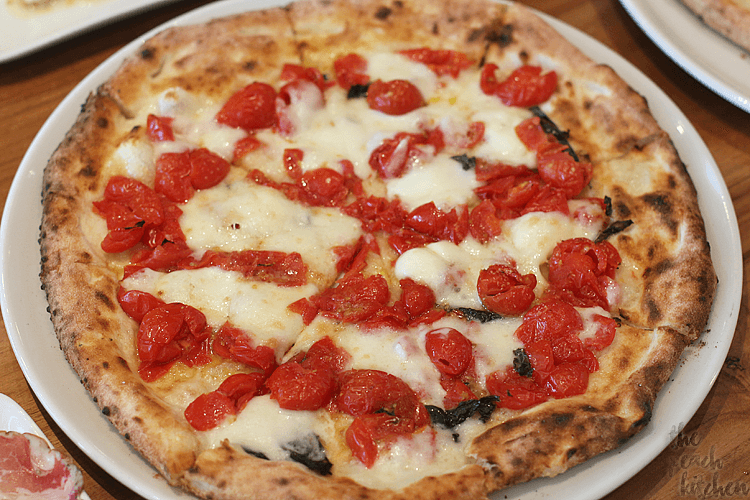 Salvatore Cuomo is hailed to be the the pioneer of Neapolitan pizza in Japan so expect nothing less from his Neapolitan pizza. This D.O.C. or Denominazione Di Origine Controllata (₱680)is not to be missed. An original pizza creation by Chef Salvatore that uses fully-ripened cherry tomatoes, a luxurious amount of bufala mozzarella, basil, and a splash of olive oil layered on a delicate crust.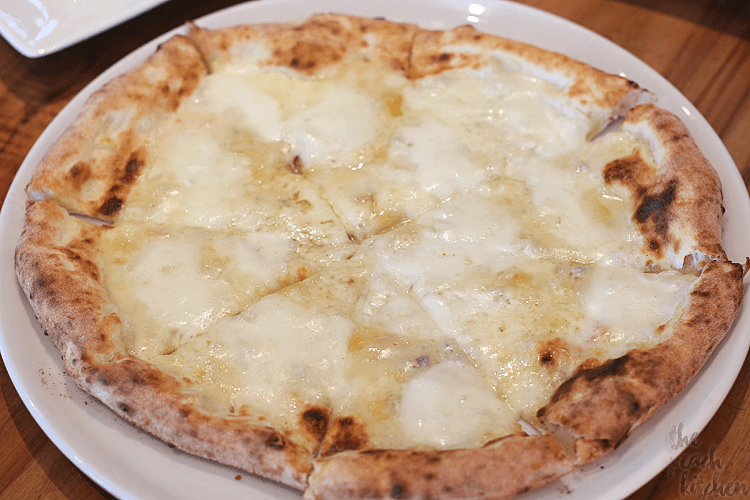 And the Quattro Formaggi (₱750) is made from four kinds of cheese that is just bursting with flavor. The crust has the right kind of chewiness into it and a bit of a crisp towards the outer part.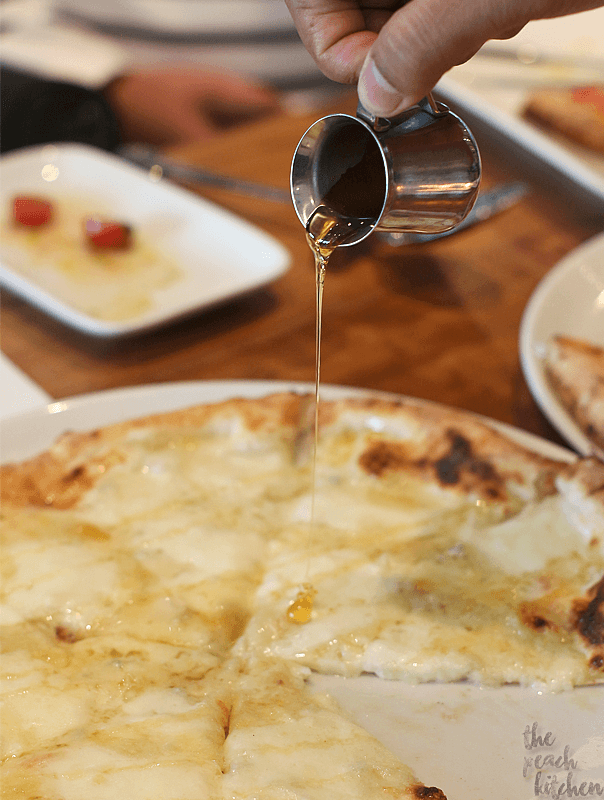 A drizzle of honey gives it a little sweetness that could only enhance its flavor….and would of course, just whet the appetite of this sucker to a sweet and salty combo.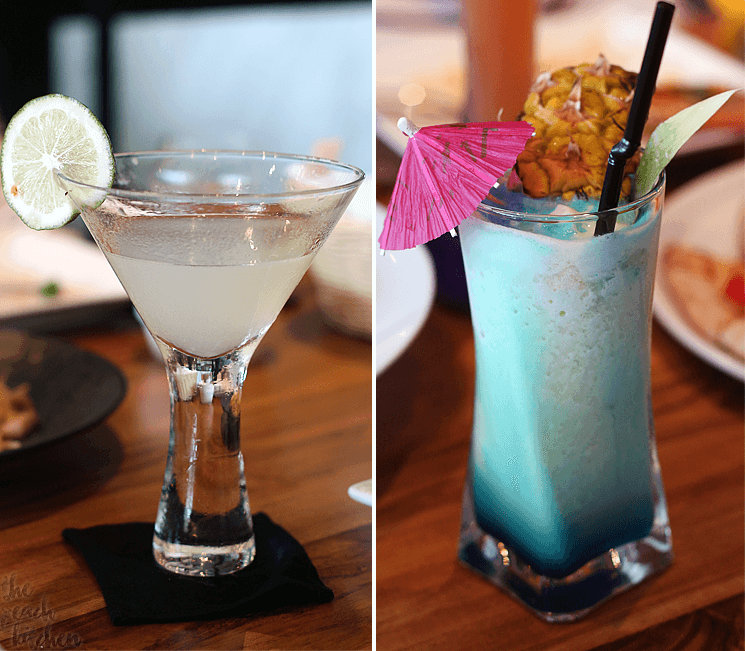 peanutbutter♥ had a Hemingway Daiquiri (₱350), a blend of rum, maraschino liqueur, and fresh lime. I, on the other hand, had the Rooftop Blue Hawaii (₱380), a smoothie of fresh golden pineapple, fresh lime, rum, and blue curacao. I didn't think this has alcohol when I ordered it but when I felt the heat a few minutes afterwards, I realized it had some. Oh my gosh, I really feel hot and sweaty even with very little alcohol…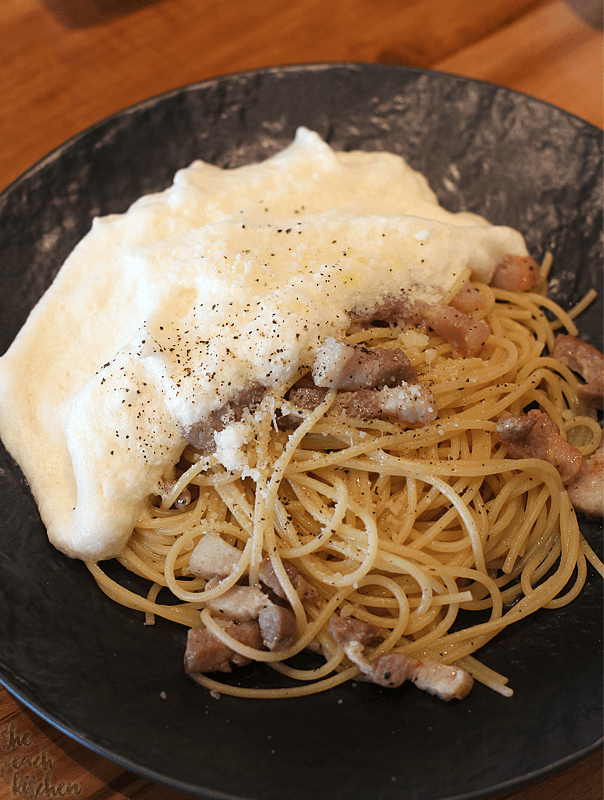 The Spaghetti alla Spuma di Carbonara (₱480) is quite okay, the white sauce is whipped and became airy. I think if you prefer lighter cream based pastas then this is for you but for me who prefers a denser, creamier carbonara this won't be in my order list.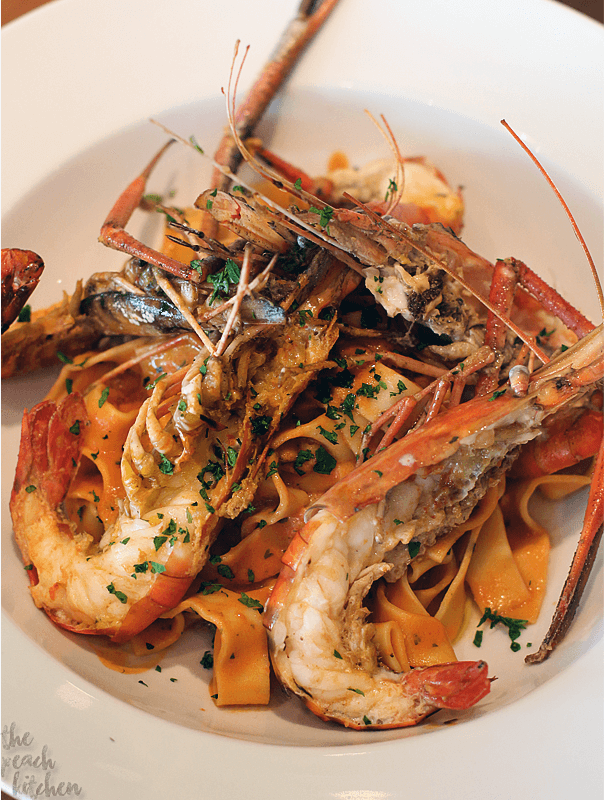 However, I think I could finish two plates of Fettuccine ai Scampi (₱850) this has a creamy, tomatoey sauce that's just thick and full of shrimp flavor. It is also topped with the biggest, juiciest shrimp!! Oh this is super duper good!
As I am in love with all things seafood at Salvatore Cuomo, I also loved the Zuppa di Pesce (₱1,200) which features different kinds of seafood like clams, mussels, shrimps, and whatever is the fresh catch of the day — in this case a red snapper. I won't get tired of slurping the soup, it reminds me so much of how rich the ocean is.
When this was served, we were told that this is a Rib Eye Steak with a Balsamic Reduction Sauce. The meat is perfectly cooked –tender, juicy, and pink in the center… It was served with a side dish of Sautéed Asparagus (₱150) and Mashed Potato (₱150) which I forgot to take a photo of because I was already in a food coma.
Our dessert was this Valrhona Chocolate Cake with Creme Fraiche….
…And what I presume is Mango Panna Cotta.
I was really observing everything and everyone during the soft opening. I love how the glassware for cocktails combines both function and whimsy — I'm sure each were carefully selected to delight their guests. Their plating is amazing and the dishes are interestingly pretty resulting in an appetizing and beautiful food presentation. So much attention to details, so much attention to quality.
I guess that is what makes Salvatore Cuomo, the man and the restaurant, a cut above the rest.
Salvatore Cuomo & Bar is located at the ground floor of Uptown Parade in Bonifacio Global City.