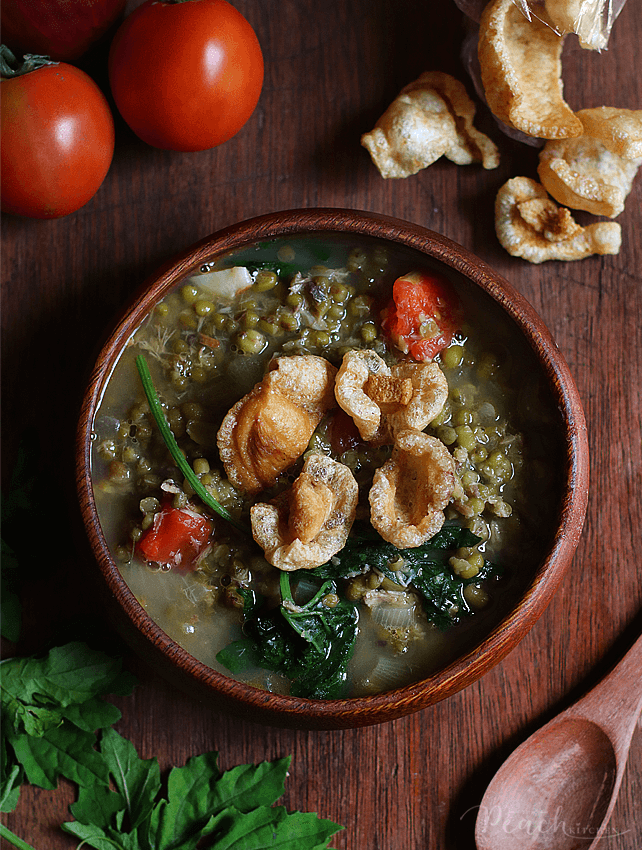 Ginisang Munggo is such a staple in our household because it's just one of my favorite ulam EVER! Some sautés this with pork belly, some with dried micro shrimps (hibe), and some with shrimp. I prefer to flavor it with flaked smoked fish (tinapa) and nothing else. Then I add tons of Ampalaya leaves. There are times when I top it with chicharon or pork rinds and there are times when I top it with fried chinese sausage.
I love my Ginisang Monggo with a little bit more soup than usual because of the amount of Ampalaya leaves I put in it. And the way I eat it — usually soup style lang without any rice. We usually have it for lunch, then I also eat it for merienda… and dinner. Yes, Ginisang Monggo addict lang.
Anyway, after today, pahinga muna sa Ginisang Monggo ng mga three months because I am planning on going on an LCIF Diet or Low Carb with Intermittent Fasting Diet. Try lang, sana kayanin ko diba? LOL!  
Print
Ginisang Monggo with Chicharon
2 cups

green mung beans (monggo);
boiled in

6 cups

water

1 cup

flaked smoked fish (tinapa)

1

pork cube ( I used Knorr pork cube)

2

cloves garlic, minced

1

onion, chopped

1

tomato, chopped

2 tbsp

canola oil

2 cups

bitter melon leaves (or more, if you're like me)

1 tbsp

fish sauce or
Salt to taste
pork chicharon for garnish
Instructions
In a pot, sauté garlic, onion and tomato in oil until onion becomes translucent.
Add tinapa flakes sauté for a minute.
Pour in boiled monggo including soup. Add in pork cube.
Stir and bring to a boil. Reduce heat to low and simmer for 10 minutes.
Add more water if it becomes too thick.
Season with fish sauce or salt.
Add bitter melon leaves and simmer for another 10 seconds more minutes.
Serve hot topped with pork chicharon
♥ If you make this recipe, kindly snap a photo and tag @thepeachkitchen on Instagram (OR hashtag it #thepeachkitchen). I'd love to see what you cook!