This Berry Banana Greek Yogurt Bowl maybe the prettiest, healthiest, easiest, most delicious breakfast ever…
Three years ago, I discovered yogurt bowls. And ever since I've tried this Papaya Yogurt Bowl for breakfast, it has become my favorite breakfast. When peanutbutter♥ decided to stay here in the country for good, my favorite breakfast of yogurt bowls has to take a back seat to make room for SiLogs, bacon, pancakes, and other heavier breakfast items. You know how husbands are…
The other day, I had some leftover greek yogurt and fruits from other dishes I made. Before they get spoiled, I decided to turn them into this pretty Banana Berry Yogurt Bowl.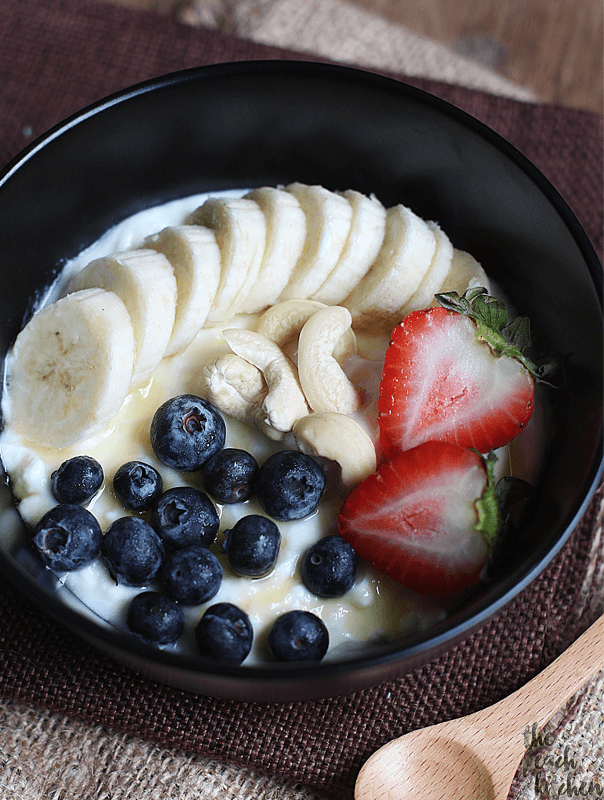 When I took my first spoonful, I realized how much I missed eating it and decided they should make a comeback. This week, the only fruits left in the fridge are a Kiwi, an apple, an orange, and some grapes. I don't have any yogurt as well.  Ykaie will be bringing those fruits to school as baon.. so I don't think there'll be something left for me.
Here's a sample of what I prepare for Ykaie as school baon: Shrimp Pesto Fetuccine, grapes, orange slices, chocolate chip cookies, and yogurt drink.
Anyhoo! I have lots of cashew nuts all the way from relatives in Palawan. I didn't know what to do with them so I just put them in the fridge. With this yogurt breakfast bowl coming into play again… I think I'll turn them into delicious granola like this Dates and Almond Granola.
Now what to make for lunch tomorrow?
♥Should you decide to try out this recipe, don't forget to tag your photo #thepeachkitchen so I can repost it on my Instagram/Facebook Page.
Print
Berry Banana Greek Yogurt Bowl
⅔ cup

plain greek yogurt

1

banana, sliced

1/4 cup

blueberries

1

–

4

strawberries, cut in half
cashew nuts

2 tsp

pure honey for drizzling
Instructions
Get our your favorite bowl.
Put the greek yogurt first
Drizzle with honey
Add bananas, blueberries, strawberries, and cashew nuts
Enjoy!