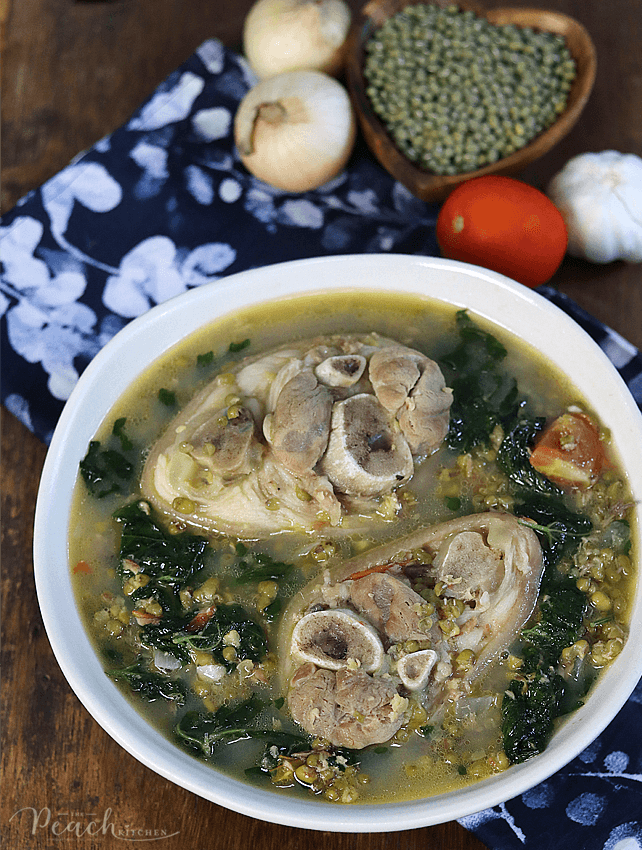 Level up natin ang #MonggoFridays with this Ginisang Munggo with Pata!
It's my first time to try this. We usually have our Ginisang Monggo with another ulam. Usually something fried — like fried fish, fried liempo, or longganisa because our monggo doesn't have any other sahog except shredded tinapa. I thought it would be nice to just have the monggo with a little something-something… LOL! So, I added Pata slices (pork hock slices).
What I did is to simmer the Pata slices separately in a pot with water for about 20 minutes or until it became tender. Then I added it to the ginisang monggo and simmer it for another 10 minutes. I still added shredded tinapa and I also added the water where the pata was boiled in to make it super flavorful.
I was right! It was a hit. This will be added in our regular menu rotation.
Hope you're having a great week!
OTHER RECIPES YOU MIGHT LOVE…
Print
Ginisang Munggo with Pata
3

pata slices (pork hock slices)

2 cups

green mung beans (monggo);
boiled in

6 cups

water

2 tbsp

canola oil

2

cloves garlic, minced

1

onion, chopped

1

tomato, chopped

3/4 cup

flaked smoked fish (tinapa)

1

pork cube ( I used Knorr pork cube)

2 cups

bitter melon leaves (or more, if you're like me)

1 tbsp

fish sauce or Salt to taste
Instructions
Put your slice pata in a small pot and cover it with water. Bring into a boil and simmer until tender, about 20 minutes. Set aside.
In another pot, sauté garlic, onion and tomato in oil until onion becomes translucent.
Add tinapa flakes sauté for a minute.
Pour in boiled monggo including soup. Add in pork cube.
Stir and bring to a boil. Reduce heat to low and simmer for 10 minutes.
Add the pata slices and some of the water where you boiled it if it's too thick.
Bring to a boil and simmer for 5-10 more minutes.
Season with fish sauce or salt.
Add bitter melon leaves and simmer for another 10 seconds more minutes.
Serve wit rice and enjoy!
♥ If you make this recipe, kindly snap a photo and tag @thepeachkitchen on Instagram (OR hashtag it #thepeachkitchen). I'd love to see what you cook!