Quick, healthy, and tasty… you will love this Spinach and Mushroom Egg White Frittata for breakfast….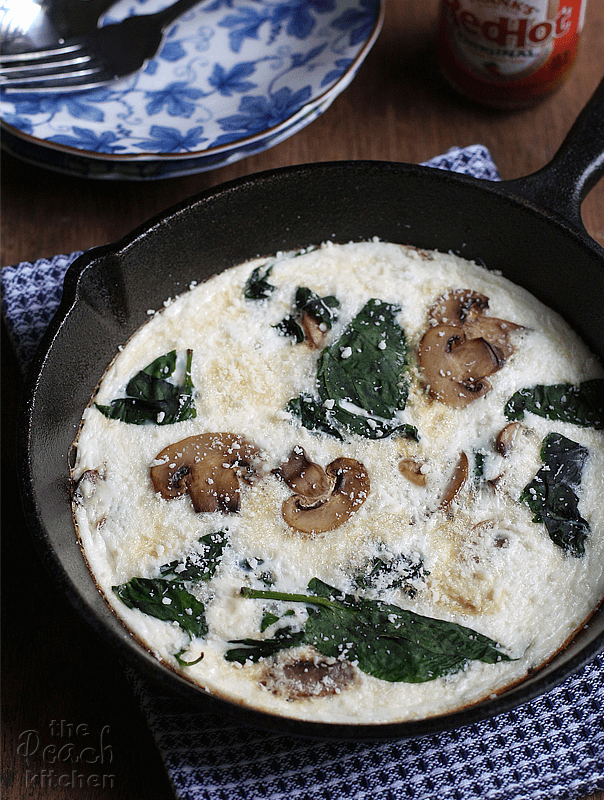 It's all about de-stressing this week. I think I've been to a lot of stress lately.
The scare about hypertension and diabetes, thinking about how I can be the healthiest and doing my best all the time… I think that got to me this week. I tried on a new exercise program last Monday: Shaun T's Insanity. Come Tuesday, my blood pressure went up. My muscles were sore on wednesday and there were times of the day that I was having a hard time breathing. I think I was exhausted both physically and mentally. Count the fact that I wasn't getting enough sleep too.
It was timely that our internet connection got broken. I think it was God's way of telling me to rest and not think about anything related online or anything stressful for that matter.
So this week was a breather. I used it to catch up on sleep, rest, relax, do a little bit of a cheat day, have my hair rebonded, get a pedicure and most of all spend some quality time with my family. The week isn't over yet and I am feeling much better. I still want to get a massage on top of everything, though.
You all know that I have been on a health journey the past three months. (Read: How I lost 40 lbs in 3 Months) and during those three months, my breakfast would always be three egg whites. Most of the time, I just cook my eggs hard boiled, remove the yolk and sprinkle them with salt. But when I'm feeling a bit fancy, I turn them into omelettes and fritatas like this Spinach and Mushroom Egg White Fritata.
This Spinach and Mushroom Egg White Frittata is a great source of protein and iron. And it keeps me full until lunch time.
I eat it as it is but it would be nice with some greens or a multi-grain bread on the side. Yum!
Print
Spinach and Mushroom Egg White Fritata
egg whites from 4 large eggs
around

6

mushrooms, sliced

1

–

2

cups fresh spinach

1 tbsp

grated parmesan cheese
salt and pepper
cooking spray or 1 tsp olive oil
hot sauce for garnish
Instructions
Pre-heat your oven toaster to broil.
Spray your iron skillet with cooking spray or heat olive oil.
While heating, beat egg whites and season with salt and pepper.
Sauté sliced mushrooms in greased skillet until brown. Add fresh spinach and cook until wilted.
Pour in beaten egg whites and let it cook through until edges turn opaque.
Remove from the stove and transfer to the oven toaster until puffy and the top is cooked.
Remove from the oven and sprinkle with parmesan cheese and drizzle with hot sauce before serving.
Enjoy with greens or a multi-grain bread on the side
♥ If you make this recipe, be sure to snap a photo and tag @thepeachkitchen on Instagram (OR hashtag it #thepeachkitchen). I'd love to see what you cook!