Creamy, melty, gooey cheese is love. My daughter Ykaie feels exactly the same way as is our new cheese-lover at home — peanutbutter♥. And just in time for his newly acquired love for cheese (and his birthday!) is this Oster Mini Raclette Grill sent by our friends from Oster.
Let's have a Raclette Party!!!! Yaaaayyy!!!
Ooops, before I get carried away, let me do an unboxing first and a short giveaway later. When you get your own Oster Mini Raclette Grill, that's when we should do a house raclette party. Agreed?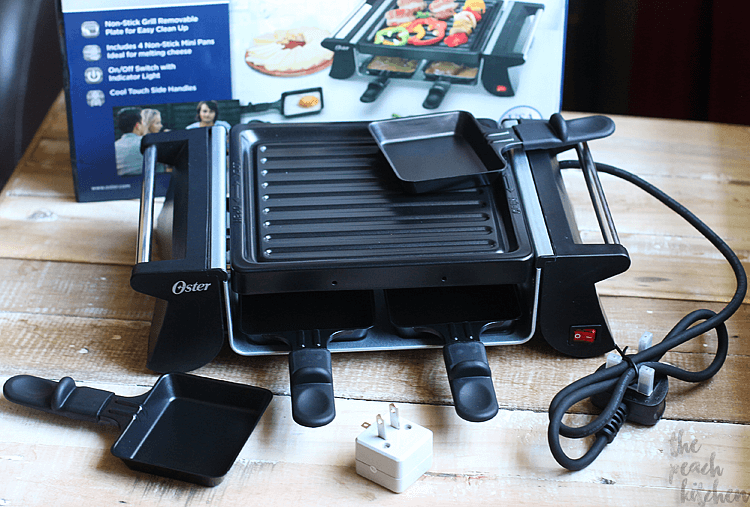 The Oster Mini Raclette Grill comes with:
A small grill with non-stick coated grilling plate
Four (4) mini pans ideal for melting cheese (and/or cooking eggs)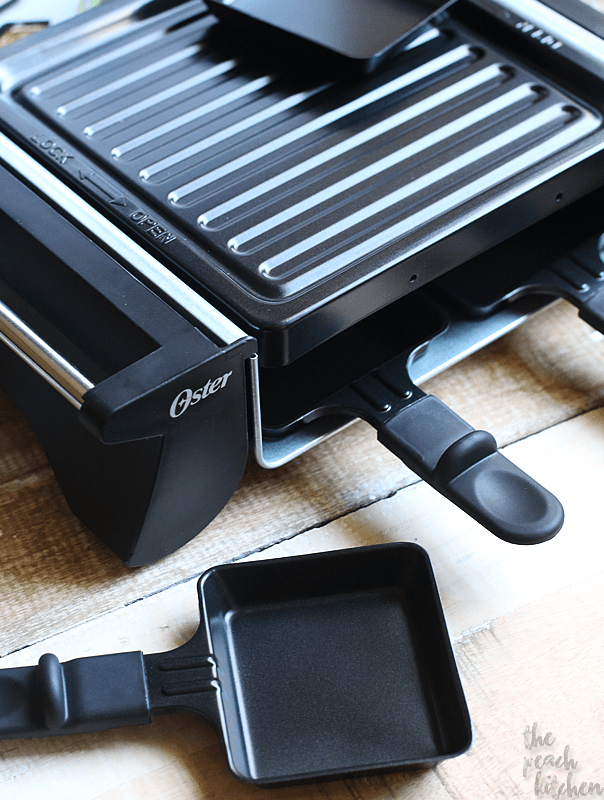 What I love about Oster Mini Raclette Grilling Plate
It's very easy to operate. All you have to do is press the on/off switch with indicator light, pre-heat it for 10 minutes and it's ready to use.
The small non-stick coated grilling plate is removable for easy clean-up.
The mini pans are also non-stick coated and it comes with mini pan handles that prevents you from burning your fingers when you heat your cheese.
It has cool touch side handles.
Since it is made by Oster, a trusted American brand of household appliances, you are guaranteed by this products' legendary performance and that it is designed to last. Remember the Oster® Brand Promise: Performance.  Versatility.  Durability.
Now that you know everything about our Mini Raclette Grill here, it's time to know what we can do with it. Well, this is really a versatile piece of appliance. You can cook just about anything on this grill. Grill kebabs, marinated meats, fresh vegetables, barbecues, burgers, fajitas, shrimp, or scallops. With the mini pans, you can heat cheese, eggs, fritatas, — even s'mores!
Throw that perfect house party with Oster Mini Raclette Grill!! Make sure you #UseOster #OsterMiniGrill. Remember #OsterEasyHomemadeFresh
If you can't wait to own the Oster Mini Raclette Grill, you may purchase it at any Anson's, Landmark, Rustan's and Coleman Stores. It's also available online at Lazada: http://www.lazada.com.ph/oster-ckstgr126-074-mini-grill-2887648.html
To know more about Oster, you can follow them on:
Facebook: https://www.facebook.com/OsterPHL
Instagram: https://www.instagram.com/osterph
Website: http://osterphilippines.com/
Oster Mini Raclette Grill Giveaway
Let's throw that perfect house party with Oster Mini Raclette Grill together! Oster and The Peach Kitchen has teamed up to give away one (1) Oster Mini Raclette Grill to one lucky The Peach Kitchen reader.
It's very easy to join, just follow the Rafflecopter below…
UPDATE: The winner of the Oster Mini Raclette Grill is Diana Advincula!! Congratulations and Thank you for joining!
Just a few more reminders:
This contest is open to all readers with a METRO MANILA address where prize can be delivered.
Please follow and complete ALL the requirements on Rafflecopter.
There will only be one (1) winner.
This giveaway will start from June 27 , 2016 until July 3, 2016
I will announce the winner on July 4, 2016.
The winner will be notified through the e-mail provided.
Good Luck and Thank you so much for joining!
I can't wait to throw the perfect house party with you!