Melt-in-your-mouth tender Saikoro Steak drizzled with a richly aromatic sauce and paired with furikake rice…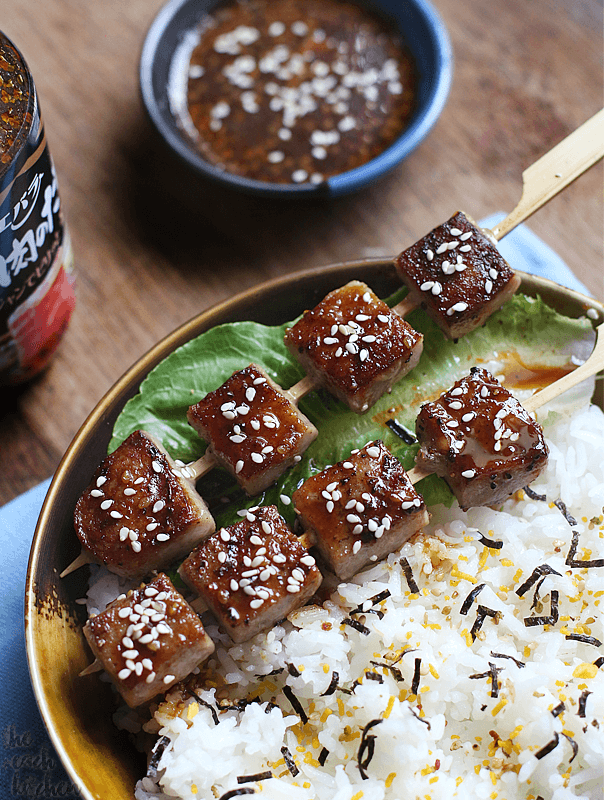 There was one whole week in the 2015 calendar when the whole family ate steak once a day. Yep, we were craving and we were crazy. It was one week. But not a single one of those steaks made it to the blog.
To say that my family loves steak is an understatement and believe me, it crossed my mind to blog about how we do steaks around here many many times. It's just that when the time comes that steak is already on the table… we develop this very rare, very unique kind of amnesia. We forget to take photos of our steak. In other words, we get too lazy and too eager to eat… and at times too hungry to take photos..LOL!
This time, we got ahold of ourselves — err– well, actually, I made sure I cook this way earlier than lunch time and fed my Purple and peanutbutter♥ really good merienda so I could take a photo…heehee.
Well, especially because we have Saikoro Steak this time.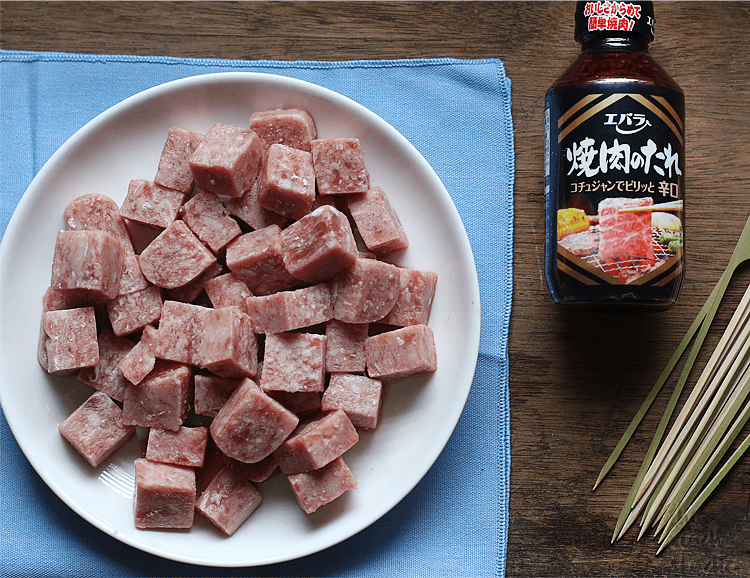 Just to let you know, Saikoro means "dice" and Saikoro Steak are Diced Beef Cubes.
These Saikoro Steaks are imported from Japan by couples Kervin and Juri. How did they happen to do this? Well, the story goes like this: Sometime in July 2015, Kervin brought his half Japanese girlfriend, Juri, to his favorite Japanese restaurant in Makati. While dining he mentioned to juri that GYU KUSHI is his favorite on the menu. Since Juri's family has a Japanese grocery in Cebu and they import Japanese goods from Japan, the couple decided to bring SAIKORO STEAK from Japan here in Manila. They started getting orders from friends then friends of friends. They are now the supplier of Saikoro Steak to some Japanese restaurants around the metro.
It was so nice of them to send some to The Peach Kitchen yesterday!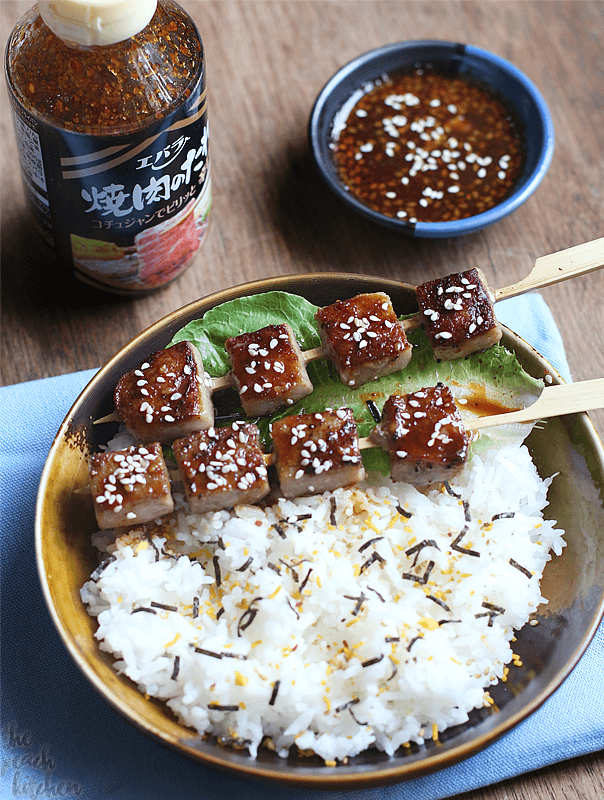 And here they are today!
Saikoro Steak is very easy to cook. Just season with a bit of salt and pepper and then fry or grill. I chose to grill them using a grill pan. It went on top of freshly steamed rice sprinkled with Furikake. Then it was drizzled with Ebara Yakiniku No Tare BBQ Sauce, a richly aromatic sauce with hints of spicy Gochujang.
Saikoro Steak is so so so good and flavorful. It melts in your mouth when you bite into it… so addicting! My steak monsters enjoyed lunch today — and I mean they really enjoyed it.
One kilo of Saikoro Steak is ₱1,400 (about 80-85 cubes) — and it is so worth the price.
 To know more about Saikoro Steak or to place your order, drop by Saikoro Steak Facebook Page or Instagram: @saikorosteak
Print
Pan-Grilled Saikoro Steak on Furikake Rice
500g

Saikoro Steak
salt and pepper to taste
Ebara Yakiniku No Tare (BBQ Sauce)
steamed rice
Furikake
Instructions
How To Cook The Saikoro Steak: Fully thaw the beef and season with salt and pepper.
Grill on a grill pan or on a non-stick skillet. No need to add oil or butter. I put the steaks on a skewer and grilled it on both sides until just cooked.
Careful not to overcook it.
Put some steamed rice on a plate or bowl. Sprinkle with lots of Furikake. Top it with sticks of Pan grilled Saikoro Steak.
Drizzle the steak with the Ebara Yakiniku No Tare Sauce.
Serve while hot.