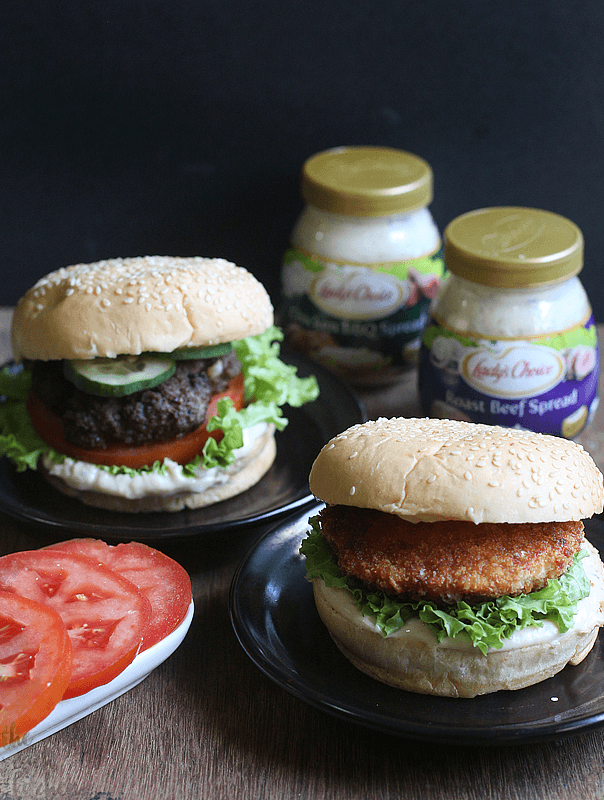 There's about an average of 2.5 sandwiches made at the Adarne Household each and everyday. You know how Ykaie is taking lunch to school, right? Once a week, I prepare rice for her lunch baon but the rest of the week, she brings sandwiches. I try to think of at least two different sandwich flavors for her weekly so she won't get tired of the taste. Think Tuna and Apple Sandwich and Pulled Pork Sandwich with Apple Coleslaw.
You might be wondering why an average of 2.5 sandwiches everyday? Well, I personally love sandwiches and could eat one everyday. Sometimes peanutbutter♥ would want one too but he's more of a rice person so it's seldom that it happens.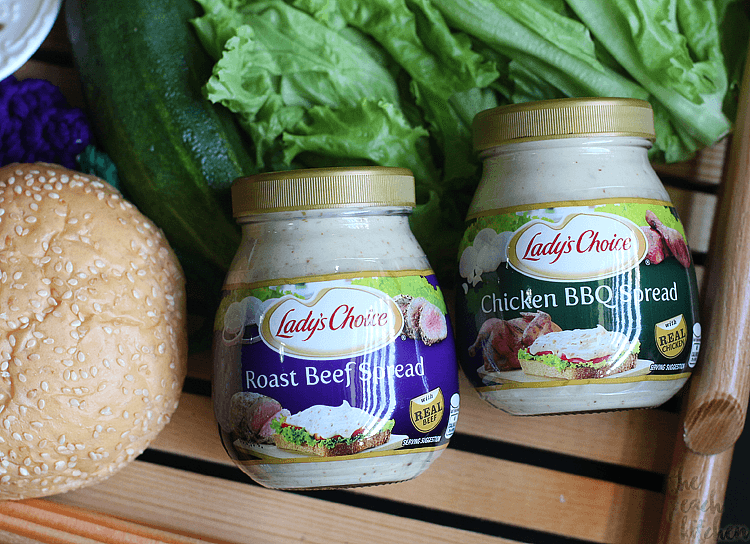 A few days ago, friends from Lady's Choice sent over their newest spreads namely Roast Beef Spread and Chicken BBQ Spread. It was very timely because my baon plan for next week includes chicken and beef patties!!!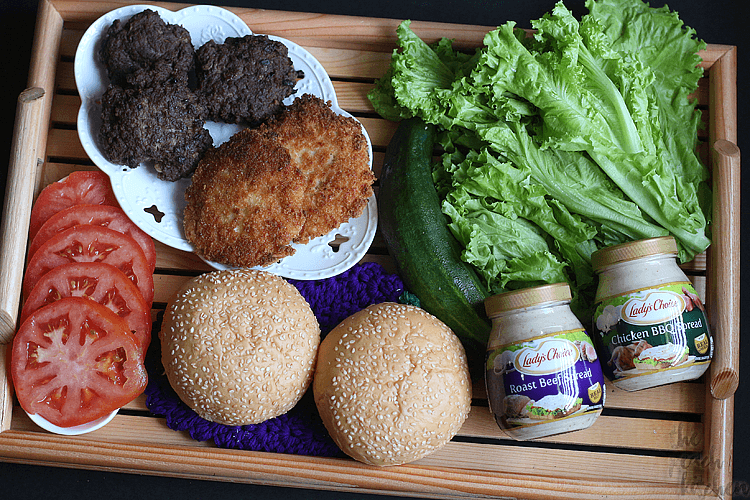 You see, Ykaie's sandwiches always has to have a meat filling, a few pieces of vegetables, bread (of course!), and a dressing (which really means Lady's Choice Mayonnaise 99% of the time). This is how I knew she would love these new Lady's Choice Spreads. I just didn't know what she'd like best.
And so the battle begins. Chicken or Beef? Which team are you?
Ykaie took Team Chicken's side and of course, mommy took Team Beef.
Lady's Choice Chicken BBQ Spread has real chicken bits and of course a creamy BBQ flavor that you wouldn't be able to resist. Lady's Choice Roast Beef Spread has real beef bits and that smoky beefy taste that you're looking for in Roast Beef. I swear, you'll smell roast beef when your spreading it on bread!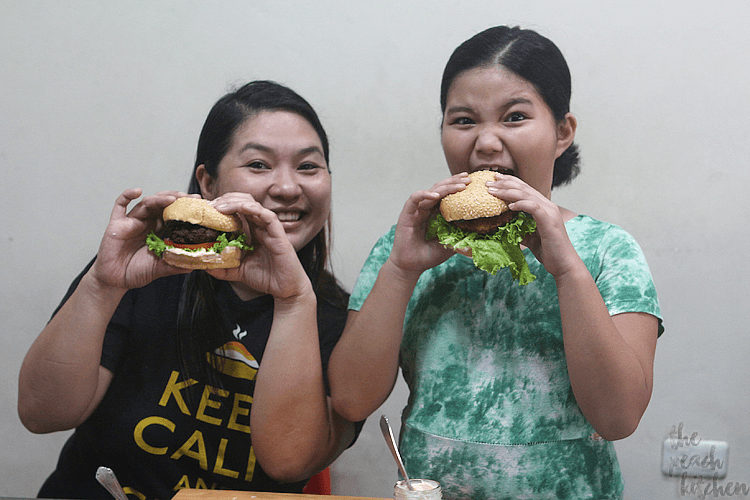 Tadaaa! We're done with the sandwiches in no time! We actually cut both sandwiches in half so we can try each. Guess what? Ykaie loved Lady's Choice Roast Beef Spread… she is on team Beef. She really is a beef person.. well I am too but Lady's Choice Chicken BBQ spread is irresistible and well… I like them both! I really am a sucker for flavorful spreads and dressings…
These two spreads completely wowed me because they created new flavor profiles for our sandwiches without adding too much ingredient!
Behold our two new sandwiches…
Crispy and Creamy Chicken BBQ Sandwich
Creamy Roast Beef Burger
Lady's Choice Chicken BBQ Spread gave our otherwise plain crispy chicken burger an extra ooompph by adding some creamy bbq flavor to it. While Lady's Choice Roast Beef Spread lent a smoky and creamy zest to our otherwise plain burger.
Let's all change the game in sandwich making with these new meaty options from Lady's Choice!
Try it and let me know if you're Team Chicken or Beef.
♥If you make this recipe, be sure to snap a photo and tag @thepeachkitchen on Instagram (OR hashtag it #thepeachkitchen). I'd love to see what you cook!
Print
Crispy and Creamy Chicken BBQ Sandwich
Chicken Burger Patties
1/2

kilo ground chicken

1 tsp

salt

1 tsp

pepper

3 tbsp

grated cheese

1

egg

1/4 cup

breadcrumbs

5 tbsp

all purpose flour

1

egg beaten
japanese bread crumbs
oil for frying
Sandwich
6

Burger buns
Lady's Choice Chicken BBQ Spread
Lettuce
Instructions
Make the Crispy Chicken Patties: In a bowl, combine ground chicken, bread crumbs, salt, pepper, and cheese. Mix by hand and make sure that all ingredients are incorporated evenly.Set aside.
Assemble each patty by using 1/3 measuring cup and forming a round shape. Flatten each one and repeat until you've used up all the ground chicken mixture.
Coat with flour, egg then breadcrumbs.
Panfry in cooking oil for 4 minutes on each side or until golden brown and done on the inside.
Assemble the sandwich: Toast burger buns and generously spread with Lady's Choice Chicken BBQ Spread, Layer lettuce and then crispy chicken patties.
Bite into the goodness of this crispy Creamy Chicken BBQ Sandwich
Notes
If you've formed your patty a bit thicker, the inside may not be cooked after frying. Don't refry because you might burn the outside. Just microwave on high for 1 minute and it should be done.