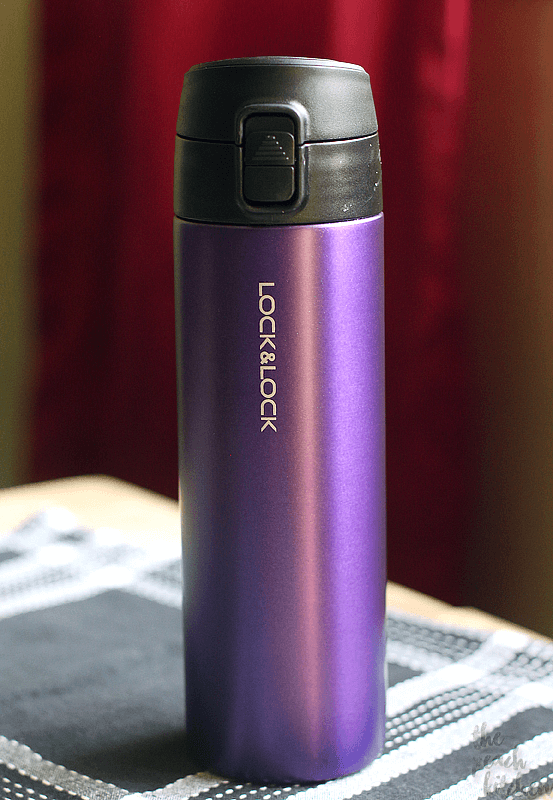 We've been experiencing some rainy days the past week and since it's the start of the "BER" months, life couldn't be more hectic. I always find myself stuck somewhere — the car during traffic or waiting it out for the rain to stop. I don't have to worry about being cold though. I have my Lock & Lock Feather Light Tumbler filled to the brim with hot coffee to keep me warm during these cold, rainy days.
It has kept my coffee hot for six whole hours, if not more (heehee, I tested it and timed it just to be sure). But you know what I love most about it? Lock & Lock Feather Light Tumbler is light as a feather! Well, I might be exaggerating a little bit. I'm quite happy with how light this tumbler is considering it's  made of stainless steel.
That's one of the reason why I don't hesitate to bring it with me wherever I go. It doesn't add that much weight to my bag.
Can you imagine that it's even lighter than an iPhone 6 Plus?! It's just like having your mobile phone with you. No worries also on how bulky it is because Lock&Lock Feather Light Tumbler has a sleek design that would fit your bag. I lug it inside my camera bag and it's fine beside my external flash.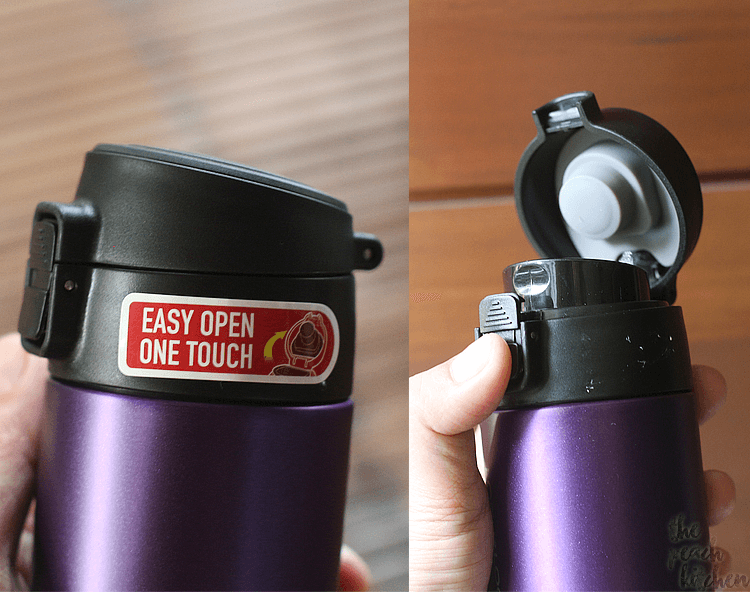 Unlike other thermos-like tumbler, this has an easy open one touch feature. You just need to press the button and it's open and you can easily drink.
You don't have to worry about it being pressed and opening inside your bag because it also has a safety lock.
Now, this is a tumbler I can just bring everyday I even love using it at home because I can make a big batch of coffee and just keep it there to sip from time to time.
Lock&Lock Feather Light Tumbler is available in four colors: Gold Pink, Blue, Dark Gray, and Violet.
If you want to have one, you can get them at these branches: (Or join my giveaway below)
1. Eastwood
2. Fisher Mall
3. Megastate Bldg. in Araneta Ave.
4. Shangri-La West Wing
5. Alabang Town Center
6. Glorietta 4
7. BF Paranaque
8. Lucky Chinatown Mall
9. Banilad Town Center Cebu
Lock & Lock Feather Light Giveaway
And because I'd love to share my Feather Light experience with you, Lock&Lock and The Peach Kitchen has teamed up to give away one ONE (1) Feather Light Tumbler to one lucky The Peach Kitchen reader.
It's very easy to join, just follow the Rafflecopter below…
UPDATE: The winner of the Feather Light Tumbler is Carol Chan!! Congratulations and Thank you for joining!
Just a few more reminders:
This contest is open to all readers with a METRO MANILA address where prize can be delivered.
Please follow and complete ALL the requirements on Rafflecopter.
There will only be one (1) winner.
This giveaway will start from September 15 , 2016 until September 23, 2016
I will announce the winner on September 24, 2016.
The winner will be notified through the e-mail provided.
Good Luck and Thank you so much for joining!
To know more about the Lock & Lock Hard & Light Cookware, follow the Lock & Lock Facebook page: https://www.facebook.com/LocknLockPhilippines and @lockandlockph on Instagram.