Pink, luscious, tart, and refreshingly sweet and delicious, this Hibiscus Lemonade will surely be an absolute hit in your household.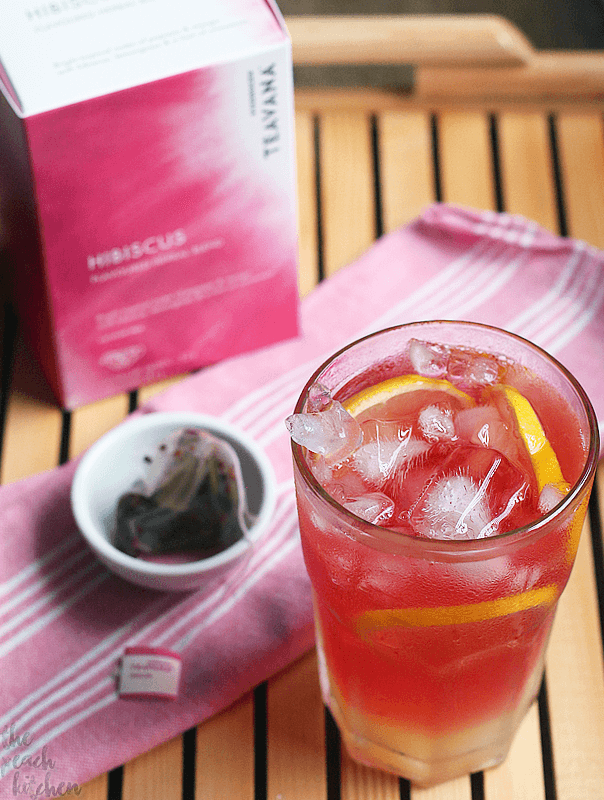 "Bees'll buzz
Kids'll blow dandelion fuzz
And I'll be doing whatever snow does
In summer
A drink in my hand
My snow up against the burning sand
Prob'ly getting gorgeously tanned
In summer
I'll finally see a summer breeze
Blow away a winter storm
And find out what happens to solid water
When it gets warm……"
If the lyrics above sounds all too familiar to you, that's because it's Olaf's Summer Song in Frozen. Twinkle just discovered who Olaf, Elsa, and Anna is… and well, she loves watching them sing their songs all day… and I can't get them out of my head.
In a Summer mood, I re-created one of my favorite Starbucks drinks when I was still a barista (how many years ago was that?!). I believe it was then called a Starbucks Refreshers Passion Lemonade but today we'll call it Hibiscus Lemonade …since I made it using Starbucks new full leaf tea sachets called Teavana. It was tart, and sweet and fragrant and refreshing. But I was glad I am drinking this in September instead of the middle of Summer heat 'cause well, it's hotter then, and  I'd probably melt like Olaf.
Hibiscus has always been one of my favorite flavors, besides Mint, because it's floral and fruity at the same time. Starbucks Teavana Hibiscus has a beautiful deep fuchsia color and a slightly tart flavor. It has bright, juicy papaya and mango notes that is combined with citrus lemongrass for a natural, caffeine-free blend. It was the perfect thing to combine with Lemonade, my all time favorite Summer and non-Summer drink.
So how did I found out about Starbucks Teavana? I attended the launch a few days ago with my peanutbutter♥. Read on below to find out how it was, what the other tea variants are, what the new drinks and food items are and how the Starbucks Cards for Fall look!
I'm sure you're very excited.. scroll on below.
♥ If you make this recipe, be sure to snap a photo and tag @thepeachkitchen on Instagram (OR hashtag it #thepeachkitchen). I'd love to see what you cook!
Print
Hibiscus Lemonade for One
1

Starbucks Teavana Hibiscus Full Leaf Tea Sachet

1

mug of water
Juice of

one

lemon

1 tbsp

Sugar (or more depending on how sweet you want it to be)
Lemon Slices for garnish
lots of ice
Instructions
Steep Starbucks Starbucks Teavana Hibiscus Full Leaf Tea Sachet in a mug of water for 5 minutes.
Remove tea sachet and dissolve sugar in tea. Chill in the fridge or let cool into room temperature.
Combine with lemon juice and stir in lots of ice.
Serve with lemon slices as garnish.
Starbucks Teavana Launch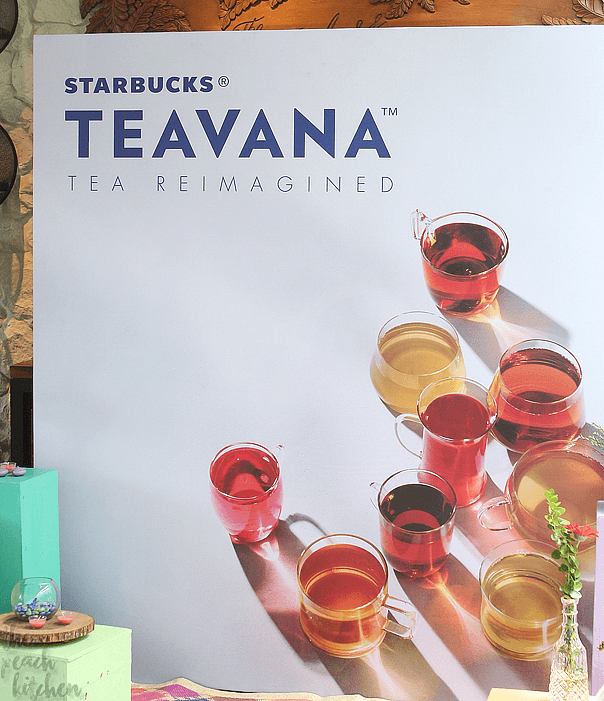 It was surprising to see Starbucks dressed up in fancy Summer colors and elegantly furnished with transparent plastic chairs and table during the launch of Starbucks Teavana. We are used to seeing the woody, dark interiors that stirs in us emotions that coffee does — classic and mysterious.
I guess it's about time we see Starbucks not just as destination for coffee but for tea as well. Starbucks Teavana is Tea Re-imagined… it gives us a playful notion of what we can do to our teas. Drink it hot, cold or play with it. It's up to us. The important thing is that we enjoy it…
The launch started with lunch since we were there at noon time…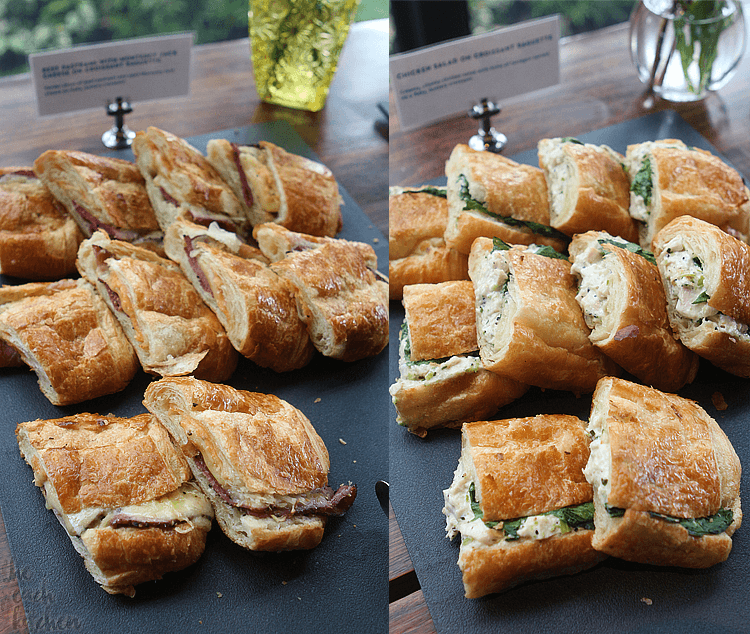 We had Beef Pastrami and Monterey Jack Cheese on Croissant Baguette and Chicken Salad on Croissant Baguette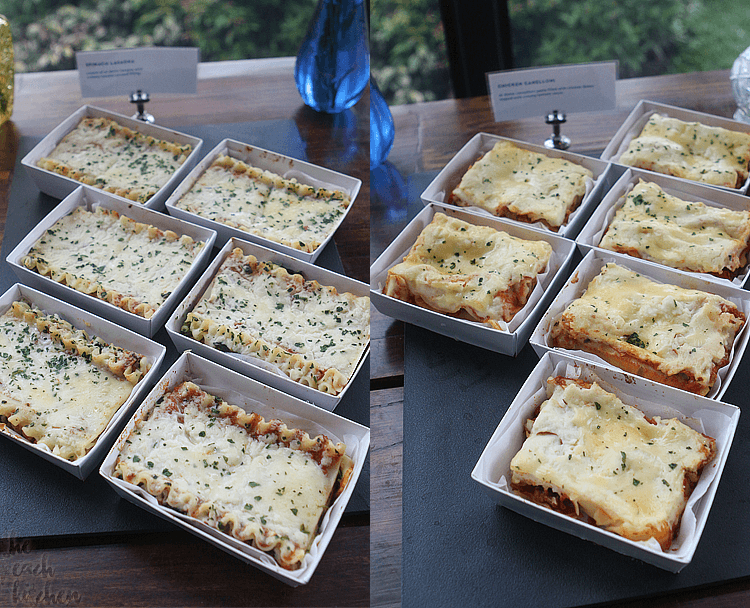 Spinach Lasagna and Chicken Cannelloni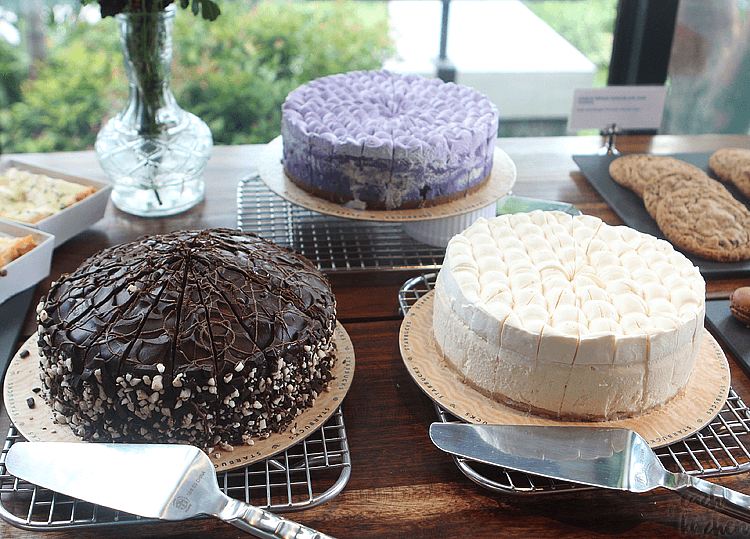 Purple Yam Cheesecake, Calamansi Cheesecake, and Triple Chocolate Truffle Cake
French Macarons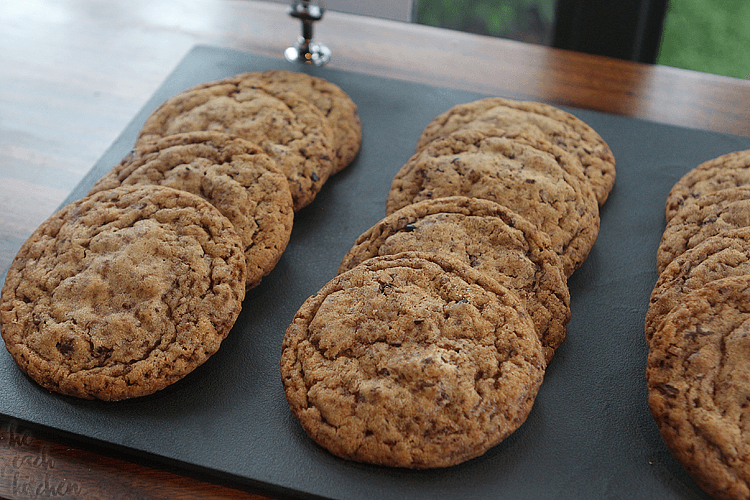 And these three new food items for this season. First up is this SINGLE-ORIGIN CHOCOLATE CHIP COOKIE (₱65) made with Malagos Chocolate and coco sugar. It's a soft and chewy chocolate cookie with raw cacao nibs for texture. It is so good and I can imagine it'll be perfect paired with a good cup of coffee.
BANANA CHOCOLATE PUFF (₱80) – A golden brown, flaky and buttery pastry filled with decadent Belgian chocolate and sliced bananas
SPINACH TOMATO FRITTATA WRAP (₱165)A hearty whole wheat pita bread filled with scrumptious spinach, egg and tomatoes that's best served warm
Starbucks Teavana Full Leaf Tea Sachet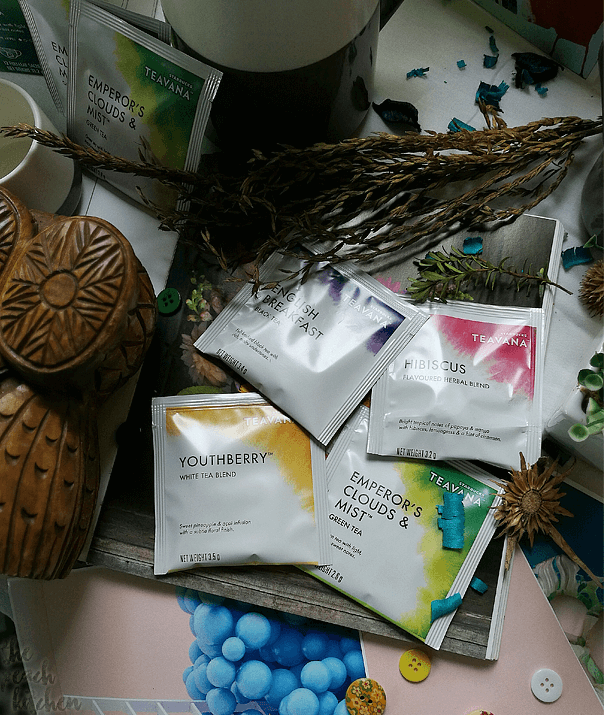 After lunch was when we got to try four flavors of the new Starbucks Teavana Full Leaf Tea Sachets which are: Youthberry, Hibiscus, Emperor's Cloude and Mist, and English Breakfast. You may enjoy a new tea experience in stores or in the comfort of your own home.
Here is where we lined up to try out the teas and get to know them with the help of our favorite Starbucks partners.
YOUTHBERRY is inspired by super fruits, acai fruit is blended with tropical pineapple and mango flavors with high quality white tea, balanced by rosehips and tart green apple.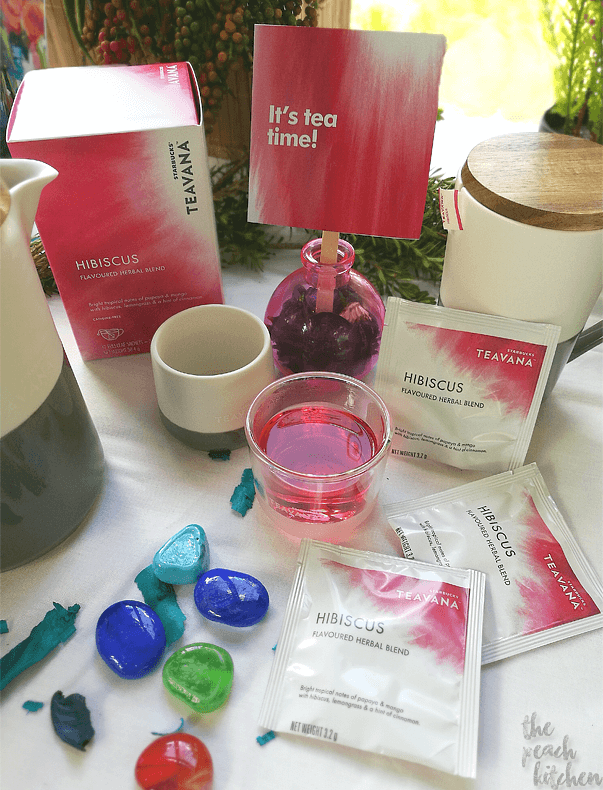 HIBISCUS has bright, juicy papaya and mango combined with citrus lemongrass for a naturally caffeine-free blend. Hibiscus flowers lend the tea a slight tartness and extraordinary deep fuchsia color.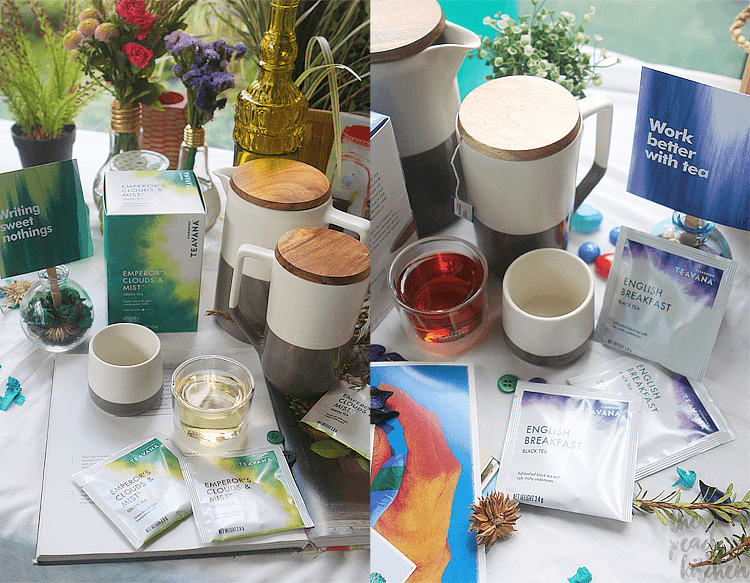 EMPEROR'S CLOUDS & MIST is exclusively harvested during the month of April and grown on the steep, windy slopes of Huangshan Mountain at 3,500 feet above sea level, this tea has a rich body and a naturally sweet flavor.
ENGLISH BREAKFAST is a handcrafted blend of Indian Assam, Sri Lankan Ceylon and Chinese black tea. This tastes great with or without milk.
You may enjoy these In-Store for
Tall (354 ml): ₱ 110
Grande (473 ml): ₱ 110
Venti  (591 ml): ₱ 125
And At-Home
Packaged Full Leaf Tea Sachet (12 sachets) ₱ 525
peanutbutter♥ holding a cup of English Breakfast while I hold a cup of Youthberry.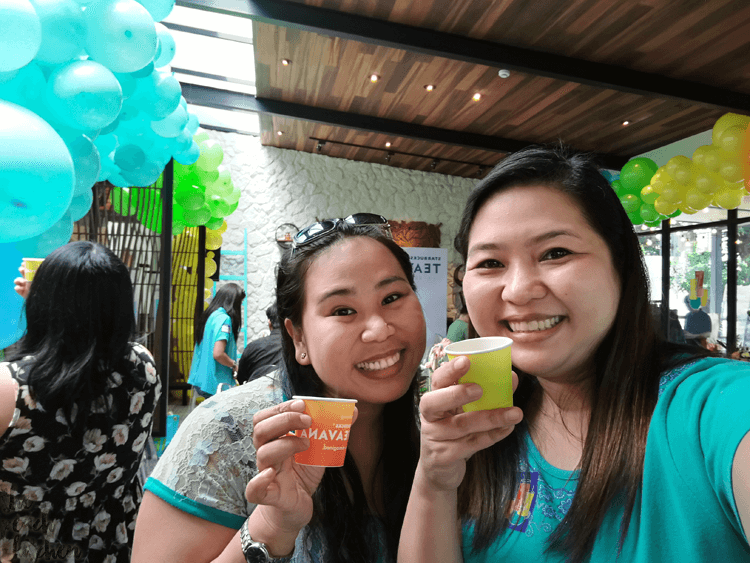 With Ning
Aside from the full leaf tea sachets, Starbucks also introduced Starbucks Teavana Handcrafted Beverages that are quite the innovation because they are unique and with bold, layered flavors. I must say it is handcrafted the way only Starbucks can.
Let me start with my favorite, the Iced Shaken Hibiscus Tea with Pomegranate Pearls (Tall – ₱ 130|Grande – ₱ 145|Venti – ₱ 160). This refreshing beverage combines Hibiscus Starbucks Teavana tea and bursting pearls of real pomegranate juice for a tart kick of flavor. Pomegranate juice is a good source of antioxidants.
Next is the Iced Shaken Black Tea with Ruby Grapefruit and Honey (Tall – ₱ 130|Grande – ₱ 145|Venti – ₱ 160). It combines a traditional western black tea experience with a creative twist that is delicious  iced with bites of pomelo fruit, grapefruit and honey for a touch of added sweetness. This beverage contains star ruby grapefruit, which is a good source of vitamins A and C and is rich in bioflavonoids and antioxidants.
The last is the Matcha & Espresso Fusion (Tall – ₱ 155|Grande – ₱ 170|Venti – ₱ 185) which can be enjoyed hot or iced. Starbucks fine Matcha powder layered with milk and Espresso Roast creates a beautiful layered beverage and is an inventive combination of coffee and tea. Matcha is full of catechins, which are some of the most potent and beneficial antioxidants.
New Starbucks Cards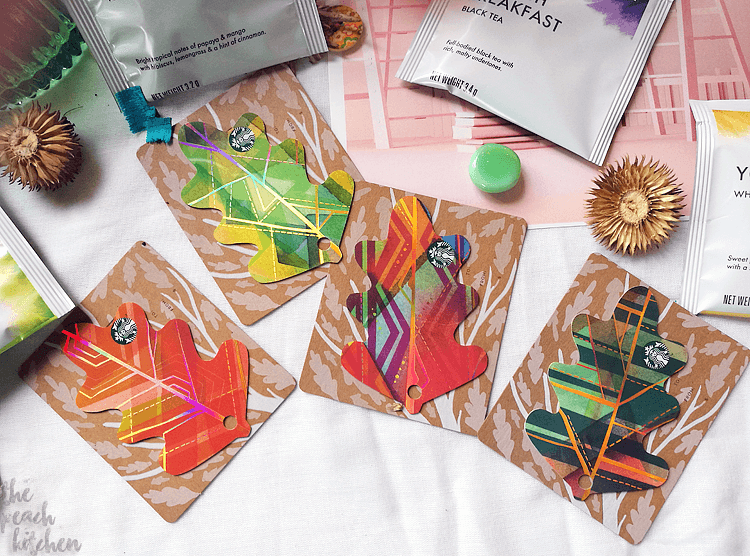 AUTUMN LEAF CARD
Welcome another change in season with these delightful leaves in every shade of the autumn spectrum – red, yellow, orange, brown and green.
Available for an initial consumable load amount of ₱500 per card
Purchase limit of two (2) activated Autumn Leaf Cards per customer per day
MID-AUTUMN FESTIVAL CARD
Celebrated in the middle of the autumn season, the Mid-Autumn Festival is also known as the Moon Festival, as it is the time of the year when the moon is at its brightest and fullest.
Available for an initial consumable load amount of ₱300.
Purchase limit of two (2) activated Mid-Autumn Festival Cards  per customer per day
Everything is going to be available tomorrow, September 14. See you at Starbucks!