This Kimchi Fried Rice takes 15 minutes to make, savory, spicy and topped with an egg for a highly satisfying meal!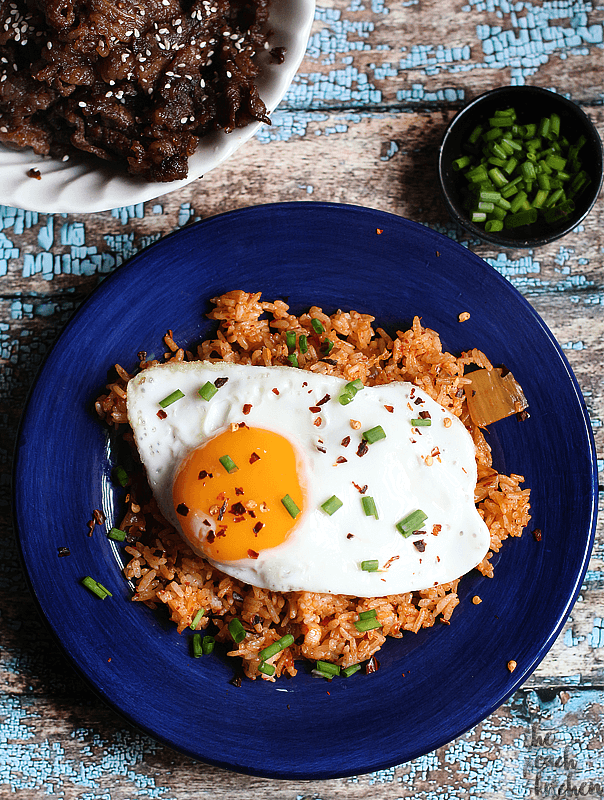 I can't take the weather we were having these days… *sob*. The heat of the sun and intermittent rain showers in a day is too much. Sudden changes in the temperature gives me the worst colds. I've had it for the last three days and I hated my nose – it's stuffy, I'm constantly sneezing, and I'm devoid of my sense of smell and taste!
Not being able to smell nor taste is one of my nightmares!!! I don't want to cook and all I wanted to eat are those with really strong taste like spicy instant noodles.
And that's the reason why I've been MIA here at The Peach Kitchen.
I wish I could take my self back to three days ago, when I've had an über tasty meal –Kimchi Fried Rice!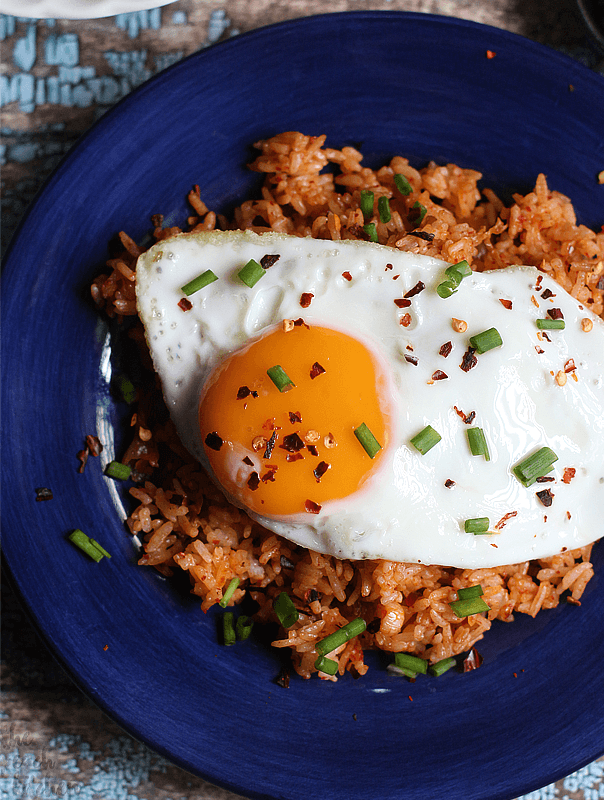 Oh, I can still remember the smell of kimchi lingering on the kitchen and the living room as I was cooking it. That savory taste as I take my first spoonful and the spiciness kicking in as I chew it.
We shouldn't really take our sense of smell and taste for granted, friends. It is what makes our life colorful…. *sigh*
I made this Kimchi Fried Rice (or Kimchi Bokkeumbap) because we had leftover Kimchi in the fridge begging to be eaten. You know how tasty Kimchi is, so mixing it with rice already guarantees you a flavorful meal. Top it with a sunny side up egg for protein and that delicious golden yolk — and you got a delicious meal with minimal ingredients.
I'll be going to a Starbucks event later, hopefully I can get back even a little bit of my sense of smell and taste…
♥ If you make this recipe, be sure to snap a photo and tag @thepeachkitchen on Instagram (OR hashtag it #thepeachkitchen). I'd love to see what you cook!
Print
Kimchi Fried Rice (Kimchi Bokkeumbap)
5 cups

cooked rice

5

cloves garlic, minced

1 tbsp

cooking oil

1

200g bottle of Kimchi ( I used The Original Seoul Kimchi), juiced squeezed out and chopped
around

1/4 cup

of Kimchi Juice

1 tbsp

of soy sauce
Fried Egg, sunny side up
gochujang, optional
chopped scallions and rred pepper flakes for garnish
Instructions
Combine soy sauce and Kimchi juice. Set aside.
Heat oil in a skillet and sauté garlic until fragrant.
Add chopped Kimchi (juiced already squeezed out), and saute with garlic until a little brown.
Add cooked rice and mix well.
Drizzle with half of the Kimchi juice/soy sauce mixture and continue stirring on low heat until the rice is uniform in color. Add more Kimchi juice/soy sauce if necessary. It should be red and fragrant with the aroma of kimchi.
Add more soy sauce to taste.
Transfer cooked KImchi Fried Rice into serving bwols and top each bowl with fried egg.
Garnish with chopped scallions and red pepper flakes before serving