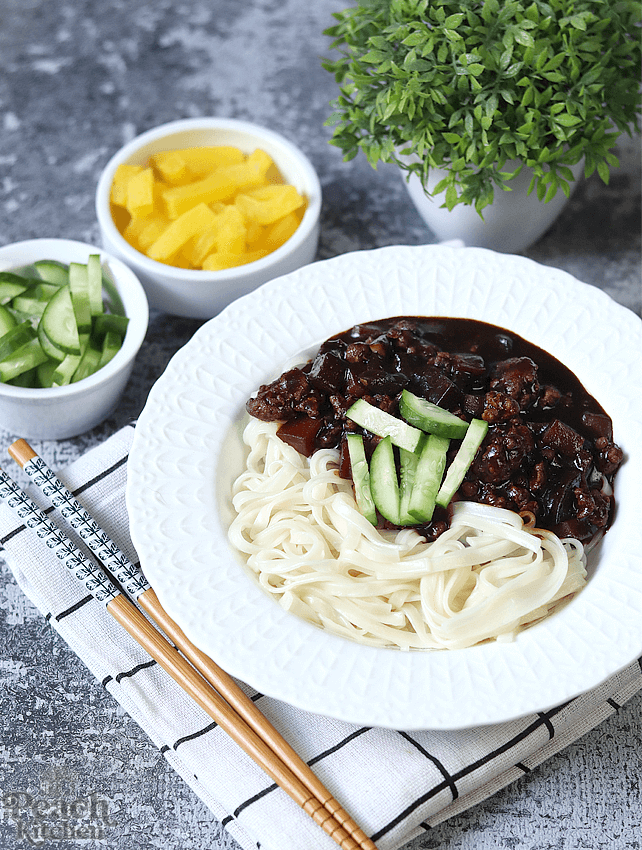 Hay naku! K-drama has done it again! Kakanood-kakanood.. ayan nag-crave sa Jjajangmyeon! This is actually the third time that I made it but the second time that I posted here on the blog. The first time I made it, I wasn't able to fry the black bean paste in oil and I didn't add sugar. It still turned out good, though. But according to my research, frying the black bean paste removes its bitterness so the sauce tastes much better. So that's what I did this time — and it did taste much better.
Jjajangmyeon is Korean Black Bean Sauce Noodles. It's made with black bean paste called chunjang (춘장) and a whole lot of other ingredients like ground pork, onions, zucchini, carrots, soy sauce, and mirin. They say that eating this is an acquired taste but I loved it the first time I tried it .. kaya nga umabot na sa third time hihihi.
WATCH THE VIDEO HERE:

So that's how I made it. Easy lang diba? For the noodles, I love the brand Wang Korea which is dried noodles but next time, I hope I can drop by the Korean grocery so I can buy fresh noodles.
NOTES:
You must cook the Korean Dried Noodles for 5-6 minutes only or the noodles will get really soggy. This second time, I got a different brand of noodles and the instruction on the packaging says to cook it for 7-8 minutes which I followed. The noodles were too soft and the leftover noodles got stuck with each other and turned into one big blob.
Print
Jjajangmyeon
dried noodles for jjajangmyeon

300g

ground pork

2 tbsp

cooking oil

1

large white onions, chopped

5

cloves garlic, chopped

1

zucchini, diced

1

carrot, diced

300g

pack black bean paste

1 1/2 tbsp

sugar

1

pork cube

2½ cup

water

1½ tbsp

soy sauce

2 tbsp

mirin
salt and pepper to taste

1 tbsp

cornstarch +

2 tbsp

water to form slurry
julienned cucumber for garnish
pickled radish to serve
Instructions
In a large pot, add in 3 tbsp cooking oil and add the ground beef. Cook until brown.
Add in the chopped onion and garlic and sauté for another min.
Add the potato, zucchini, and carrots and mix well. Cook until the vegetables are softened.
Add the black bean paste and mix well.
Pour in the water.
Add the pork cube, soy sauce, and mirin.
Season with salt and pepper to taste. Adjust the seasonings if necessary.
Add the cornstarch slurry and bring to a boil until sauce thickens.
Before serving, cook the noodles according to package directions.
Drain and rinse the noodles with cold water so they'll remain springy and al dente.
Place adequate amount of noodles in a bowl and pour 1 – 2 ladle of sauce over the noodles.
Garnish with cucumber and serve with pickled radish on the side