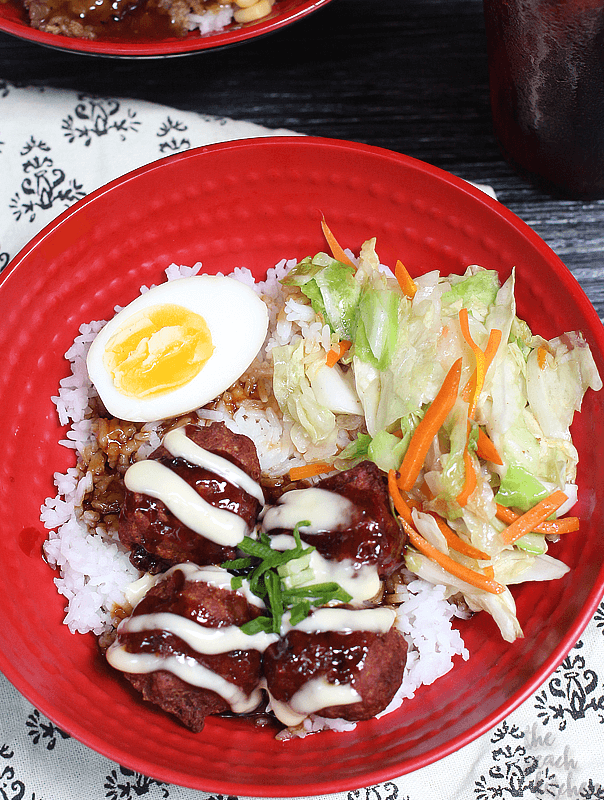 When it's cold, wet, and raining…all I can think about is snuggling, movie-all-day, lying around, playing with the kids, and of course, food tripping with larger than life donburi bowls from Tokyo Tokyo! I love Tokyo Tokyo's Premium Donburi line because of the hefty serving and the tasty variants!
There's actually a new bowl on the block called Teriyaki Meatballs Donburi (₱145).
Four pieces of  juicy, tender, and savoury tsukune meatballs are drizzled with Japanese sauce and mayo then crowned with onion leeks. It is made more complete with vegetable misono and half an egg all topped on a bowl of steaming white rice.
Sinking your teeth on these flavorful meatballs is exactly what you need on a gloomy day to brighten it up.
If your day needs more sunshine, then you should also try the Beef Pepper Donburi and Tempura Donburi.
Tender beef slices are cooked in a generous amount of pepper sauce then served with Japanese sweet corn crowned with onion leeks all on top of hot steaming rice. How you get the best of the Beef Pepper Donburi? Mix them together of course! So you'll get those savory beef, pepper sauce, sweet corn, and hot rice in one spoonful.
Tempura Donburi is for Ykaie a.k.a. the tempura princess in our family. It's two pieces of prawns, onion rings, and potato slices all on top of hot steaming rice then drizzled with a salty sweet umami sauce!
Writing this post got my tummy grumbling. I will definitely head out to Tokyo Tokyo as soon as possible and get me some of these Premium Donburis!
To know more about Tokyo Tokyo, log on to www.tokyotokyo.ph or follow TokyoTokyoPhilippines on Facebook and Instagram.