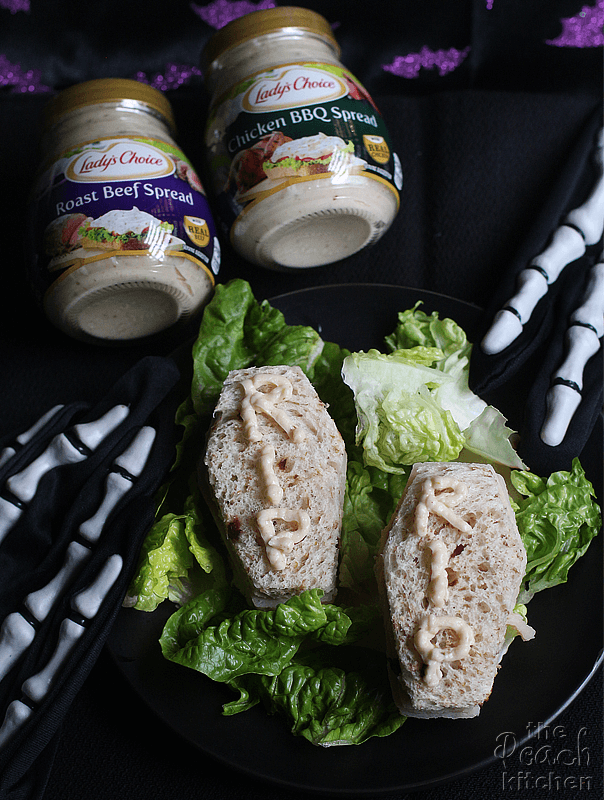 Print
Lady's Choice Chicken Ham BBQ Coffin Sandwiches
4

pieces Wheat Bread

4

Chicken Ham Slices
Lady's Choice Chicken BBQ Spread

2 cups

lettuce, roughly chopped
*Coffin Cookie Cutter
Instructions
Using the coffin shaped cookie cutter, cut coffin shaped breads.
Fry or microwave the chicken ham slices and then cut them into coffin shapes.
Toast the bread in the oven for a few minutes then spread some Lady's Choice Chicken BBQ Spread.
Put two Chicken Ham slices after the spread and top with another bread slice. Insert a toothpick on both ends to keep it stable.
Repeat with the second pair of bread.
Arrange the roughly chopped lettuce on a plate and put the coffin sandwiches on top.
Put some Lady's Choice Chicken BBQ Spread in a piping bag and use it to write RIP on top of the coffin sandwiches.
Happy Halloween!
#ChickenOrBeef ?
That's what it all boils down to right from the very start when Ykaie and I first tried out the new Lady's Choice Roast Beef Spread and Chicken BBQ Spread. Being a beef person, she quickly grew fond of the Roast Beef Spread. She loves it on hot malunggay pandesal and eats them like popcorn. But you know what, after just one week, and giving Lady's Choice Chicken BBQ Spread another try — this time on Chicken Ham Sandwich which she took to school for baon — she told me she loved it as well.
And why wouldn't she, plain ol' Chicken Ham Sandwich instantly became Chicken Ham BBQ Sandwich that's meaty and creamy.
So, these two new spreads from Lady's Choice gets two thumbs up from Ykaie… weee!
And since it's Halloween, this Chicken Ham BBQ Sandwich gets a makeover by being coffin sandwiches just to give my little Ykaie a BOO.
I love that these Chicken Ham BBQ Coffin Sandwiches has extra Lady's Choice Chicken BBQ Spread on top! It's much much flavorful that way. Sarap!.. and perfect for kids' baon this Halloween too!
Check out http://www.ladyschoice.com.ph for unique and delicious sandwich recipes that's good for lunch, school baon, or gossip time with the Kumares!
♥If you make this recipe, be sure to snap a photo and tag @thepeachkitchen on Instagram (OR hashtag it #thepeachkitchen). I'd love to see what you cook!