Elegant, wholesome, healthy, and crunchy, this Nicoise Salad is just perfect for a weeknight meal. (I'm pairing this with Roasted Chicken tonight)

I love salads! It's fresh, healthy, and I could eat it at any time of the day. I love the crunch and the different flavors that comes of with mixing greens, fruits, nuts, and other kinds of vegetables — plus the dressing.
Of course, it's the dressing that defines how healthy your salad is. I used to love creamy and mayo-based dressings but in the course of my salad-loving days I found out that drowning out your salads in these high-calorie, high fat dressings is not so healthy after all.
And that's how I came to love vinaigrettes. Vinaigrettes are made with oil and vinegar or lemon juice. The taste and flavor of your vinaigrette depends on your oil and other herbs and spices which you put in it. I love using extra virgin olive oil when making vinaigrettes 'cause it is known for its many health properties like cutting down bad cholesterol levels, decreasing chances of heart attack, preventing cancer, and decreasing stroke risks — plus it tastes really good.
Not all olive oils are created equal, though, you have to know which olive oils are worth your buck. I love using Filippo Berio Olive Oils. It enhances the flavor of salad dressings, sauces, and marinades. It is also a wonderful finish to vegetables, rice dishes, and soups AND is perfect for dipping bread and seafood such as lobster.
Filippo Berio is a world-famous and authentic Italian brand. What I love about it is that it is made out of passion and that it is a family run brand. From those two points, we would know that it would have high quality standards beginning from the sourcing of the olives to harvesting, pressing, and blending up to bottling the final product.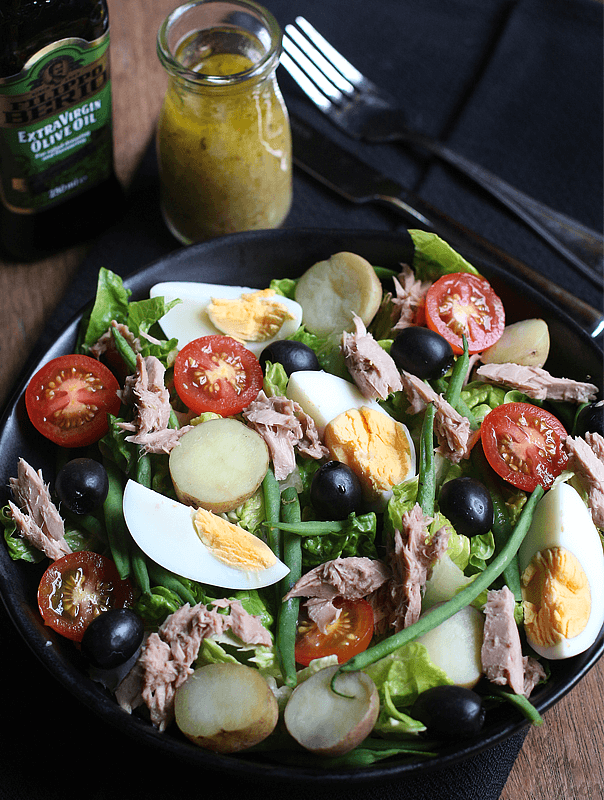 Today, I made Nicoise Salad to go with our lunch. I used Filippo Berio Extra Virgin Olive Oil for its dressing. It was mixed with freshly-squeezed lemon juice, stone-ground mustard, thyme, oregano, salt and pepper. Then it was drizzled on a plate of greens topped with some cherry tomatoes, marble potatoes, french beans, olives, hardboiled egg, and tuna! Yummmmm!!!
With Filippo Berio, you really get the value for your money because of its high quality. It is made from the first cold-pressing of the finest olives, and is distinguished by its full flavor, low acidity, and deep greenish-gold color.
They have other products too like Balsamic Vinegar, Classic Pesto, and Sun Dried Tomato Pesto. The pesto sauces are so good with pasta, grilled meats, and sandwiches.
Stay tuned and I'll be sharing recipes using these delicious pesto sauces!
To know more about Filippo Berio, go to http://global.filippoberio.com/.
♥If you make this recipe, be sure to snap a photo and tag @thepeachkitchen on Instagram (OR hashtag it #thepeachkitchen). I'd love to see what you cook!
Print
Nicoise Salad with Filippo Berio
Salad
3/4 cup

marble potatoes

1/2 cup

cherry tomatoes

2

eggs, hardboiled

1/2 cup

olives

3/4 cup

tuna flakes (I used canned tuna in brine)

100g

french beans

4 cups

romaine lettuce, cut
Dressing
1/4 cup

Filippo Berio Extra Virgin Olive Oil

1/3 cup

fresh lemon juice

1 tbsp

stone ground mustard

1/2 tsp

thyme

1/2 tsp

oregano
salt and pepper to taste

2

cloves garlic minced
Instructions
Cut marble potatoes in half and put in a small saucepan until just covered. Bring to a boil over high heat, then reduce heat slightly to medium until the water is at a low boil. Cook uncovered until completely tender when pricked with a fork. Then drain thoroughly and set aside.
While potatoes are cooking, fill another saucepan halfway with water and bring to a boil. Then add the french beans beans and boil for 2 minutes. It should still have slight crunch when bitten. Fill a large bowl with ice water. Once the green beans are done cooking, immediately add to the ice water to stop the cooking process. Drain and set aside.
To make the dressing, you can add everything to a mason jar and shake or you can combine everything a bowl and whisk thoroughly.
Assemble the Salad: In a large plate, put the lettuce as the first layer, top it with french beans, cherry tomatoes cut in half, potatoes, sliced hardboiled egg, olives, tuna flakes, and drizzle with the dressing. Serve with the rest of the dressing on the side.