Just like in my favorite Chinese restaurant, this Lee Kum Kee Soy Sauce Chicken hits the spot! It's flavorful, aromatic, and has the most delicious sauces!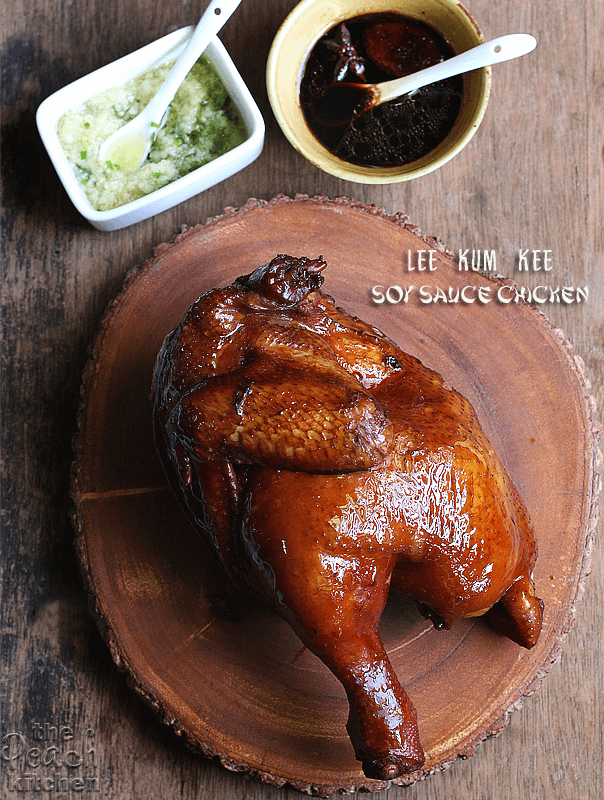 If you're fond of Chinese food, then I'm sure Soy Sauce Chicken is one of those on top of your list. I mean, how can you not like it — it's full of flavor, it has the most delicious sauces, and it practically calls out your name when you see it hanging from the restaurant window or the kitchen window of your favorite Chinese restaurant.
If only somebody told me how easy it is to prepare this Soy Sauce Chicken at home, I would have done it years ago– and frequently too — and not wait until I can drop by our favorite Chinese restaurant whenever I have the craving.
I recently discovered Lee Kum Kee Soy Sauce one day at the supermarket when I was buying oyster sauce. In all honesty, I am a fan of all things Lee Kum Kee especially the oyster sauce, sesame oil, hoisin sauce, chili garlic sauce, and the charsiu sauce. But somehow, I didn't know they have soy sauce and good thing I discovered it too because it tastes really good — just perfect when you're planning to cook something that has soy sauce as its main ingredient.
For this recipe, I used Lee Kum Kee Premium Soy Sauce. You can tell by the rich soy flavor and aroma that it's made from high quality soy bean. Of course, it is brewed according to the traditional and natural method too.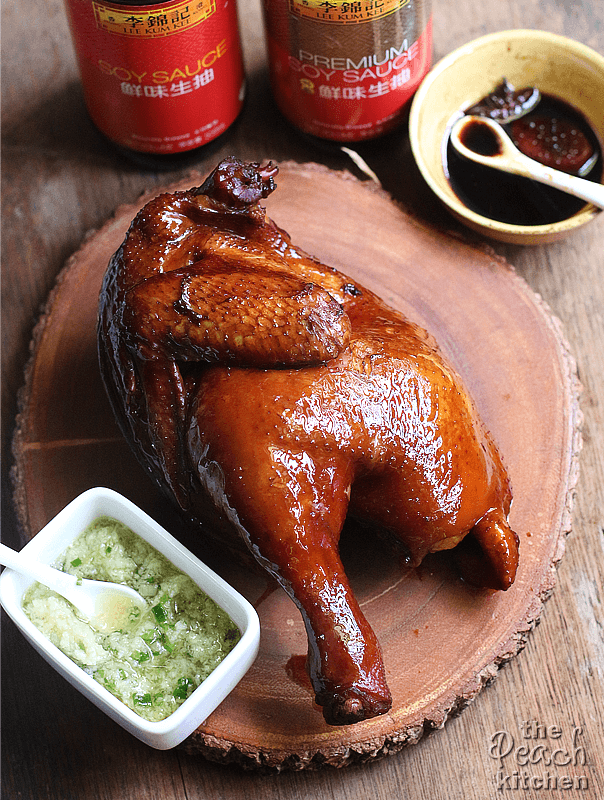 The result was this nicely browned and rich Soy Sauce Chicken that is just fantastic when served with it's braising sauce, Ginger Sauce and hot steaming rice.
The recipe is below. It's super easy to make. Thanks to Ykaie for helping in the kitchen and grating the ginger for the Ginger Sauce.
Should you want to buy this Wooden Chopping Board, you can buy one here: https://tinyurl.com/WoodLogChoppingBoard
To know more about Lee Kum Kee Soy Sauce and other soy sauce, follow the Lee Kum Kee Philippines Facebook Page.
♥ If you make this recipe, be sure to snap a photo and tag @thepeachkitchen on Instagram (OR hashtag it #thepeachkitchen). I'd love to see what you cook!
Print
Lee Kum Kee Soy Sauce Chicken
1/2

Chicken

1 tbsp

oil

2

inch knob of ginger, sliced thinly

6

stalks green onions, cut into

1

-inch pieces

2

star anise

1/2 cup

rice wine, (I used Mijiu because that's what I have on hand but you can also use shaoxing)

3/4 cup

Lee Kum Kee Premium Soy Sauce

3/4 cup

dark soy sauce

1/2 cup

white sugar

1 tsp

salt

5 cups

water
Ginger Sauce
5 tbsp

grated Ginger

3

cloves garlic grated

10

stalks of green onions, chopped finely

4 tbsp

of soya or canola oil

1 tbsp

sesame oil
salt
Instructions
Make sure to use a pot that would keep your chicken submerged in the cooking liquid. Heat oil in it and sauté ginger until it turns a little brown. Add green onions and sauté for 20 seconds more.
Pour in rice wine and bring to a boil. Simmer for 5 minutes until alcohol evaporates. You'll know the alcohol has evaporated when the smell becomes sweeter.
Pour in Lee Kum Kee Premium Soy Sauce, dark soy sauce. Add star anise, white sugar, salt, and water.
Stir and bring to a boil; Lower heat and simmer for 10 minutes.
Add the chicken and bring to a boil again. Simmer the chicken for 30-45 minutes or you can use a meat thermometer to check if it's done.Temperaure should be 165ºF at the thickest part of the chicken.
Make the Ginger Sauce while chicken is simmering. Grate the ginger and garlic. Squeeze out the juice from the ginger and garlic mixture then add the green onions and salt.
In a small pot, heat soya or canola oil and sesame oil.
Pour it onto the ginger, garlic, green onion, mixture and let it sit to infuse.
Remove the chicken from the pot and let it rest for 10 minutes before serving.
Chop the chicken and serve it with the Ginger Sauce, the sauce it was boiled in, and steaming hot rice.
Notes
This serving is good for a family of three or four