This Squid in Olive Oil & Garlic is healthy and easy to cook, perfect for busy weeknights when you're craving comfort food….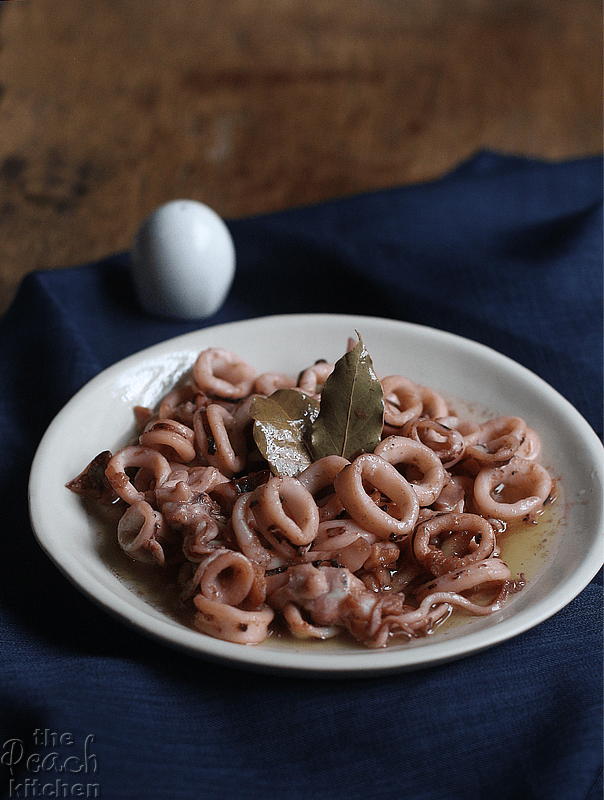 Squid is expensive these days. At the wet market, squid costs about ₱300 – ₱350 per kilo. It looks a lot when it's fresh but it shrinks when cooked. I have around ₱200 budget for each meal at home, that is still a big budget considering there are only four of us in the family … I don't think I spend that much on most days but on days like today when I buy squid for lunch, I try to balance it out by buying something cheaper for dinner like Adobong Sitaw (String Beans Adobo) which ingredients cost only amount to ₱70.
So that's about ₱370 for both lunch and dinner (pasok pa rin sa banga).
Squid in Olive Oil & Garlic is very easy to make. All you need to do is just sauté everything in a pan, adding one to two ingredients at a time. Then let all the flavors come together and that's it. That's one of the reasons why I love this dish and why it's going to be a staple on the menu from now on.
You know what else I love about this dish? You can have this with almost everything — rice, crusty bread, pasta, and crackers…. But of course, my favorite is to have this with rice and take note, this is a rice monster 'cause even that flavorful sauce is enough ulam to make your rice really tasty!
Cheers to a happy weekend! We're of to my ILs and then to the cinema to watch Fantastic Beasts.
Thanks for dropping in on a saturday. What are you guys up to today?
♥ If you make this recipe, be sure to snap a photo and tag @thepeachkitchen on Instagram (OR hashtag it #thepeachkitchen). I'd love to see what you cook!
Print
Squid in Olive Oil & Garlic
750g

fresh squid, cleaned and sliced into rings

8

cloves garlic, minced

1/4 cup

olive oil

1 tsp

liquid seasoning (or soy sauce)

1 tsp

lemon or calamansi juice

2

pcs. bay leaf
Instructions
Heat olive oil and garlic in a pan until olive oil is fragrant and garlic is brown on the edges.
Add bay leaf and continue frying garlic until light brown.
Pour in liquid seasoning and add sliced squid.
Stir-Fry for about 1-2 minutes. Make sure you don't over-cook it.
Add calamansi juice/ lemon juice and give it a quick stir before turning off heat.
Transfer to a serving dish and garnish with fried garlic on top.
Serve with steamed rice