Easy to make Pesto Knots that's great to pair with soups and pastas…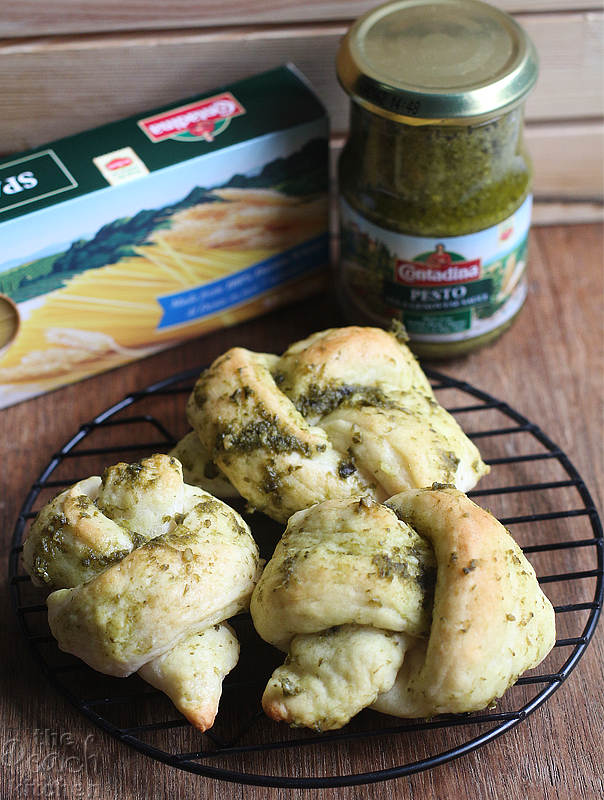 I know I should be making holiday-themed dishes by now but my energy is all directed and well-spent at my little girl Twinkle and my not-so-little girl Ykaie. It's been such a busy season filled with school activities, being sick, being malambing to mommy, lots of Christmas Parties (which, sadly, I couldn't attend), and keeping the toddler from throwing all the ornaments from the Christmas tree.
If only I could have more time on my hands then I would be able to do more potlucking, pretty holiday recipes, attend more thanksgiving and Christmas parties. But there's only 24 hours in a day and this is all I can do is to: manage a home, keep the kids well fed and with clean clothes, work for a few hours, and plan Christmas Day which we will be hosting. I still have to wrap Christmas presents for everybody.
I do hope I can sneak in a few holiday recipes before the month ends. Meanwhile, I thought these Pesto Knots deserve a spotlight of its own, so here I am and sharing with you the recipe.
BTW, T=this goes great with this easy Chicken Parmigiana.
♥ If you make this recipe, be sure to snap a photo and tag @thepeachkitchen on Instagram (OR hashtag it #thepeachkitchen). I'd love to see what you cook!
Print
Pesto Knots
2 1/2 cup

all-purpose flour

2½ tsp

dry yeast

1 cup

warm water (just warmer than body temperature)

2 tbsp

olive oil

1 tsp

sea salt

2 tsp

sugar
pesto sauce for brushing, I used Contadina Pesto Sauce
Instructions
In a large bowl, combine all purpose flour and salt. Mix well.
In a small cup, dissolve yeast and sugar with warm water. Let sit for 5 minutes until yeast is frothy. That means it's alive and ready to go.
Create a small well in the center of the flour mixture. Pour in the yeasty water and olive oil.
Mix wet and dry ingredient together with a fork. Add more flour if it becomes too sticky.
Knead dough on a lightly floured surface for about 5 minutes.
Grease a clean bowl with olive oil and place dough in. Flip it over to coat with the oil in the bowl.
Cover bowl with a clean kitchen towel, and leave to rest in a warm, draft-free place for 1 hour, or until the dough has doubled in size.
After 1-hour, roll out dough on a lightly floured surface. Roll into a square.
Use a knife or pizza cutter to slice into1-inch stripes.
Tie a knot in the center of the dough and trim the edges. You can still roll it again later and make it into knots.
Cover with clean kitchen towel and let rest for 30 minutes.
Preheat oven to 400ºF. Line two baking sheets with parchment paper. Place dough knots on prepared baking sheets and bake for 15 to 18 minutes, until golden brown.
When rolls come out of the oven, immediately brush them with pesto sauce.
Serve warm.