Trying out new ingredients for this rich and creamy Buko Pandan Salad that your family will surely love!
Even with both hands, I cannot count how many times I've made bowls of Buko Pandan Salad. It has graced every occasion here at home, even Ykaie's Christmas parties and fiestas at school. And everyone liked my recipe. and why wouldn't they, I put lots of nata de coco to get that added chewy texture in my salad.
I thought it would be the perfect dessert for our New Year's Eve dinner so that's what I made….
I already have a go to recipe when it comes to Buko Pandan Salad but this time I thought I should try out a different brand of gelatin and this condensed creamer that already has a buko pandan flavor. I always see this at the supermarket. It costs less than my usual brand and I thought  it would save me some money too.
I prepared the gelatin during the early morning and I reduced the amount of water to get firmer and chewier gelatin. For ₱49.50, I got the same amount of gelatin as I would have gotten with four alsa(s) but I didn't get that firm, soft but chewy texture that I'm looking for.
As for the Jersey Buko Pandan Condensed Creamer, well, it's green. I think it saves you from putting any additional food coloring because it would already give a nice color to your Buko Pandan Salad. It already tastes like Buko Pandan too! but for me, it lacks the creaminess that only pure condensed milk and all-purpose cream can give.
So I ended up using just one Jersey and I added one can of condensed milk and two packs of all-purpose cream. My Buko Pandan Salad turned out okay but I'm using my old recipe next time….
Mango Pandan Dessert | Buko Pandan Drink | Buco Pandan Salad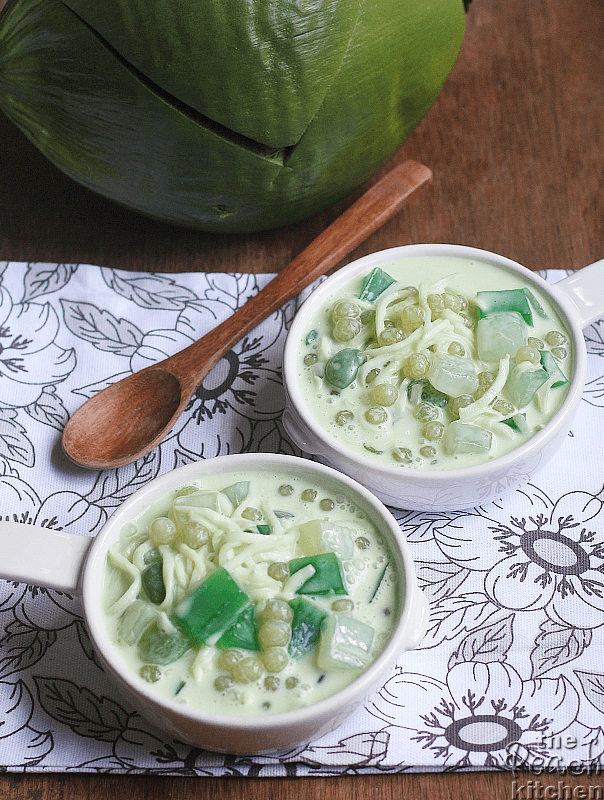 How's your new year, BTW? After two weeks of indulging during the holidays, there's nothing else that I want except to do some healthy eating. But, we still have tons of leftovers which we're trying to finish. Crossing my fingers they're all gone by next week.
♥ If you make this recipe, be sure to snap a photo and tag @thepeachkitchen on Instagram (OR hashtag it #thepeachkitchen). I'd love to see what you cook!
Print
Buko Pandan Salad (Coconut Pandan Dessert)
1

packet Star Instant Pandan Jelly

2

large bottle of sweetened Nata De Cococ

1

small bottle of Green Kaong (sugar palm fruit)

1

Jersey Buko Pandan Condensed Creamer

1

300ml can of Alaska Condensed Milk

1

packs Nestle All Purpose Cream
meat of

3

large Coconuts, grated to strips

5 cups

tapioca pearls
Creamy Pandan Extract
Instructions
Cook the gelatin according to packet directions. If you want firmer gelatin, reduce the amount of water.
Cut gelatin into cubes when it solidifies. Set aside.
Strain Nata de Coco and kaong to remove the sugar syrup.
Combine all the ingredients in a large bowl and mix well.
Put a few drops of Creamy pandan extract for added flavor.
Put in a container and chill for 4 hours.
Serve chilled.
You can also add green food color to add to presentation.