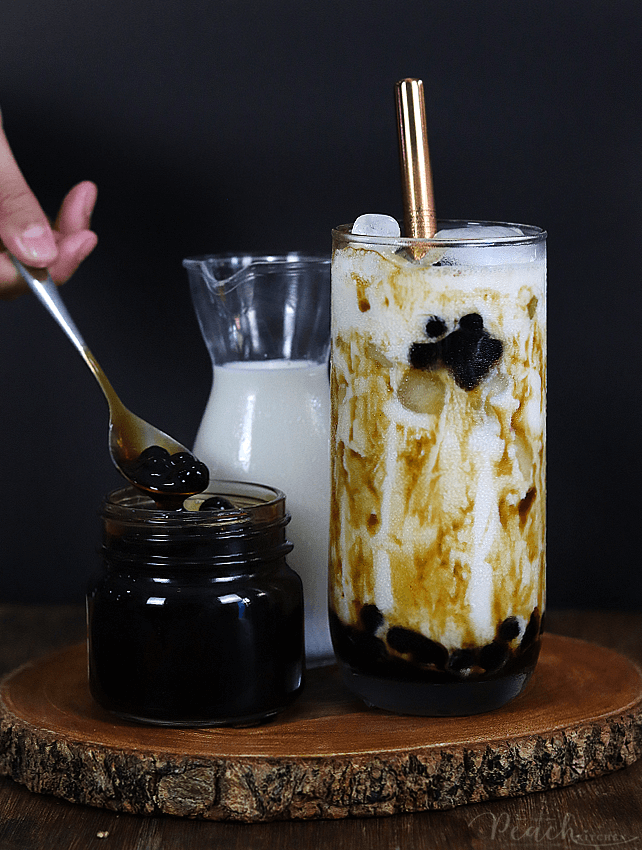 My Twinkle loves Brown Sugar Boba Milk (or Brown Sugar Pearl Milk) and since we are on ECQ and there's a pandemic, as much as possible we try to cook everything at home. Good thing I was able to but Ersao Pearls at Fishermall when we did the grocery two weeks ago! So today, I was able to make Brown Sugar Pearls.
Medyo matagal lang lutuin yung pearls but it is so worth the wait.
WATCH THE VIDEO HERE:
Ayan, now that you've watched the video,(please excuse the two typos) you know how easy it is to make at home. It's cheaper too since you can make a glass for the whole family for less than the cost kung mag-oorder kayo.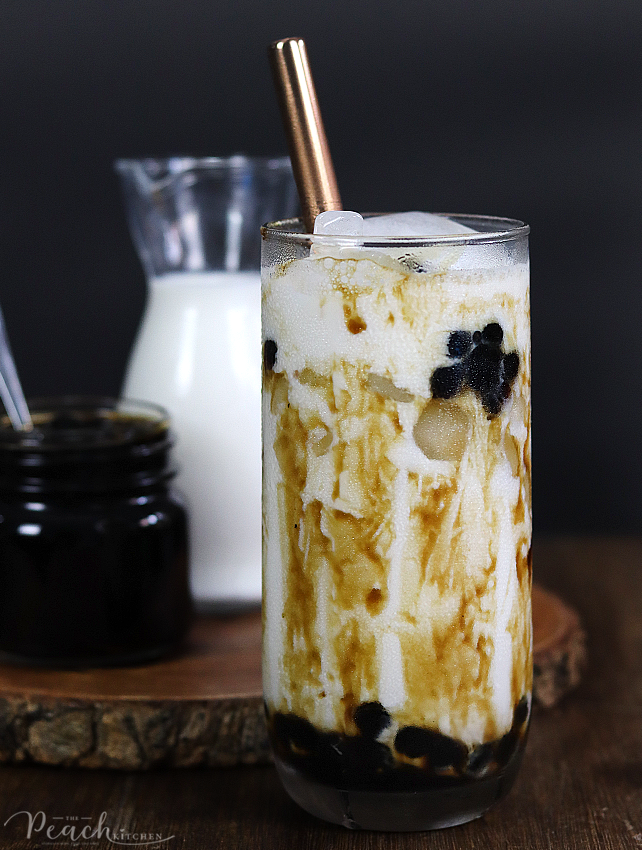 If you're not a Brown Sugar Boba Milk fan, you can also put these yummy Brown Sugar Pearls in milk tea, iced tea, or fruit shakes.
OTHER RECIPES YOU MIGHT LOVE…
Print
Brown Sugar Boba Milk (ala Tiger Sugar)
2 cups

black pearls

12 cups

water

1 cup

brown sugar

1/2 cup

water
to make the Brown Sugar Boba Milk
Instructions
Cook the pearls according to package direction.: Pour the pearls into boiling water. Pearl to water ratio should be 1:6.
Stir lightly and let the pearls float to the top. Cook for 30 minutes on low heat with cover on, stirring from time to time to prevent sticking.
After 30 minutes, turn off heat and steep the pearls for 30 more minutes. Drain.
Cook the brown sugar while draining. Put the brown sugar in a non-sick pan. Melt it on medium heat while stirring constantly.
Once brown sugar is melted, add the drained pearls and stir. Keep on stirring until it's combined.
You may add water 1/2 cup at a time if it's too thick or if there's sugar that has hardened. Just continue stirring and it will melt.
To make the Brown Sugar Boba Milk: Put about 1/4 cup off brown sugar pearl in a tall glass. Make sure some of the brown sugar syrup touches the wall of the glass.
Add ice and pour your favorite cold milk.
Drink and enjoy!
♥ If you make this recipe, kindly snap a photo and tag @thepeachkitchen on Instagram (OR hashtag it #thepeachkitchen). I'd love to see what you cook!