Make  a 5-minute meal with your leftover beef tacos fixings, turn it into this yummy Taco Salad bowl…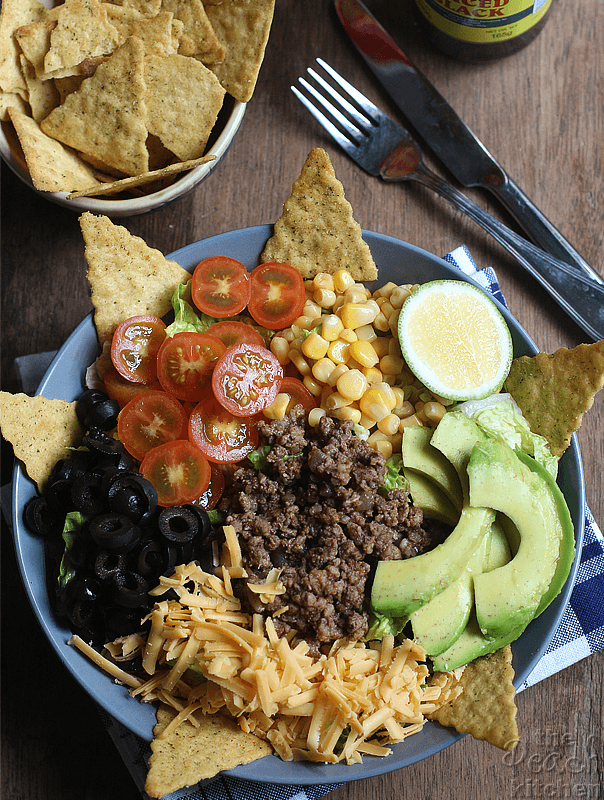 Hey, it's Taco Night. We all love Taco Night….. the crunchy shells… hot sauce…beer… beer-garitas… family… and friends.
The next day, it's either you get leftover taco shells or leftover taco fixings from your delicious Beef Tacos. Honestly, I like getting leftover taco fixings more than the shells because leftover taco shells don't get eaten here at home. And you can easily turn the leftover fixings into a meal. Have it as is or add corn, avocados, and a squeeze of lime — just like what I did with this Taco Salad.
I combined them with my two recent favorite things too: Ritz Toasted Corn Chips Salsa Verde and Doña Elena Black Olives. I can't seem to stop snacking on Ritz Toasted Corn Chips Salsa Verde — they're crunchy and they taste like you've dipped them in freshly made Salsa Verde. I love that it's oven-baked and not fried. Meanwhile, I am putting Doña Elena sliced Black Olives on everything — toasts, salads, pasta, — EVERYTHING! It's my latest craze..
Besides, I love salads with tons of colors. It reminds me of Summer which is coming in a couple of months. I can almost smell Summer… well, maybe because we are already making a few bookings for March!! Yaaayyy!!! I am sooo excited.
Anyway, this salad is the bomb diggity! It has all you can want in a salad in terms of taste, texture, and color! Oh, and it makes use of leftovers too which definitely makes a mommy and her fridge happy.
Make this salad whether you have or don't have leftover tacos. I'm sure your whole family will enjoy this.
♥ If you make this recipe, be sure to snap a photo and tag @thepeachkitchen on Instagram (OR hashtag it #thepeachkitchen). I'd love to see what you cook!
Print
Taco Salad
2

heads Romaine Lettuce, cut into pieces

1 cup

cherry tomatoes, cut in half

1 cup

con kernels

1 cup

grated cheddar cheese

1

avocado, peeled and sliced

1 cup

sliced black olives (I used Don Elena)

1

–

11/2

cup leftover beef taco

1 cup

Ritz Toasted Corn Chips for Serving
lime wedges
dressing of choice, OR
Creamy Garlic Dressing
1 cup

sour cream

6

cloves garlic chopped finely

½ cup

shredded cheddar cheese

2 tbsp

lemon juice or calamansi juice
salt and pepper to taste
Instructions
Make the Garlic Dressing: combine all ingredients and mix well. Taste and adjust salt & pepper then place into the refrigerator to let the flavors marry.
Layer lettuce on your serving plate and then assemble all the other ingredients on top.
You can serve the dressing drizzled on top of the salad or separately.
Have some more Ritz Toasted Corn Chips on the side, you're gonna need it.