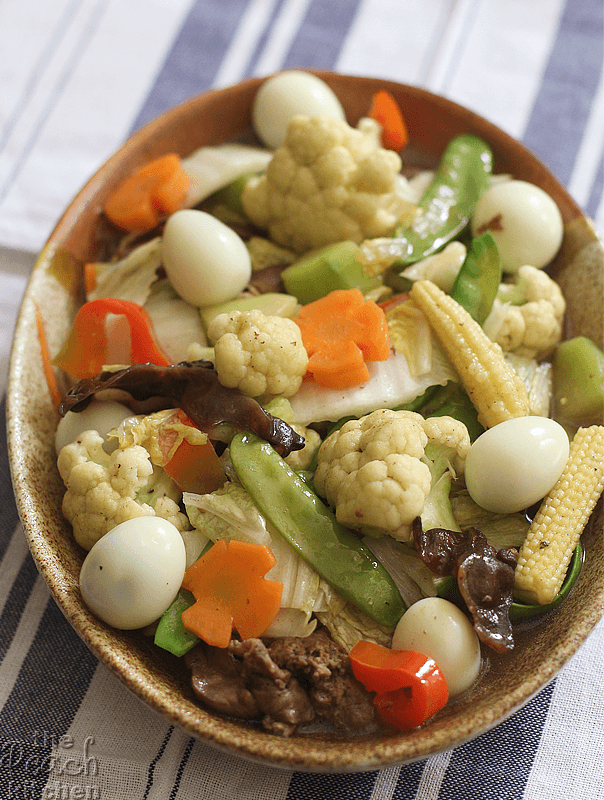 Chopsuey is one of the veggie staples in most, if not all, Filipino homes. There are many versions of chopsuey and it all depends on: how people like it, the budget,  and sometimes, the number of people who are going to eat the chopsuey. Here at home, most of the time I cook chopsuey just with chicken liver. There are times when I put fried chinese sausage and shiitake mushroom. There are times when there are lesser variety of veggies. But this is the first time I've ever tried it with quail eggs. I think those little eggs makes it more special and delicious.
In other news, just as I thought this week was off to a great start, Twinkle had a fever on midnight last Monday. She's been having a stuffy nose and was sneezing a lot. I'm suspecting the fever was because of colds. I've given her medicine and it seems to be working. She's still extra clingy, though and doesn't want me anywhere near my laptop. She wants me only at her side, or carrying her and hugging at all times.
She even doesn't want me cooking and would fetch me from the kitchen to go with her in the living room and watch cartoons. Kapag naglalambing nga naman ang babies natin, mommies!
Anyway, this Chopsuey with Quail Eggs was lunch and it certainly hit one of our goals this year which is to add more veggies to our family's diet.
♥ If you make this recipe, be sure to snap a photo and tag @thepeachkitchen on Instagram (OR hashtag it #thepeachkitchen). I'd love to see what you cook!
Print
Chopsuey with Quail Eggs
250g

chicken liver, cut into bite-size pieces

1

head cauliflower, cut into bite-size pieces

8

baby corn

1

large sayote, sliced

1

small bunch bok choy, cut into squares

1

small cabbage,cut into bite-size pieces

1

carrot, cut into strips

1

red bell pepper cut into strips

3

pieces black fungus (tengang daga) mushrooms, cut into strips

100 grams

snap peas

15

pcs. quail eggs, hardboiled and peeled

1

carrot, cut into bite sized pieces or julienned

1 tbsp

soy sauce

2 tsp

sesame oil

1

onion, chopped

3

cloves garlic minced

1 tbsp

cooking oil

1 tbsp

cornstarch

2 cups

water

1

beef broth cubes
salt and pepper to taste
Instructions
Heat oil in wok and fry chicken liver until cooked. Remove from heat and set aside.
Sauté onion and garlic until onion becomes translucent put the chicken liver back to the pan.
Add water, beef cubes, and soy sauce and bring to a boil. Simmer for a few minutes until chicken liver is cooked. Add salt and pepper to taste.
Add all the veggies and cover. Simmer until veggies are cooked but not soft.
Dissolve cornstarch in 2 tbsp water and pour in the sauce.Bring to a boil to thicken. Add more water if it becomes too thick.
Add quail eggs and stir to coat veggies with sauce.
Drizzle with sesame oil.
Serve with rice.