Simple Wedge Salad with bacon and blue cheese that's a delight to eat on it's own or as a side dish …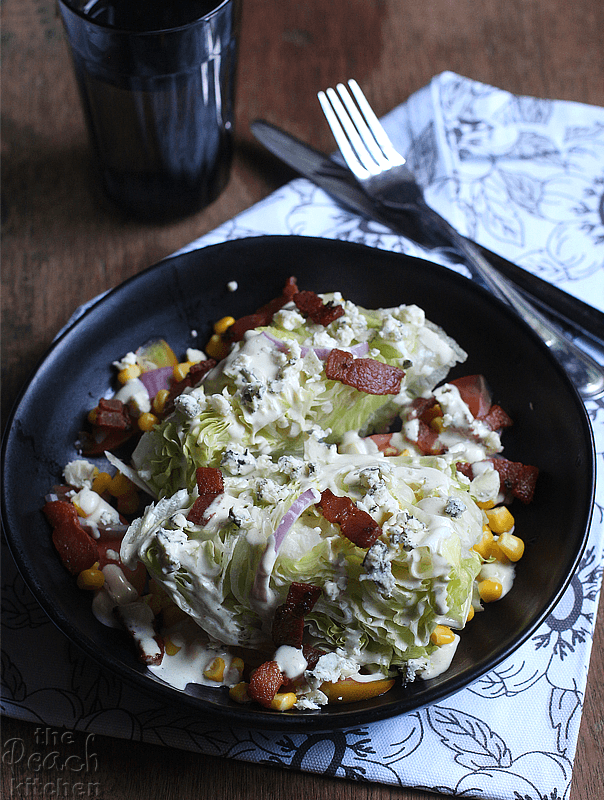 My first encounter with Wedge Salad was when my good friend Brenice and I ate at Maple in Shangri-La Plaza (now closed). I found it so fancy and I was impressed that iceberg lettuce could be served in wedges in a salad. It was a Pwede pala yon? moment for me. It was really good too and changed my mind about iceberg lettuce in general.
I wouldn't say I made it immediately, though. Although I'm really fond of salads, it is seldom that I make salad at home because I am the only one who eats it — except for say, this Taco Salad which peanutbutter♥ loves and of course, dessert salads like this Mango Pandan Salad for Ykaie.
Year after year, I told myself that we should add more greens and veggies into our diet. I think I've achieved that but I feel like we should be eating more. Especially now that I've experienced my blood pressure rising, once last Dec 23 and a second time this Feb 4. I know I've been yoyo dieting. It's really hard for me to stick to a certain diet because I love to eat and I love food. I haven't quite gotten around how to make a lifestyle change. I've tried and tried and failed.
I'm trying again this time. It's been five days that I was able to eat a bit healthy. You know, less carbs and sweets, more veggies and fruits. I'm also trying to eat more fish and I've done some work outs.
I've a bit of a scare because of the high blood pressure so I should be able to figure this out.
Anyway, along with eating healthy, one of my goals his year to share what I've been up to on a daily basis if I can. I know I haven't been posting as much. I've been quite uninspired lately — I don't know why. Hoping to inspire myself, I started reading back on my old posts. I think it kinda worked because here I am…sharing with you this Wedge Salad. It's a salad that is so easy to make and so delicious you just have to make it.
Here's to healthier eating, regular blog updates, and inspiring moments…
♥ If you make this recipe, be sure to snap a photo and tag @thepeachkitchen on Instagram (OR hashtag it #thepeachkitchen). I'd love to see what you cook!
Print
Wedge Salad
1

head of iceberg lettuce,chilled and cut into wedges

4

slices of bacon, cooked, cooled and crumbled

1

large tomato, chopped

1

onion, sliced

1/4 cup

of corn kernels
crumbled bleu cheese for garnish
Creamy Garlic Dressing
1 cup

sour cream

6

cloves garlic chopped finely

½ cup

shredded cheddar cheese

2 tbsp

lemon juice or calamansi juice
salt and pepper to taste
Instructions
Make the dressing: combine all of the ingredients for the creamy garlic dressing in a medium bowl and stir well. Refrigerate for at least 30 minutes.
In a large plate, place all lettuce wedges.Drizzle with the creamy garlic dressing and then sprinkle with crumbled bacon, tomatoes, onion and corn.
Top with crumbled bleu cheese.
Serve and enjoy