Today, we're not going to talk about food but something that I'm also concerned about: sweaty hands and feet. You all know that it's hard to handle food when you have sweaty hands — well, not only food, EVERYTHING.
I know a lot of people are suffering from the discomfort of sweaty hands and feet. I know because I am extremely close to four people who has them. They aren't very vocal about it because it's something they are trying to hide. They are embarrassed about it.
They always keep a towel or hanky ready to keep their hands dry. For those who has sweaty feet, foot powder is their bff. It helps them to keep their shoes and socks from getting wet and of course, odor-free. One of these people, totally swore off shoes and only wears sandals and slippers to keep her feet dry.
This condition is called hyperhidrosis. Most of the time, Hyperhidosis ( or excessive sweating of the hands and feet) goes undiagnosed or untreated simply because we are not aware that there is a solution. We go about our daily lives thinking that because we are born with it, it's normal. But it keeps us from functioning normally, so it's not normal.
And there is a solution for this sweaty hands and feet problem! It's called Iontophoresis.
What is Iontophoresis?
Iontophoresis is a treatment for excessive sweating that interferes with the sweat glands just below the outer layer of the skin.
It is done using the Iontoderma iD-1000.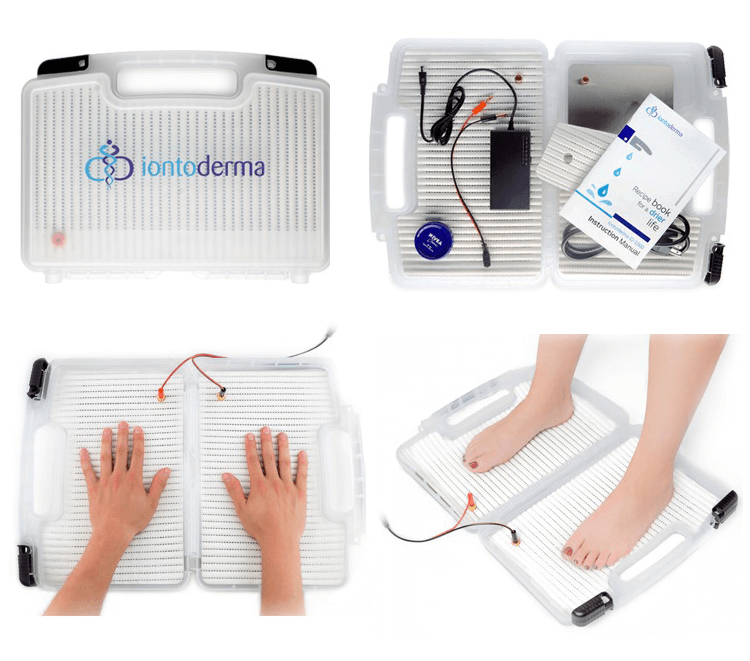 Here's a video on how Iontoderma's Iontophoresis machine works.
Why Use Iontoderma's Iontophoresis Treatment?
Iontoderma's Iontophoresis treatment uses tap water to send electrical currents under the skin to prevent sweating from occurring.
It

positively treats more than 90% of cases of patients with palmar and plantar hyperhidrosis.

It causes no known side effects and its efficiency does not decrease over time.
A simple 20-minute session once a week is often all it takes to achieve a comfortable perspiration level.

This device can last many years without the need of replacement parts or batteries.

It is the best and most cost-effective treatment option for hyperhidrosis. It is 50% more affordable than other machines.

AND there's a money back guarantee if it doesn't work for you.
So don't sweat it, treat those sweaty hands and feet with Iontophoresis!
You can order online at iontoderma.com / www.facebook.com/iontodermaph/
or if you want to pick-up or arrange delivery within Metro Manila, contact:
Phone: 0917 825 3189
Email: claudettesoriano@iontoderma.ph
Address: 20 Jefferson St. Don Antonio Royale Estates, Quezon City, Philippines