You all know I started my healthy journey last year and part of it is being active. I try to work out 3-5 times a week. On weekends, that's when I encourage my family to work-out with me. Sometimes it works, most of the time it doesn't. Ykaie and peanutbutter♥ doesn't really like the work-out I do at home because they get bored easily. And of course, since Twinkle is still a baby, it's difficult to include her on the work-out routine.
I've been thinking about something we could do that's fun and exciting and yet will encourage the whole family to be active. Last weekend, we decided to go on a picnic at La Mesa Ecopark. I figured that going on a picnic would encourage movement since there are a lot of activities at the park. I was right.
The last time I've been to La Mesa Ecopark was ten years ago. It's such a huge park and we enjoyed walking and running and just basically taking in nature and the fresh air that it provides. For P50 entrance fee, di ka na lugi. There's a playground too where the kids can play.
Twinkle is a ball of energy and she really enjoyed the slides.
After letting Twinkle play on the playground, we decided to go biking. We rented two bikes for an hour. One of them with a side car for Twinkle and, surprisingly…. me. Twinkle didn't like to sit there with anyone but me. So instead of being able to practice my bike-riding skillz, I just sat there with Twinkle so she can enjoy the ride.
It was a hot afternoon and we were always thirsty. Buti na lang we brought lots of Absolute Distilled Water with us . I'm lucky that my kids like drinking water all the time so there's no problem in keeping them hydrated.
Encouraging my family to be active is only one of the ways on how I show them I love them. We mothers show our love for our family in many ways. We cook delicious food for them, we make sure our house is clean and germ-free, especially for our babies, we cheer on our kids when they have presentation, we help them with school projects, we spend quality time with them, and of course, we make sure we give them clean drinking water all of the time.
But how do you make sure you give the safest and cleanest drinking water for them? With all the brands and kind of water being sold everywhere, I'm sure there are times when you get confused. Ano nga ba ang pipiliin ko? Mineral Water? Purified Water? Or Distilled Water? Minsan our tendency is to buy the most economical so we can buy more BUT when it comes to water, QUALITY is as important as quantity.
With all the water-borne diseases caused by unclean water, we have to make sure that our family only consumes clean and safe water. How do we do that? By understanding the difference in between mineral, purified and distilled water.
Mineral water comes unprocessed, which makes it filled with various minerals like calcium and magnesium. It is bottled straight from the source and can be in the form of sparkling or still waters. Ito yung water na may kakaibang lasa pag ininom mo, brought about by the minerals found in it.
Purified water goes through a certain process to ensure other impurities are removed. It may come from any source but as long as it goes through a purification system that functions properly, the water will almost always be very fit for drinking.
Distilled water is known to be the purest form of water because of the added step in water filtration that ensures that the water undergoes the most stringent distillation process. This additional process eliminates the minerals and all solid residues from the water source that may include toxic metals and chemicals. Thus, making this the cleanest and purest water of choice.
When you say DISTILLATION, it means that the purified water is further boiled out of it contaminants such as inorganic minerals, metals, bacteria, salt, etc. which has high boiling points. The water is then turned into steam leaving those contaminants behind.  The  pure water steam is captured and cooled. Then condensed back into water. Taking purified water one step safer. This becomes distilled water.
Absolute is 100% distilled water. It has undergone thorough purification and distillation process, making it the cleanest and safest water for your baby and family.
It is certified and approved by the Bureau of Food and Drugs for meeting the country's highest and strictest bottled drinking water standards. It is also certified by the National Sanitation Foundation International, one of the world's most trusted certification organizations and a member of the International Bottled Water Association that ensures compliance among bottled water makers around the world. O, diba?
I really trust Absolute Distilled Water. As a matter of fact, it was Twinkle's water ever since she was born. I was only able to breastfeed for a month and she was formula fed after. And that's the water that I used for her milk. It gave me 100% peace of mind then and it's giving me 100% peace of mind now knowing I only give the safest and purest form of water for my family.
One more thing I love about it is that they have #AbsoluteDisney bottles! It comes in 250ml sizes which kids like Twinkle can hold on their own. Tingnan nyo si Twinkle, walang pakialam basta sya iinom ng water. She won't let that bottle go unless it's empty… heehee. (Kailangan magkasalubong ang kilay pag umiinom?)
After all the activities we did, including firing, syempre pagod at gutom na…. which means rest and merienda time! It's important to have balance, so we brought different kinds of fruits like watermelon, papaya, pineapple, and cantaloupe, sandwiches, cookies, cake….
and chips.. which Twinkle doesn't want to let go of.
Ykaie and Twinkle loved the family picnic as did peanutbuttter♥ and I. I think going to the park is going to be a weekend thing. It's a great family bonding activity, it's not that expensive, and it encourages movement. It brings us closer to nature pa.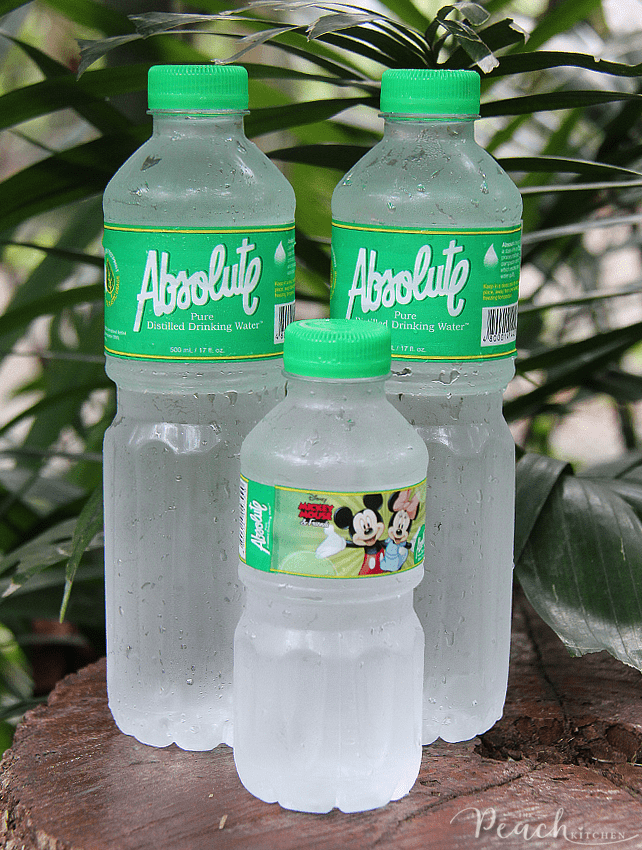 Most of all it promotes the healthy habit of keeping hydrated and drinking lots of water. There are several kinds of drinking water out in the market, us mothers should only choose the one that lives up to its highest standards of safety and cleanliness and that's Absolute Distilled Drinking Water.
Remember mommies, that giving the purest water to our family conveys giving them our purest love. 100% Pure Love = Absolute 100% Distilled Water.
To know more about Absolute Distilled Water, drop by their
Facebook Page: https://www.facebook.com/AbsoluteDistilledWater/
Instagram Page: https://www.instagram.com/absolutedistilled/