Fruity and with no added sugar, this Strawberry Spinach Banana Smoothie is a great way to enjoy your greens this Summer…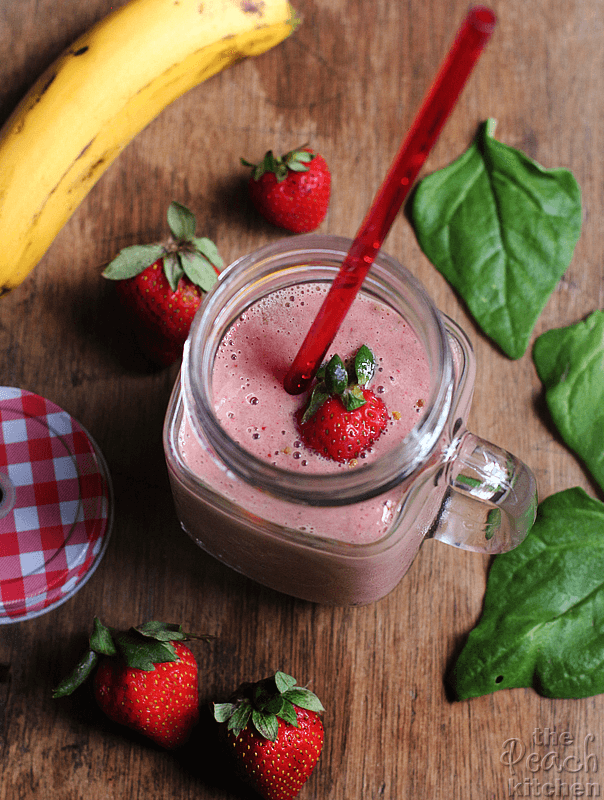 Helloooo! I'm back!
And I am back with a new favorite smoothie. We actually call this Straw Spinana Smoothie here at home because it's a mixture of strawberries, spinach, and banana.
This smoothie is just a great way to make your kids eat (–er, drink) spinach! You don't even have to sneak it in. Ykaie doesn't like spinach very much but she sees me put lots of it in this soothie and yet she drinks this and finds it soo delish. According to her, it doesn't taste like spinach — at all!
That's good news, right?
I use frozen strawberries, frozen banana, and fresh spinach to make this drink. I add either greek yogurt or plain yogurt, almond milk, chia seeds, and bee pollen for extra nutrient boost.
You can use regular ,low-fat or soy milk too, if you want and add a little bit of honey to make it sweeter.
Okay, you might be thinking I am in a hideout somewhere and extremely enjoying this Strawberry Spinach Banana Smoothie for the last seven days cause I am MIA. Seven days is kind of a long time for me to not update about what I am up to in the kitchen. But the reason why I was MIA the last seven days is … well, remember when I told you about the high blood pressure I was experiencing? I told you when I made this Wedge Salad and this Char Siu On Steamed Buns.
Last week, I had a series of high blood pressure everyday since the 20th. On top of that, was we had a vacation for three days. Resorts were booked and we didn't cancel. I had my blood chem checked the morning we left, though and had my brother (who's a doctor) text me what I needed to do. Thankfully, I didn't have to do anything but I ate clean the whole trip. (takot ko lang ma-high blood no..) I didn't have any high blood pressure episode the whole three days but the result of my blood chem came back with borderline high sugar, high triglycerides, and high cholesterol.
I need not only to eat healthy but to change my diet completely.
The last whole week until now is adjustment. Adjustment to the new diet and the meds. Crossing my fingers I'm back to "normal" in three months, huhuhu.
Meanwhile, let's start talking about healthier food…I'm giving up pork and beef for a while but I will continue cooking it for the loves of my life.
I'll be enjoying my salads and smoothies. It will absolutely give me a refreshing Summer, don't you think?
♥ If you make this recipe, be sure to snap a photo and tag @thepeachkitchen on Instagram (OR hashtag it #thepeachkitchen). I'd love to see what you cook!
Print
Strawberry Spinach Banana Smoothie
2 cup

frozen fresh strawberries

¾ cup

greek yogurt

1 cup

spinach leaves

½ cup

almond milk

1

frozen banana

1 tbsp

honey (optional)

1 tsp

Bee Pollen (optional)

1 tsp

chia seeds (optional)
Instructions
Put everything in your blender and pulse until smooth and creamy.
You may add extra ingredients like honey to suit your taste.
Garnish with extra strawberries or banana before serving.
Enjoy!