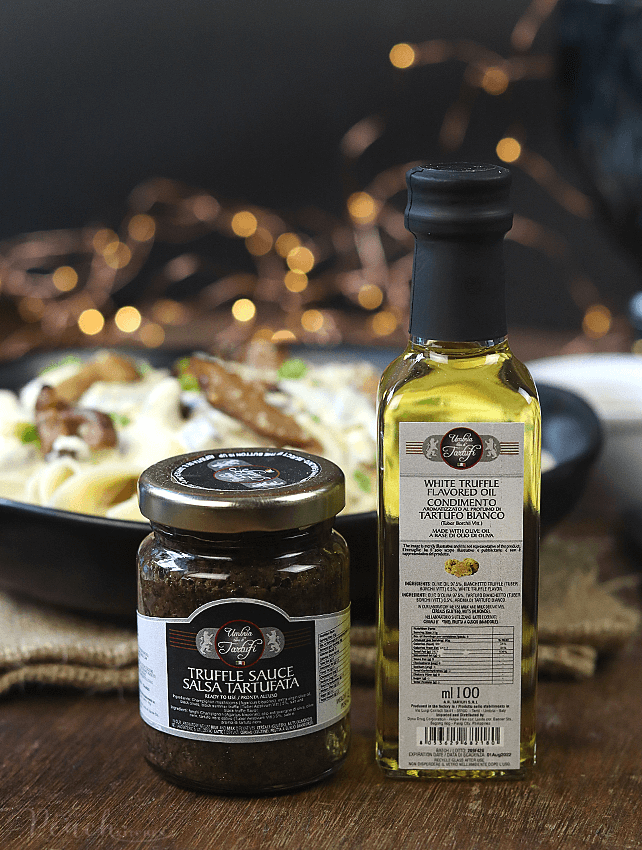 Have you ever eaten truffle pasta in a restaurant and marveled at how deliciously it was cooked? Then made a mental note to prepare it for your family on a special occasion? Well, the holiday is season is just around the corner. It is indeed a special time to celebrate with the family because of the long year that we experienced. Despite everything, we are all here — supporting each other and loving each other.
Now is definitely the time to level up our Noche Buena with truffle oil and sauce — to make it extra special. So I'm sharing with you my latest discovery — Umbria Terra Di Tartufi White Truffle Oil and Umbria Terra Di Tartufi Black Truffle Sauce.
Umbria Terra Di Tartufi's white truffle oil is a condiment based on olive oil, dehydrated Bianchetto truffle and white truffle aroma. It has a more delicate flavor with a slight garlicky taste and a hint of pepper. It is used almost exclusively as a finishing oil, meaning it is added to a dish near or at the end of preparation, as its potency is heat-sensitive and not suitable as a cooking oil.
On the other hand, Umbria Terra Di Tartufi's black truffle has a more intense and robust flavor, which some may describe as more earthy and nutty with some chocolate notes. It is made with fresh Champignon mushrooms, extra virgin olive oil, black olives, and the natural flavor of black summer truffle. Truffle sauces are heated up and mixed with other ingredients.
These two ingredients will absolutely take your Noche Buena and Media Noche spread up a notch. Your family will absolutely love it.
Truffle Mushroom Fettuccine
What I love about the white truffle oil is that a little goes a long way. Just a few drops of it can do wonders in enhancing the flavors of whatever dishes you'll add it to. You can add it to pasta, soup, risotto, steak, gravy, chicken wings, fish fillet, salmon, and even your salad.
It is usually added towards the end of the preparation or the cooking to get the full potency of its flavor and aroma.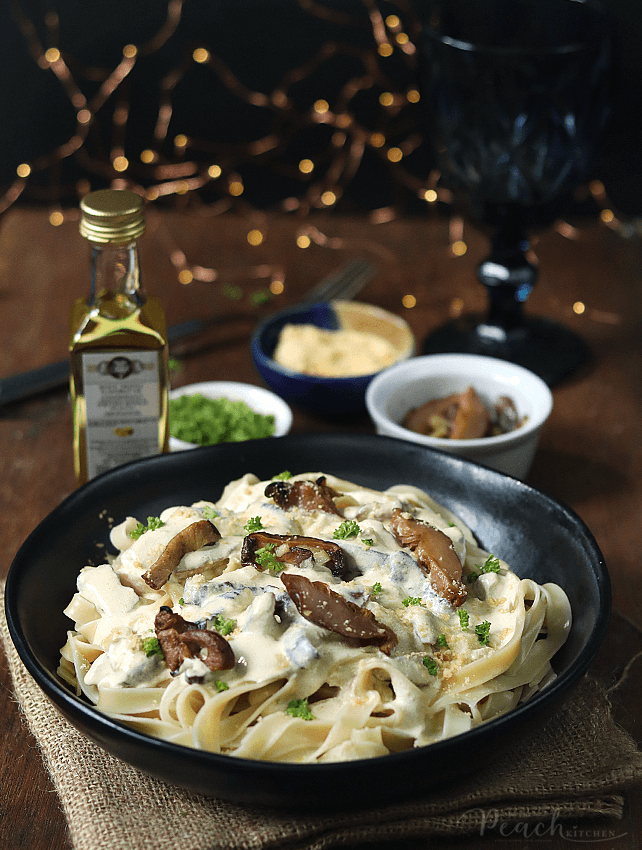 I am sharing with you an easy Truffle Mushroom Fettuccine recipe you can use to cook for your loved ones this holiday. The ingredients are very easy to buy as it is available in all supermarkets.
Print
Truffle Mushroom Fettuccine
300g

fettuccine noodles, cooked according to package direction

1 tbsp

olive oil

6

cloves garlic, minced

200g

kibbled shiitake mushroom, soaked in water until rehydrated and then sliced

2 tbsp

butter

2 cup

heavy cream (or all-purpose cream)

3/4 cup

water

1

chicken cube
grated parmesan cheese
salt and pepper to taste

1

–

2

tbsp Umbria Terra Di Tartufi's White Truffle Oil
chopped parsley for garnish
Instructions
Heat olive oil in a pot and sauté garlic until fragrant.
Add sliced shiitake mushrooms and cook for 2-3 minutes. Season with about ¼ tsp salt. remove from pan and set aside.
In the same pan, melt butter and add the heavy cream. Stir.
Add the chicken cube and shiitake mushroom.
Mix well and bring to a simmer.
Season with salt and pepper. Turn off heat, add the pasta and give it a quick stir.
Drizzle with truffle oil and mix well.
Scoop over a plate and sprinkle with grated parmesan cheese and chopped parsley on top.
Black Truffle Stuffed Baked Brie
Umbria Terra Di Tartufi's black truffle is perfect in garnishing appetizers and canapés or for enhancing dishes with a delicate and fine flavor like pasta, meat or fish. Today, I'm sharing with you how to use it in an appetizer. Everyone loves cheese and we always make it a point to serve a charcuterie board whenever there's a special occasion.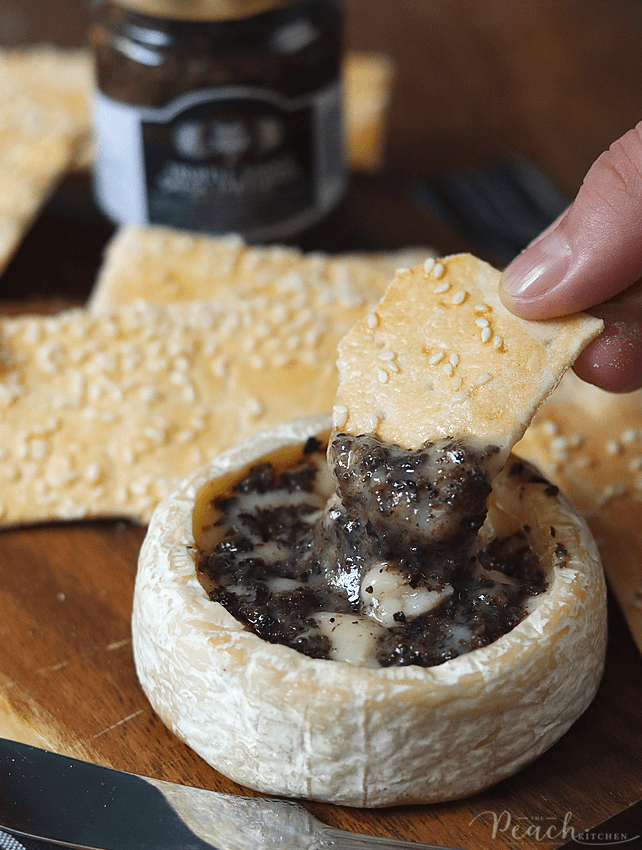 This holiday, instead of our usual cheese board, serve up one with Black Truffle Stuffed Baked Brie. It sounds hard to do but it's super easy. The recipe is below, you just need two ingredients — the cheese and the black truffle. If you don't have an oven, you can also heat this up using an over toaster.
Print
Black Truffle Stuffed Baked Brie
1

small brie wheel

2 tsp

Umbria Terra Di Tartufi's black truffle
Instructions
Preheat oven 180°C/350°F.
Remove all the packaging from your brie.
Use a sharp knife to cut a circle in the top of your brie. Peel this back.
Scoop two teaspoons of black truffle sauce and spread it on top of the brie.
Cover the truffle back up with the circle of rind you removed earlier
Wrap the brie in parchment paper and then with an aluminum foil.
Place the brie on a baking sheet and bake for 15-20 minutes until completely molten.
To serve, remove the tinfoil and carefully slide the cheese into a plate or a cheese board.
Serve with plenty of crackers.
You can get the Umbria Terra Di Tartufi white truffle oil  and black truffle at goodwill.market, an e-commerce site under Dyna Drug Corporation that offers healthy and authentic products that are globally loved and curated.
The Umbria Terra Di Tartufi White Truffle Oil is available in 100 mL and 250 mL bottles for Php 719 and Php 1,399 respectively. Their Original Truffle Sauce is available in 80g and 180g bottles for Php 519 and Php 759 respectively, while their Black Truffle Sauce 5% (intense) is available in a 180g bottle for Php 999.