You won't miss your pasta with this low carb, gluten-free, low fat Eggplant Lasagna! It's all delicious minus the carbs and the red meat…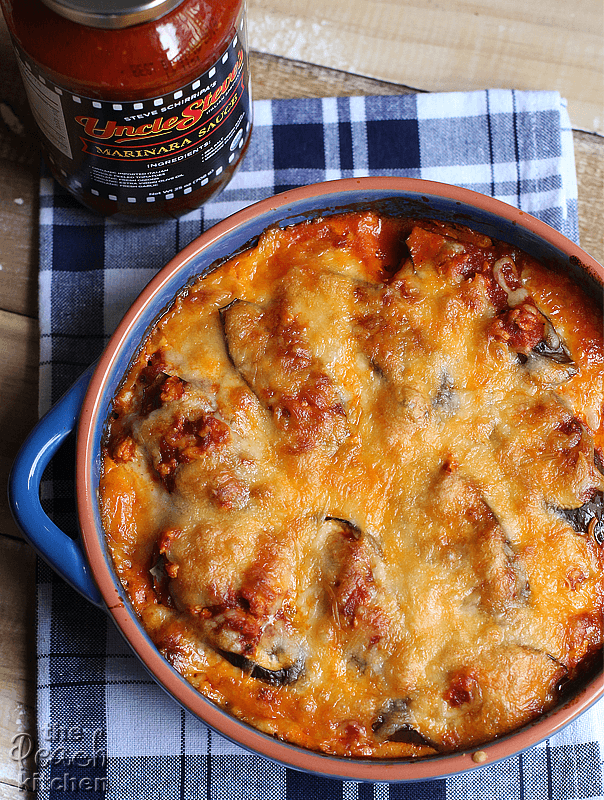 So I love Lasagna and I was craving for pasta because of this low carb, low sugar, low fat diet. I had to remind myself that I had a goal and it is to regain my health and the balance in my life. So instead of giving in to cravings which I absolutely swore I wouldn't do, I decided to make this wonderful noodle-less Eggplant Lasagna with Chicken Meat Sauce to satisfy my cravings.
Lo and behold! It didn't just satisfy my cravings… it awakened my tastebuds as to how delicious healthy can be!It was so flavorful that even Ykaie loved it and peanutbutter♥ thought I used beef in the sauce!
Instead of lasagna noodles, I used sliced eggplants which I roasted in the oven for about 7-10 minutes to dry it out a bit.
Then layered it in a baking pan with the chicken meat sauce, cottage cheese mixture, and low fat mozzarella cheese. Oh gosh, if you could only smell the kitchen while this was baking, you wouldn't think I'm making something healthy. Ykaie said it smells like the pizza at S&R…LOL!
And she couldn't wait to have a taste!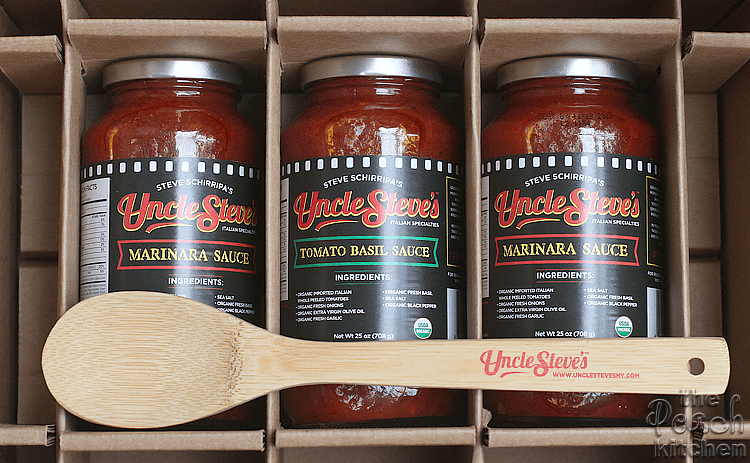 I was going to make homemade marinara sauce for this recipe but I remembered that Steve Schirripa (Anthony of my favorite series Blue Bloods!) sent me some of his Uncle Steve's Italian Specialties Sauces sometime in December. I decided to use it for this recipe because I so wanted to try it for the longest time. But don't worry, I also left the recipe for homemade marinara sauce below.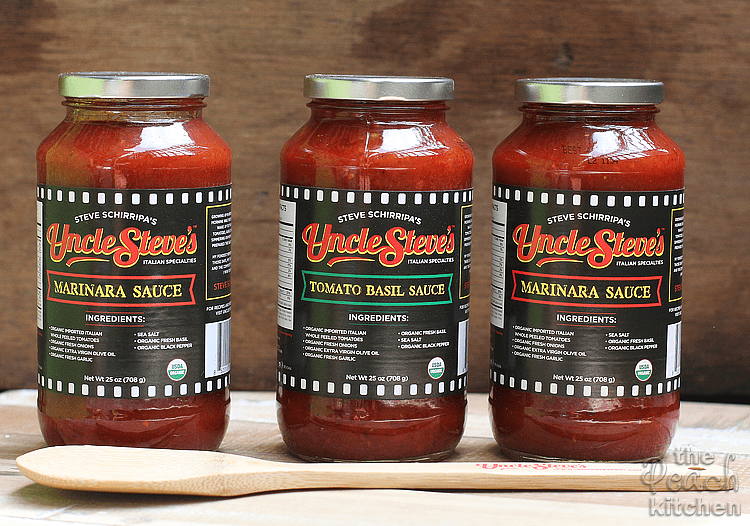 Let me tell you a bit about Uncle Steve's Italian Specialties. It's Steve Schirripa's recipe that he inherited from his grandmother. The sauces tastes so wonderfully homemade. It feels like waking up in an Italian household with the sauce simmering on the stove and you can smell the aroma of tomatoes, garlic, and olive oil in the air.
It comes in three variants: Marinara Sauce, Tomato Basil Saucce, and Arrabiata Sauce.
It's gluten, dairy, egg, and soy free. AND It fits any special diet as Uncle Steve's is suitable for vegan, vegetarian, paleo and organic diet plans. It's certified kosher and organic too!
I love it!! Now I just wish they would go international because I don't know where to buy it here in the Philippines.
Thank you Steve Schirripa!!!!
Such a wonderful recipe that will surely be a permanent here in our household. I really hope you try this recipe 'cause I'm sure you'll really really love it.
It's only the beginning of my low carb, low sugar, low fat journey and I must say that I'm enjoying cooking new and healthy recipes for me and my family.
♥ If you make this recipe, be sure to snap a photo and tag @thepeachkitchen on Instagram (OR hashtag it #thepeachkitchen). I'd love to see what you cook!
Print
Low-Carb Eggplant Lasagna with Chicken Meat Sauce
3

eggplants, sliced thinly
olive oil spray or 2 tbsp olive oil
salt

250g

ground chicken

2 cups

store-bought Marinara sauce or homemade Marinara sauce (recipe below), I used Uncle Steve's

1

egg

1/2 cup

ricotta cheese/ cream cheese (Or cottage cheese, if you want it low fat)

1/2 cup

grated parmesan cheese

1 cup

low fat mozzarella cheese
Instructions
Preheat oven to 375ºF (190ºC).
Slice eggplant in about 1/4 inch thick slices.
Place sliced eggplant on large baking sheet coated with nonstick cooking spray or greased with 1 tbsp olive oil. Sprinkle with salt and roast in the oven for 7-10minutes to help dry out the eggplant a bit.
Allow eggplant to cool and make your sauce.
Heat 1 tbsp olive oil in a non-stick pan, sauté ground chicken until brown. Pour in marinara sauce. Stir and simmer for 5 minutes. Turn off heat.
Mix together the ricotta (cottage cheese), parmesan, and egg in a medium bowl until well combined.
Then assemble your lasagna. In a large heat safe pan, place a thin layer of sauce on the bottom and distribute evenly. Place a single layer of eggplant on top of the sauce and add 1/2 of your ricotta (cottage) cheese mixture. Sprinkle ¼ cup of shredded mozzarella cheese on top. Then add another single layer of eggplant, chicken meat sauce, ricotta (cottage cheese) mixture, and mozzarella. Repeat the process creating 3 layers of "Lasagna" in total with the top being a thin layer of sauce with mozzarella cheese.
Bake in the oven at 375ºF (190ºC) for 18 – 22 mins until cooked through and cheese is bubbly.
Serve it with a side salad.
Print
Marinara Sauce
3

cloves garlic, minced

2 tbsp

olive oil

1

can diced tomato/ crushed tomato

1 tsp

dried basil

1 tsp

ground oregano

1 tbsp

sugar

2 tsp

salt
Instructions
Sauté garlic in heated oil until brown
Pour in diced tomato/ crushed tomato.
Simmer for 30 seconds over low heat.
Add basil, oregano, salt and sugar.
Stir and simmer for a few seconds.
Turn off heat and use as spaghetti sauce or dip.