Shopping at the newly opened banch of Tickles at SM North EDSA made us hungry. And just in time that our tummies are rumbling, peanutbutter♥ met us from work so we can have a nice family lunch.
I've been wanting to try Tamarind Taste of Thai at The Block for the longest time now. And you know how lunch time are during weekends – restaurants are always full and you have to wait in line to get a table. Good thing I made a reservation through BigDish Philippines before shopping so we can have a table guaranteed — on top of that we also get a 10% discount on our meals.
That's what's nice about the restaurants booked through BigDish. Not only do they reserve a table for you but  you get a discount and they give different discounts rates depending on the time of the day. Of course, it would be best for you to choose the time of the day when discounts are the highest. (Read our first BigDish booking at Jatujak)
I ordered the Poh Pia Sod (₱175) for our starter. I love fresh vegetable spring rolls and I always make sure to order one whenever I see it on the menu. It's crunchy and tasty and served with sweet chili dipping sauce.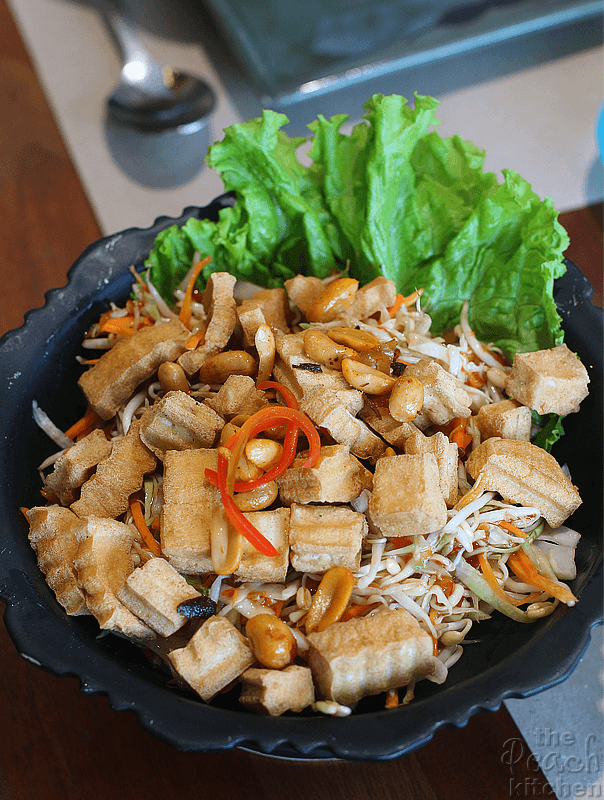 What I love about Tamarind Taste of Thai? Well, they have vegetarian choices! I chose the Yam Tao Ho (₱190) which is a salad made of crispy tofu served on a bed of bean sprouts and other crunchy fresh veggies tossed in with sweet chili sauce dressing. It was so good that even Ykaie — who is not a fan of salads — loved it.
peanutbutter♥ ordered the Chicken Panaeng (₱295) which is a thick chicken curry with ground peanuts. It's mildly spicy but oh-so-flavorful and rich! I love that it has ground peanuts each time to take a spoonful.
This is my second favorite among the food that we ordered. The Pla Jaramet Thod (₱480) , deep fried pompano served with thinly sliced green mango and tamarind sauce. It's a bit pricey, yes, but it is so worth it. The pompano was crispy and is complemented by the sourness of the green mango and the sweetness and tartness of the tamarind sauce. You have to eat it all at once to experience how each of the elements of this dish complements each other.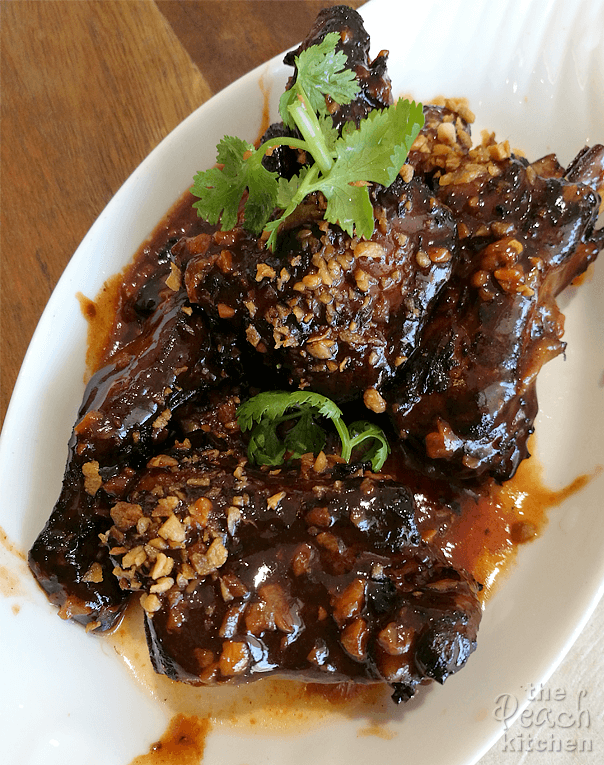 I had to order Seeklong Moo Deang (₱320)  for the pork lovers (a.k.a pb♥ and Ykaie). It's thai pork spare ribs in a sweet and mildly spicy sauce. It has a smoky flavor too and it's very tender.
They ordered Kao Pad Kratiem (₱200) or garlic fried rice which has a big serving of 3-4 persons. I don't eat rice these days so we only order a small portion that's good for peanutbutter♥, Ykaie, Lani, and Twinkle. Yep, Twinkle likes to have her own plate during meals now.

We shared an order of the Thai Cha Nom (₱110) or thai milk tea. It was delicious! If I'm not cutting out on sugar, I would've finished this tall glass!
Lunch at Tamarind was sooo good! I promise to be back so I can try out the other dishes….
And I tell you, if you haven't tried booking through BigDish yet, now is the time to try it. You can get 10%-50% discount just by booking your meals through them.
To know more about BigDish, follow https://www.facebook.com/BigDishPH/
Or drop by https://bigdish.ph/ to register.