I just got back from a vacation-slash-advance-birthday-celebration-of-Twinkle at Tali Beach. I'm so excited to tell you all about my trip but I haven't sorted the photos yet.. well, life is a bit busy with birthday celebrations left and right. My cousin Rome treated us to a lunch buffet earlier — and there goes a back-to-back cheat day for me. Since our recent trip is an advance birthday celebration, I think I can still hold off on sharing it with you. I still have two more weeks.
In the mean time, let me tell you about our dessert at Shakeway which was after our advance Mother's Day celebration at Gerry's Restaurant. From Tomas Morato, we drove to UP Town Center.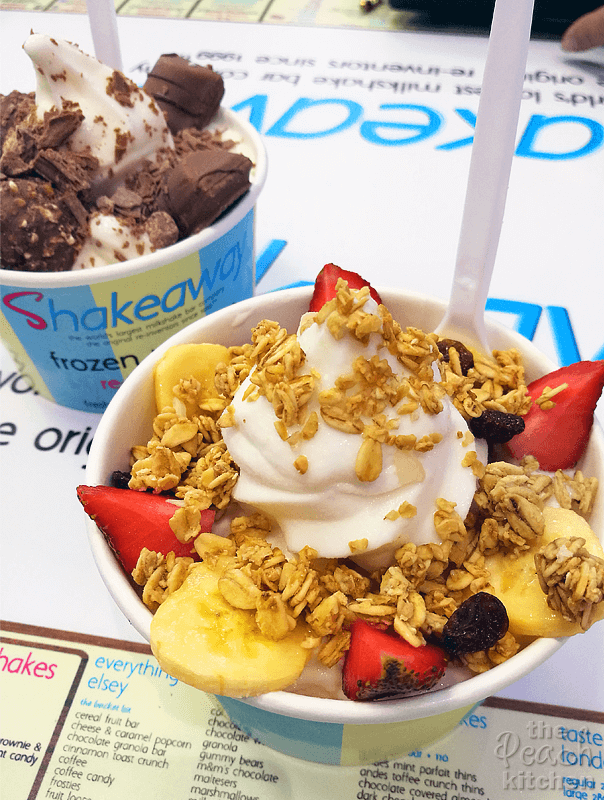 If I'm not mistaken, Shakeaway is the world's largest milkshake bar from the UK. Aside from milkshakes they also have one of my favorite things in the whole world: frozen yoghurt.
They have all the toppings and flavor combinations you can possibly think of including the world's worst milkshake which is called Wendy, a mixture of frozen peas, pickled onion, and whipped cream on top. Eww.
You can make your own flavor combination but since it was our first time at Shakeaway, we chose from their named frozen yoghurt desserts.
I had the izzie (₱210) composed of bananas, strawberries, and granola.
peanutbutter♥ had the davina (₱330), which is composed of ferrero rocher, kinder bueno, and a sprinkle of cadbury flake. She shared it with Twinkle who's too happy to get her dose of chocolate that day.
The apple didn't fall far from the tree, Ykaie had the dave (₱330) which has the same flavor profile only in milkshake form: ferrero rocher, kinder bueno, and a sprinkle of cadbury flake on top.
My ILs shared a large john (₱310) composed of bananas, honey, and mixed nuts.
At sa sobrang sarap ng frozen yoghurt, nagtayuan ang lahat ng buhok ni Twinkle…LOL!
But seriously, I love their frozen yoghurt because it's 100% fat free, and their "toppings" is not just on top of the yoghurt. You can also find it mixed in when you're halfway through your cup.
Shakeaway is located at UP Town Center, 216 Katipunan Ave, Diliman, Quezon City,