Lots of spices and our favorite hasselback potatoes makes this Peri Peri Chicken dinner an absolute winner…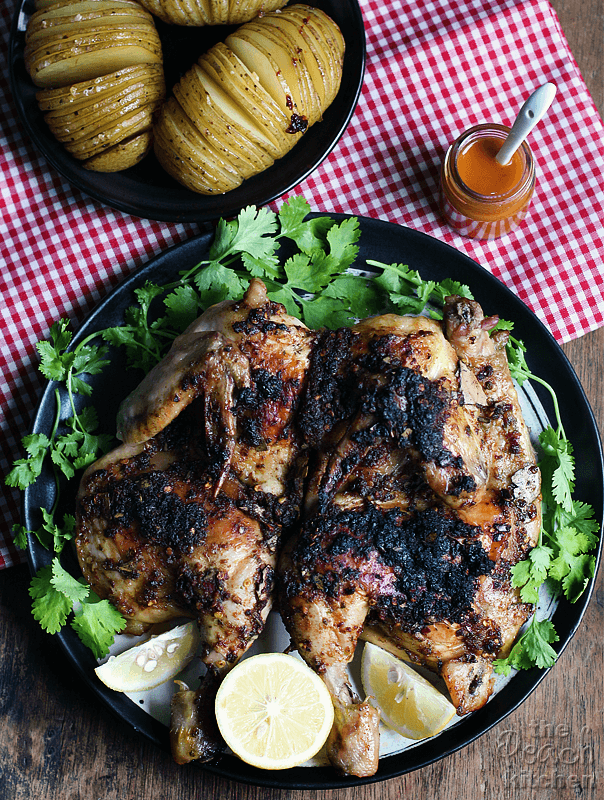 I love Peri Peri Chicken but I haven't tried making it at home. When there's a Peri Peri Chicken craving, we usually go to our favorite restaurant and have it there.
But the past few days have been a lock-down here at home . There's a tropical storm named Gorio and the weather is crazy. The rain won't stop and strong winds are blowing. Katamad na katakot mamalengke.
It's a good thing friends from Magnolia Chicken sent five chickens last week. Five!
Kahit di ako magpunta sa palengke
, we have
ulam
and it's a brand pa that we trust. Magnolia Chickens are free from hormones, steroids, and antibiotic residue AND raised in a stress-free environment. So it's guaranteed fresh (
parang tayo lang, mga mumshie, hihihi
).
You can say the weather called for a warm, comforting meal that will make you feel like you're getting warm hugs. Also, it begged me to finally give Peri Peri Chicken to try at home — so I did.
The house smelled of warm spices as the chicken roasted in the oven. My potato-loving Ykaie couldn't wait for it and peeks through the oven door from time to time saying "Mommy, di pa ba luto?". She was like that for about 45 minutes and when the timer sent out a ring, signaling the chicken was cooked — I could see a smile and the excitement light up her face.
You can tell by the leftovers (there were NONE!) my Peri Peri Chicken was a success! It was really flavorful, – the skin was sticky and crispy while the meat remained tender and juicy.It might look like it's burnt but it wasn't, those were some of the spices and herbs in the marinade. This goes into dinner rotation from now on — and or course, I have to try and make my own Peri Peri Sauce too.
Leaving you now with this video of our #PambansangManok with our three Ms. Universe winners – Pia Wurtzbach, Margie Moran, and Gloria Diaz. Lots of chicken dishes in there and I spy, there's chicken inasal skewers — a good recipe to try next.
To know more about it, follow Magnolia Chicken Station on Facebook.
Print
Peri Peri Chicken with Magnolia Chicken
1

whole chicken, butterflied, I used Magnolia Chicken
Peri – Peri Marinade
4

cloves garlic

1 tbsp

chili flakes

4

bay leaves

1 tsp

cumin

1 tsp

cayenne

1 tbsp

smoked paprika

1 tsp

sweet paprika

4 tbsp

olive oil
juice of

1

lemon
about

3 tbsp

cilantro leaves

2 tsp

salt
Hasselback Potatoes
3

whole potatoes

2 tbsp

olive oil
salt and pepper
Store bought Peri-Peri Sauce or hot sauce
Instructions
Make the Peri-Peri Marinade: Put everything in a food processor and process until smooth.
Marinate chicken with half of the Peri-Peri marinade for 1-2 hours (best if overnight).
Pre-heat oven to 400ºF.
Make the Hasselback Potatoes:Slice into the potatoes but not completely through.Drizzle with Olive Oil and sprinkle with salt and pepper.
Put your marinated chicken in a baking pan and put the potatoes beside it.
Roast the chicken for 20 minutes. Take them out from the oven and put the rest of the marinade.
Put the chicken back into the ovena nd roast for 20 minutes more or or until a thermometer inserted into thickest part of breast reaches 165ºF.
Transfer chicken to a carving board, and let rest 8-10 minutes. Cut chicken into pieces, and serve with pan juices, hasselback potatoes, and peri-peri sauce or hot sauce.
♥ If you make this recipe, kindly snap a photo and tag @thepeachkitchen on Instagram (OR hashtag it #thepeachkitchen). I'd love to see what you cook!