A healthier take on the classic, this Chicken Bicol Express has all the rich creamy goodness of Bicol ginataan but none of the fat… extra rice please!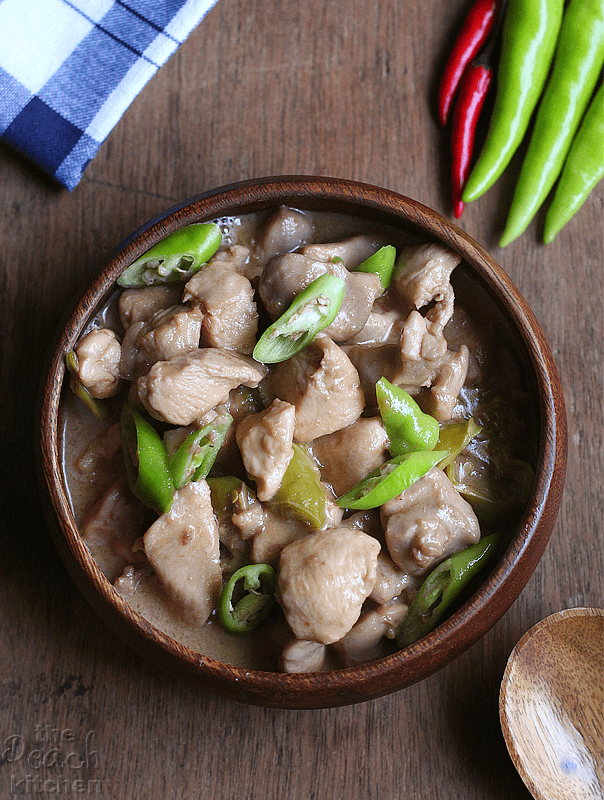 This is what happens when I'm craving for Bicol Express.
Bicol Express is a creamy stew made of pork, coconut milk, finger chilies (siling haba), shrimp paste, and bird's eye chili (siling labuyo) to make it more spicy.
Since I am not eating pork these days, I decided to make a healthier take on it by using a mixture of chicken breast and chicken thigh fillets. We love dishes cooked in coconut milk here at home because of the rich creamy flavor that's just perfect with rice. Since finger chilies are not that spicy, I decided not to deseed it and just slice it before adding to the stewing chicken pieces. peanutbutter♥ loves spicy food and one to two bird's eye chili does the trick to give this dish the heat he demands.
If Ykaie is eating, no bird's eye chili is added, instead I give peanutbutter♥ his favorite sawsawan of fish sauce with sliced bird's eye chili on the side.
Life has been specially hectic this week because of the change in peanutbutter
♥
's schedule. I'm glad it's only for this week, though and his regular sched resumes next week. I am also wearing my business hat this week as I take on the challenge of being a #Mompreneur with a new home negosyo (
which I'm sure you already saw on my Facebook and Instagram)
. I promise to tell you more about it in the following days.
For now, let's just enjoy life and this creamy Chicken Bicol Express, shall we?
Print
Chicken Bicol Express
700g

thigh fillet or chicken fillet, cut into cubes (I used a mixture of both)

8

pieces finger chilies sliced

2

cloves garlic, minced

1

white onion, chopped

1 tbsp

cooking oil

1 tbsp

shrimp paste

1

450g can of coconut cream
salt or fish sauce to taste
bird's eye chili, optional
Instructions
Heat oil in a wok or a skillet.
Sauté garlic and onion until onion becomes translucent.
Add chicken pieces and cook until brown.
Add shrimp paste and pour in coconut cream. Bring to a boil and lower down heat to simmer.
Simmer chicken for about 20-30 minutes or until cooked and sauce is reduced.
Add the chili peppers and bird's eye chili.
Simmer for about 1 minute. Season with fish sauce or salt, if needed.
Serve with lots of steamed (red) rice.
♥ If you make this recipe, kindly snap a photo and tag @thepeachkitchen on Instagram (OR hashtag it #thepeachkitchen). I'd love to see what you cook!