This Cold Brew Coffee Overnight Oats indulges your love for coffee and lets you enjoy a healthy breakfast at the same time…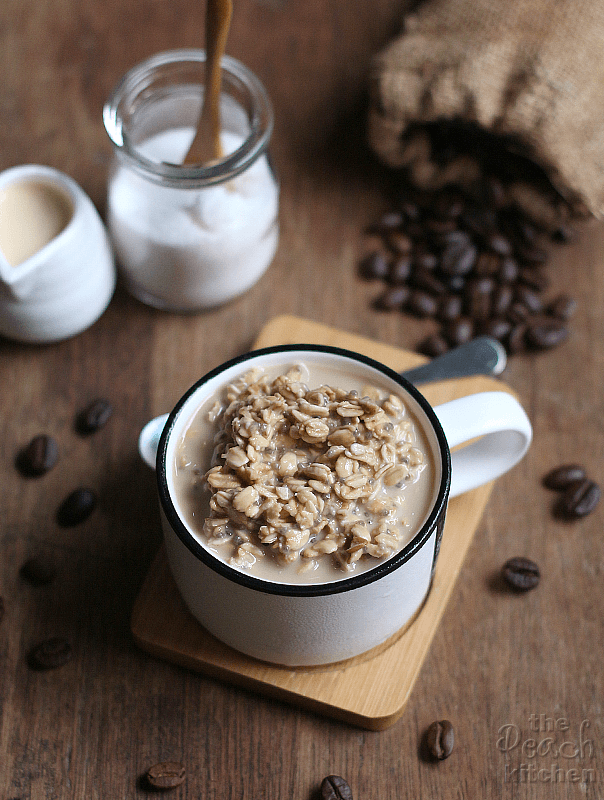 It can also be an A.M. or a P.M. snack when you need a pick-me-upper on a busy or sluggish day.
Like today, this is just what I need to re-energize in the middle of the day. Twinkle got up the same time as me at 3am. That means I wasn't able to do the things that I was supposed to do — like work out, do a little bit of blogging, and have a little bit of ME time. She wants me at her side all the time she was awake and we watched cartoons until she finally dozed off at 5:30am. Good thing too because I was able to prepare Ykaie's school baon (which is tocino and red rice for lunch and grapes, skyflakes and peanutbutter for snacks).
Everything went busy from there with my usual mommy routine of going to the market, paying bills, cooking lunch, and all the things in between. I am also adjusting to peanutbutter♥'s schedule this week which is just a bit more tiring that his usual schedule. Thank goodness it's just for a week!
So I think I will be seeing more of it this week. Good thing I still have a lot of this Sagada Dark Roast Cold Brew Coffee in the fridge. This is just too good not to make again!
I thought it's not going to be as creamy because I used almond milk. Was I wrong! I love every spoonful of it. I think I'm gonna make one using Chocolate-flavored almond milk for tomorrow.
Print
Cold Brew Coffee Overnight Oats
1/2 cup

old fashioned rolled oats

3/4 cup

almond milk

1/2 cup

cold brew coffee

1 tsp

chia seeds

1 tbsp

honey
Instructions
Combine all the ingredients together in a jar or other covered dish.
Mix well, cover and refrigerate overnight or at least several hours.
In the morning, when you're ready to eat, take oats out of the fridge and enjoy!
♥ If you make this recipe, kindly snap a photo and tag @thepeachkitchen on Instagram (OR hashtag it #thepeachkitchen). I'd love to see what you cook!