I say healthier because I used only half the meat and only one kind of bean but had all the wonderful flavor of a great Taco Soup…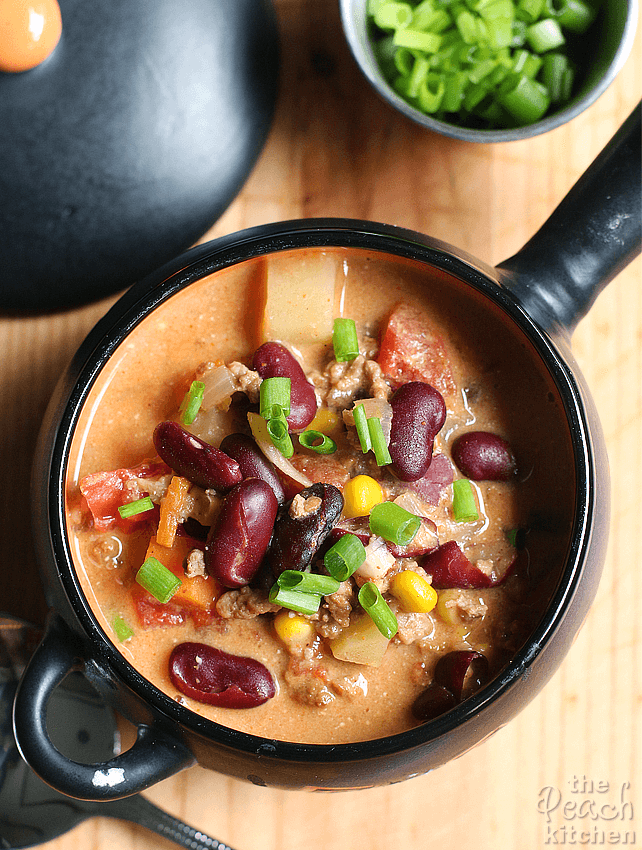 We've been having soup for three straight days now.
Not because the weather is chilly.
And not because I love soup either. (heck, I'd be happy if we can have soup everyday for dinner)
It's all because peanutbutter♥'s tooth was swollen a few days ago. It's a bit okay now and he's graduated from plain congee to chunky soups after having former for two straight days. The other day we had Guinisang Monggo, followed by this yummy Cheeseburger Soup, and now we are having Taco Soup.
I am so glad nobody is complaining there is no rice!
I'm saying it's a healthier version because instead of using a whole serving of ground beef like I used to. For this recipe, I used Quorn Meat-Free Grounds. I just discovered this recently while grocery shopping. As you all know, we are trying to eat healthy. While I survived not having any red meat for three months, when I was trying to lose weight, I find it hard to sustain when everyone around you is eating red meat. So I just trick them into eating more meat-free protein…. LOL.
Also, since it's Taco Soup, I wanted to use three kinds of beans but peanutbutter♥ can't have too much beans because it causes high uric acid levels. So what I did is I added carrots and potatoes and used only red kidney beans.
It's still as hearty and as delicious. Nobody complained. Everybody is asking for seconds and I actually received a request from my dear darling daughter to make Pizza Soup next after the Cheeseburger Soup and the Taco Soup….LOL. How crazy is that?
Print
Healthier Taco Soup
3 tbsp

olive oil

1

large white onion, chopped

4

cloves garlic, minced

200g

lean ground beef

200g

Quorn Meat-Free Grounds

1

(14 oz) can diced tomatoes, (I used Contadina Diced Tomatoes)

1

(400g) can red Kidney Beans (I used Molinera)

1

(425g) can corn kernels (I used Jolly)

4 cups

beef broth OR 1 beef broth cube dissolved in 4 Cups water

2

carrots diced

1

large potato diced

1

packet taco seasoning

1/2

block of cream cheese
salt and pepper to taste
spring onions and grated cheese for garnish
Instructions
Heat olive oil in a pot and sauté onions and garlic until onion becomes translucent.
Add ground beef and cook until brown.
Add taco seasoning, red kidney beans, diced tomato, corn, kernels, carrots, potato, and beef broth.
Mix well and bring to a boil. Turn heat to low and simmer for 20-30 minutes.
Add the meat-free grounds and the cream cheese. Mix well and simmer until cream cheese has melted.
Serve with chopped spring onions and grated cheddar cheese on top.
♥ If you make this recipe, kindly snap a photo and tag @thepeachkitchen on Instagram (OR hashtag it #thepeachkitchen). I'd love to see what you cook!