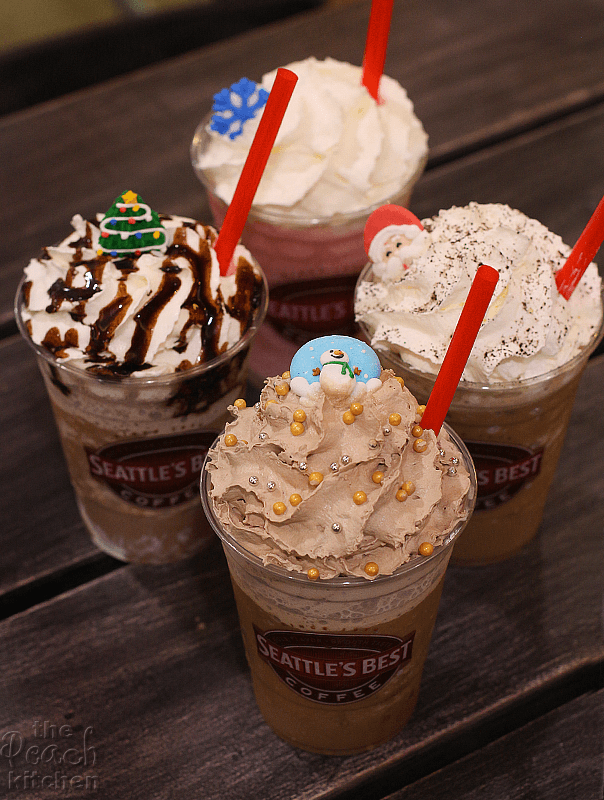 This holiday season, Seattle's Best Coffee Philippines shares joy in four (4) festive flavors: Bana-Berry Yogurt, Black Forest Cheesecake, Raspberry Christmas Mousse, and Espresso Banoffee, with the latter two available in Javakula and Mocha variants.
Last Friday, we took the kids to see Thor Ragnarok and dropped by Seattle's Best Coffee just before the movie to have an early dinner. We took the chance to try these four holiday drinks.
An SBC first, Bana-Berry Yogurt infuses banana and strawberries, accentuated by a light tang of yogurt and topped off with whipped cream.
The Black Forest Cheesecake is a symphony in layers, with whipped cheesecake cream at the top and bottom of the drink.
Raspberry Christmas Mousse is a blend of sweet and nutty coffee with raspberry and dark chocolate, finished off with chocolate whipped cream. I think this is the most festive of all the holiday drinks.
Last but definitely not the least is the Espresso Banoffee that infuses the taste of banana, English toffee, and dark chocolate for that perfect Christmas blend.
These seasonal blends are already available at all Seattle's Best Coffee outlets.
'Tis the season to be jolly – share the joy with these decadent drinks at your nearest Seattle's Best Coffee café, available for a limited time only.