And it's as if I haven't had enough cheat days, here comes another one a couple of Saturdays ago. We dropped by Megawatt for a quick lunch while having our car washed at LG2 Carwash below.
We booked our reservation through  BigDish PH so we can get as much as 50% discount off of our bill.
Megawatt is a Powerplant-themed restaurant located in Quezon City serving American and Tex-Mex food. Note those solar-panel tables, I think they are pretty cool.
Below them is nice big carwash called LG2. So it was hitting two birds with one stone – a quick treat for our beloved IanneA and our tummies.
Since they are geared up for Halloween, Twinkle couldn't help but be mersmerized by the toy creepy crawlies on the table…She didn't wanna smile for the camera…heehee.
First up on our orders was the thin crust Cheese, Cheese, Cheese Pizza (₱315) which is made of five kinds of cheeses namely: feta, sharp cheddar, gruyere, parmigiano, mozzarella. It was sooo good! Cheesy and crispy on each bite. A bit oily but that's how good cheese are…
Truly "Electrifying Good Food".. just as the sign Ykaie was holding says…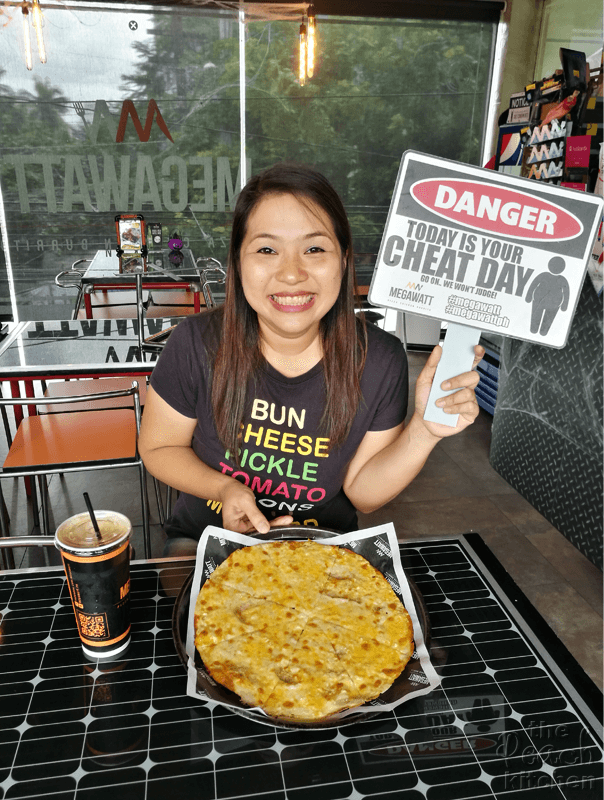 And so I declared that day, my cheat day. (Or is this my cheat season???)
Because we also shared a plate of these Chick³ & Waffles (₱268) composed of three fried chicken fillets and four pieces of sweet waffles. The chicken was so flavorful and the skin was crispy but the meat remained juicy. This is one of those sweet n' salty combinations that I like. Paired it with a tall glass of Black Currant Iced Tea.
Honestly, I'm not really fond of burritos. I think it's mainly because it comes with rice and my burrito-loving Ykaie always orders the steak burrito. With the Szechuan Seafood Garlic Burrito (₱225) that comes with shrimp and fish pieces, I think I've found a burrito to my liking. It's not oily and has that spicy, garlicky flavor that is so addicting you'll have to keep on biting until you've finished it all.
We paired it with the Strawberry Milk Shake (₱158) that's tart and sweet at the same time but not too rich that you get tired of drinking it after a few sips.
We also had the Ube Milk Shake (₱158) that's creamy and full of Ube flavor on each sip. It's like you're sippig ube ice cream!
Megawatt is a small restaurant but they serve really good food. They also sell game boards and other novelty items. It's a bonus that they are located atop a carwash so if you need to have your cars cleaned and get a meal, then this is just the perfect place for you to do that.
Don't forget to book through BigDishPH so you can get discounts off of your meal.
Megawatt is located at 41 N Domingo St, Quezon City, 1112 Metro Manila