Christmas is a time wherein we commemorate our own unique traditions that make the season even more magical.  Simple elements can spark a glimmer of joyful memories, like serving a time-honored family recipe, hanging sentimental childhood decorations, and singing familiar Christmas carols. This season, Starbucks is celebrating the spirit of the yuletide cheers with a modern twist.
Embracing the brand's role during the holidays, Starbucks leads this year's festivities with a theme that ignites the joy this season — Merry Coffee. The excitement of seeing those first red cups, the joy of walking into the stores with a festive world of red and green, the welcoming smile of the barista and the warmth of that first sip of Peppermint Mocha. Coffee. It's that hit of joy that ignites the season.
CHEERFUL SIPS
Here are the new and your returning favorites! It will be available in all stores starting November 2.

STARBUCKS® WISHING STAR DARK MOCHA: A dream come true for chocolate lovers – this rich, dark chocolate mocha with an added bit of holiday cheer that ensures every sip is merry and bright. The Wishing Star Dark Mocha offers an extraordinarily chocolatey experience that's topped with a swirl of green tea whipped cream and wishing star-shaped crisps. Available hot, iced and blended.
STARBUCKS® TOFFEE NUT CRUNCH LATTE: Warm up
your heart with flavors of buttery toffee nut balanced by subtle sweet notes of toasted nuts, joining shots of our rich espresso and steamed milk. The Toffee Nut Crunch Latte is finished with a whipped cream and a sprinkle of crunchy toffee nut topping.Available hot, iced and blended variants.
STARBUCKS® PEPPERMINT MOCHA: It wouldn't be the holidays without Peppermint Mocha's combination of espresso and steamed milk sweetened with flavors of chocolate and peppermint. Topped with whipped cream, mocha drizzle and candy cane pieces, this festive beverage is returning to celebrate the joys and flavors of the holiday season. Available hot, iced or blended
Prices: Tall – ₱ 175 | Grande ₱ 190 | Venti ₱ 205
FESTIVE EATS
The Starbucks Christmas tradition won't be complete without these festive Christmas food items that goes great with the holiday drinks…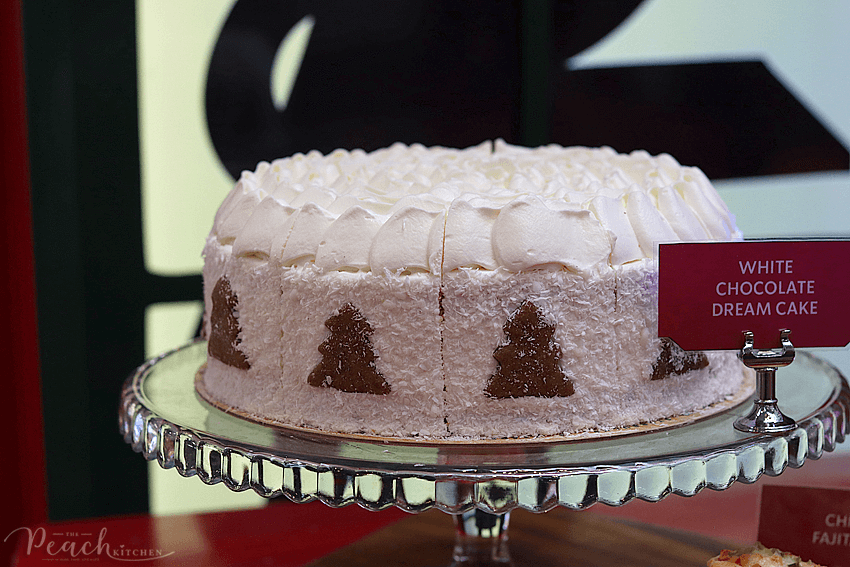 WHITE CHOCOLATE DREAM CAKE  (₱200/slice |₱1,800/whole )
Layers of chocolate chip cookie cake, moist butter cake, smooth creamy speculoos mousse finished with white chocolate cream icing.
PISTACHIO CRUNCH DOUGHNUT (₱75)
Light and fluffy doughnut glazed with dark chocolate and topped with chocolate dipped corn flakes and crushed pistachios
COOKIES & CREAM DOUGHNUT  (₱75)
Soft and fluffy doughnut stuffed with whole Oreo and topped with rich cream cheese frosting and crushed Oreo.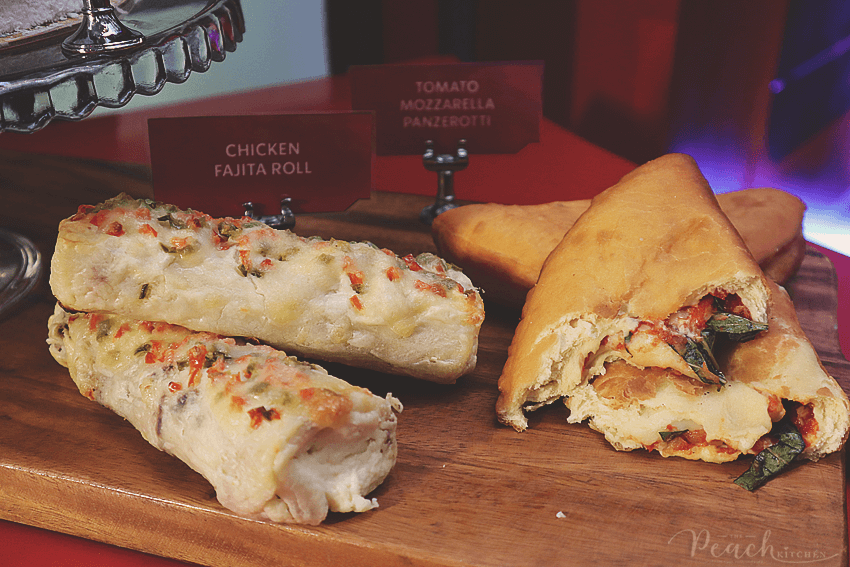 CHICKEN FAJITA ROLL *Returning Favorite (₱125)
A tortilla filled with mouth-watering Mexican flavored chicken breast fillet.
TOMATO MOZZARELLA PANZEROTTI  (₱85) is Ykaie's favorite! It's soft and crispy fried dough stuffed with oozing gooey mozzarella, crushed tomatoes, basil and onions.
Enjoying Some Games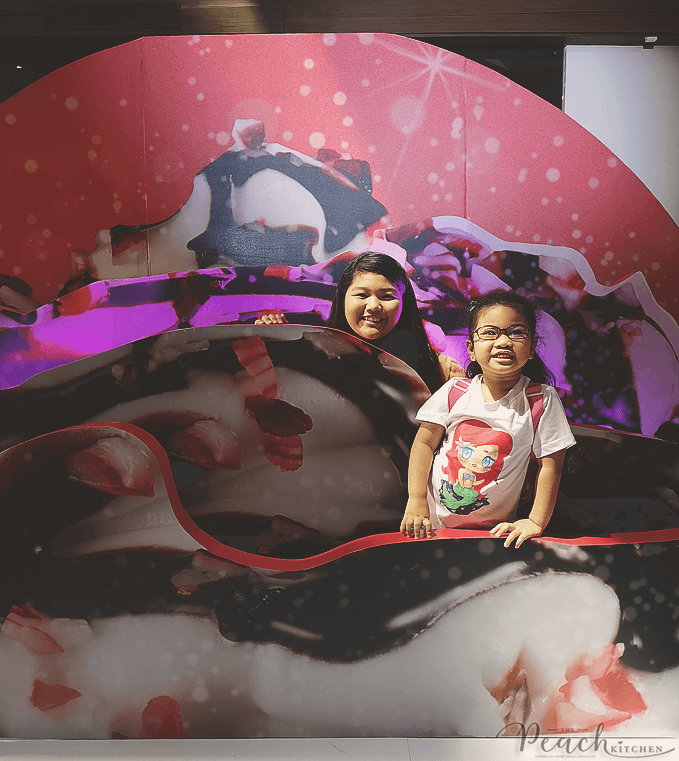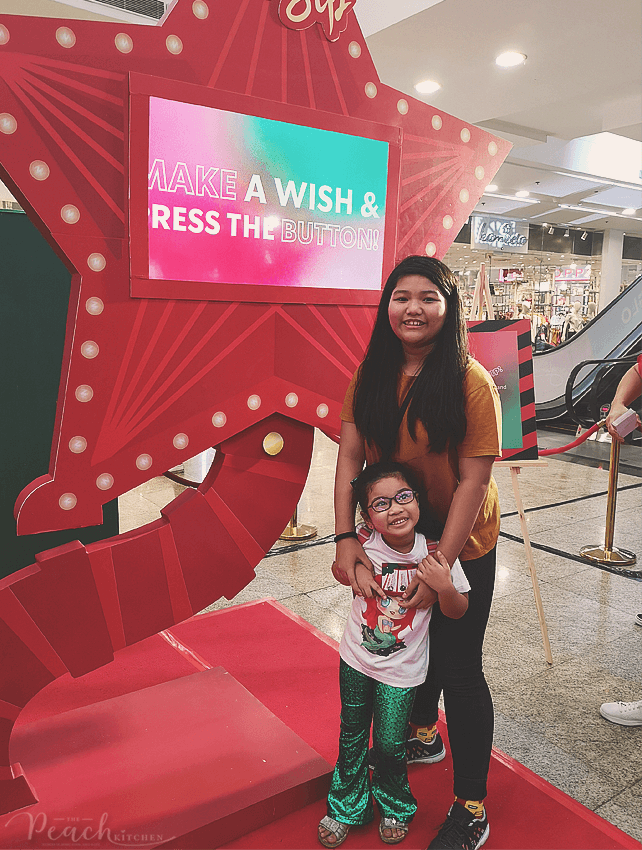 Ykaie and Twinkle participated in various games that got them winning special gifts and prizes. One of which is 'Wish Upon A Sip'. Inspired by a fortune-telling ball, guests made a wish and pushed their luck to see if it will be granted using the interactive installation of a Starbucks drink. Fans of the brand also took on the 'Bearista Challenge'. Underneath the signature Christmas tree, guests were asked to spread appreciation by giving strangers a high five, delivering a Christmas wish for the most important person in their life, or simply calling a friend and telling them how grateful they are for their presence. The game yielded an uplifting and exciting experience for everyone, as they brought home magical holiday memories anchored on strengthened affinities
Various Holiday merchandise! Oh my! If only I can buy all of them!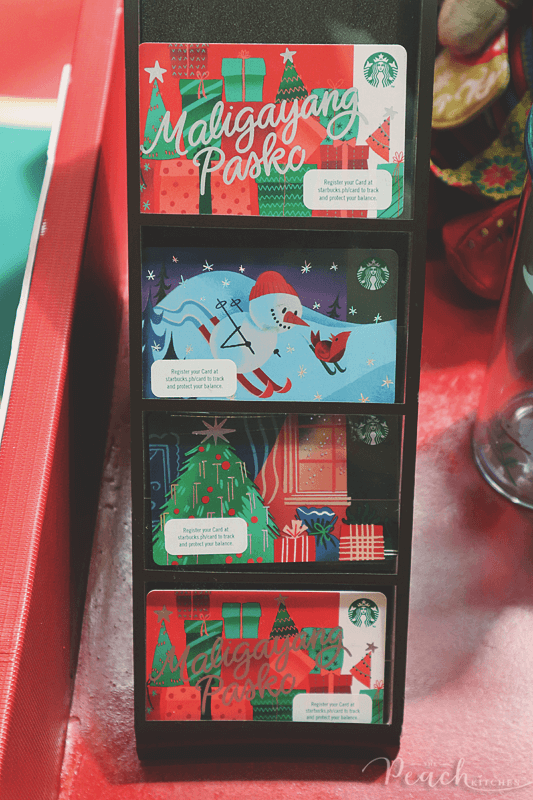 These are the Starbucks Cards available this holiday!
Share the love this holiday season with the Maligayang Pasko Card — Starbucks' very first card made with paper. As part of the brand's initiative to reduce plastic usage, Starbucks is committed to innovating on eco-friendly materials for the Starbucks Cards. Joyful seekers may also get the Snowman Card and the Holiday Tree Card, which illustrate lovely Christmas moments alive in this festive season. All Starbucks Holiday Gift Cards are available for an initial load activation of  P300.