The last week of September was our busiest week last month. There was this one day that week that we had no sleep and was running around with errands left and right. So how did we survive one of our busiest day evah? We had good food and coffee at The Brewology Cafe in Quezon City to recharge.
This is yet again one great discovery when we booked our reservation for a coffee shop through BigDish PH.
The cafe was quite small but the staff were warm and greeted us the moment we entered the door.
Twinkle and Ykaie quickly warmed up and got cozy with the tip jar..LOL. It was a dog eating the coins you put in it and being dog lovers, well, they were captivated with the cuteness. My coin purse quickly bacame empty.
peanutbutter♥ ordered the Latte (₱155). It was too cute to drink but he needed the extra energy so this was gone in no time.
Of course, he needed a jolt of  sugar too. So the Latte was paired with this Slutty Brownie (₱65), made up of Oreos stuffed in between Chocolate Chip Cookie and Brownie.
Ykaie had the Iced Chocolate (₱160). She enjoyed the presentation as the milk and the chocolate was served separately.
She had to pour out the homemade chocolate ganache over the iced milk and make the concoction by herself.  She was thrilled. The glass became half empty after her first sip.
Pairing the sweet and the salty, she had the 3 Cheese + Bacon Sandwich (₱210) served with chips on the side. Judging by the smile on her face after the meal, I can tell she loved each sip and bite of her order. Oh, and She wanted to go back and try the Waffles and French Toast. She loves this place already!
I tried the Ice Scramble Milkshake, a richer creamier version of a childhood favorite! It's even complete with choco syrup and powdered milk on top! How many coffee shops do you know serves Ice Scramble?
I paired it with the Chicken and Spiced Honey Waffle Sandwich (₱290) which was crispy-fried buttermilk chicken with spiced honey and asian slaw sandwiched in between waffles.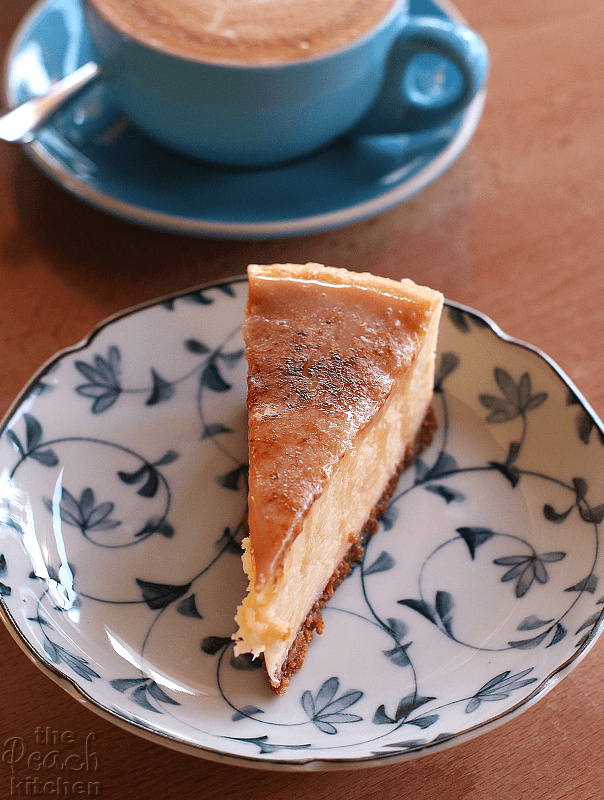 I also had this sublime Créme Brulée Cheesecake! It was so good I think I over indulged myself. (Ang dami ko kasing pagod ng araw na yon no!) I'll go back there just for this cheesecake alone.
The Brewology Cafe bakes their own cakes, bread, and pastries so they change the contents of their pastry case from time to time. But that's not all that they offer.
They also sell coffee beans, coffee cups, and potato chips .Ykaie bought Krunchy Patatas Honey Butter and Garlic and it was gone after a few minutes as if she inhaled it.
Oh, and they sell TATU temporary tattoos.
I think we'll be frequenting The Brewology Cafe in the following days. Of course, we'll always book our reservation through BigDish PH so we can get as much as 50% discount off of our bill.
The Brewology Cafe  is located at 2/F No.2 Scout Lazcano Corner Scout Magbanua and Mother Ignacia Avenue, Paligsahan, Quezon City.