This Spanish Sardines, Black Olives, & Capers Fettuccine is packed with flavor and healthy, also an easy weekday meal.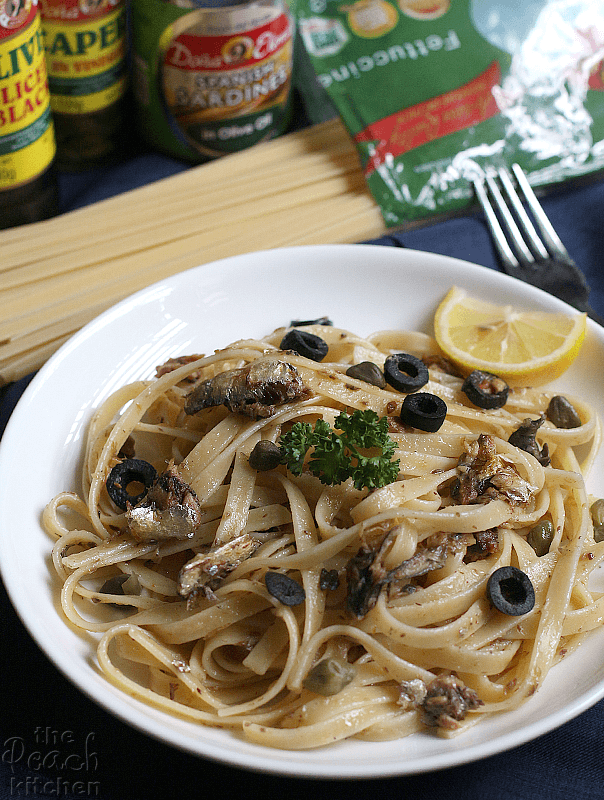 I'm glad we're eating more and more seafood dishes these days. I think Ykaie and peanutbutter♥ has adjusted to eating meat on weekends only when it's our "cheat days". On weekdays, specially on busy ones, I make sure to cook one to two pasta dishes either for lunch or dinner. Pasta takes little time to cook and prepare, you can have one delicious pasta dish in under thirty minutes. Spanish sardines pasta is one of our favorites. ( It's actually my go-to dish pag maloloka na ako sa sobrang dami ng gawain…)
Although Ykaie has appreciated eating pastas with red sauces, oil based pastas are still her favorite. If I want her to eat a seafood pasta dish, it has to be oil based.
I am a fan of Doña Elena products, especially the sliced black olives which I also put in my salads (like this Fish Souvlaki Salad and this Taco Salad). I always make sure I keep a bottle in the fridge. It's my first time to try Doña Elena Spanish Sardines in Olive Oil and Doña Elena Al Dente pasta.
Al Dente is the only pasta brand in the Philippines bearing the Artisan Quality claim. It is crafted with Artisan Quality bronze dies which help the sauce cling better to the pasta. It is also made from 100% Durum Wheat Semolina making it higher in protein and fiber content, and less starchy than the ordinary wheat flour pasta. And that's what I love about it — it has 13% higher protein content.
It comes in five variants: Spaghetti, Fettuccine, Fusilli, Penne Rigate and Lasagna. For this particular dish, I used Fettuccine.
Oh, and I also added some capers. It's great if you want a little salty and sour lemony flavor going on in your dish. Since it also has a bit of bright floral flavor in it, it takes off some of that fishy taste.
To make this Spanish Sardines, Black Olives, & Capers Fettuccine, I first sautéed minced garlic in olive oil while my pasta is cooking. The Al Dente Fetuccine is done in 8-10 minutes so you can cook it while preparing the sauce. Then I added the spanish sardines, black olives, and capers to the sautéed garlic. Mixed it a little and added the cooked fettuccine. Mixed it again to coat the pasta with the sauce. It's as easy as that.
Since Doña Elena Elena Spanish Sardines is made with Olive Oil, you can also put the oil and sauce it comes with in the bottle to make your pasta more flavorful. I didn't even need to put salt anymore because it's already tasty as it is.
Dinner is done in no time. It's easy to make, delicious, pretty, and most of all, healthy. Your family will surely love this, as my family does.
To know more about Doña Elena:
facebook.com/Donaelenacuisineraclub/
Instagram: @donaelenacuisineraclub
Print
Spanish Sardines, Black Olives, & Capers Fettuccine
300g

Doña Elena Al Dente Fettuccine, cooked according to package directions

3 tbsp

olive oil

6

cloves garlic, minced

6

–

7

pieces of Doña Elena Spanish Sardines in Olive Oil, drained, sauce and oil set aside

½ cup

Doña Elena sliced black olives

2 tbsp

Doña Elena capers
salt and pepper to taste
lemon wedges and parsley for garnish
Instructions
Heat 3 tbsp olive oil in a pan.
Sauté garlic in olive oil until oil gets infused with the flavor of garlic, about 20-30 seconds
Add Doña Elena Spanish Sardines in Olive Oil.
Keep on mixing and it will turn into flakes and the oil will get infused with its flavor
Add pasta and mix well until it is well coated with the sauce.
Add a bit of the oil and sauce of the sardines which you set aside to keep pasta from being dry.
Add the sliced black olives and capers.
Sprinkle with salt and a bit of pepper to taste
Mix everything together.
Put everything in your serving plate and top with spanish sardines flakes, black olives or graed parmesan cheese (if you have it)
Serve immediately.
Squeeze a lemon wedges before eating.
♥ If you make this recipe, kindly snap a photo and tag @thepeachkitchen on Instagram (OR hashtag it #thepeachkitchen). I'd love to see what you cook!