Last year's blue siren and coffee stain designs introduced bursting colors to the coffee brand's collection of planners. This time, Starbucks releases designs that highlight the Kape Vinta Card. Filipinos can choose from the blue and green hues reminiscent of the calm of the season and the warm pigments orange that is as festive as the card it frames.
Encased in leather sleeves, both designs give off a classic look for this Starbucks staple item. Inside, there are plenty more surprises such as a stencil ruler and a cleverly-designed calendar that can be folded in a shape of a cup. All planner sets are available in regular and mini sizes.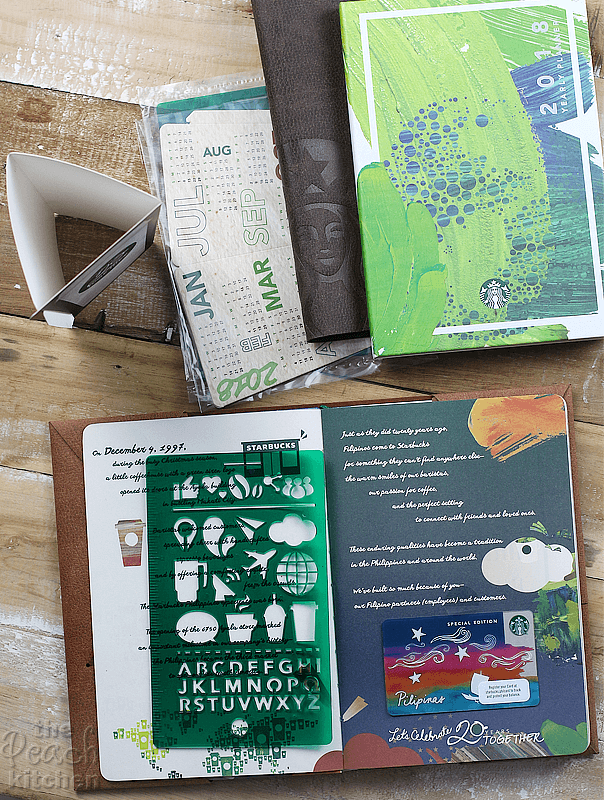 Like what I sads in my previous post, in keeping with the Christmas spirit and the habit of 'giving good', Starbucks will start sending cheers with its biggest present to coffee lovers: A year's worth of coffee for lucky customers bringing home the Starbucks 2018 Planner.
Coffee enthusiasts and Starbucks fans will be thrilled with this Christmas treat, as twenty (20) winners will bring home a year's worth of Starbucks Grande handcrafted beverages and twenty (20) more will receive a month's worth of Grande handcrafted beverages of their choice.
These incredible prizes are up for grabs for holders of the special edition Starbucks Kape Vinta Card, exclusively released with the Starbucks 2018 Planners. Customers simply need to activate the card with at least ₱300 and register the card to a My Starbucks Rewards® account during the promo period to earn a raffle entry. All raffle entries included from January 1-31, 2018 will automatically qualify for the Starbucks for a Month and Starbucks for a Year promo.
HOW TO GET THE LIMITED EDITION STARBUCKS COFFEE PLANNER 2018
A customer can avail of a Starbucks® Christmas Traditions Promo Card from November 2, 2017 to January 8, 2018 with no purchase required.
One sticker is awarded for each Starbucks® handcrafted beverage purchase.  Holder must accumulate a total of eighteen (18) stickers, to redeem one (1) Limited Edition Starbucks Coffee 2018 Planner.
Customer must present the Starbucks® Christmas Traditions Promo Card to the Barista upon purchase to get the corresponding number of stickers.
In case any of the holiday featured beverages are not available (ex. Toffee Nut Crunch Latte), customers can substitute it with any of the remaining holiday featured beverages (ex. Christmas Tree Peppermint Dark Mocha or Vanilla Nougat Latte).  Should all three (3) not be available, only then can customers substitute with any espresso-based or Frappuccino® blended beverage of their choice.
A customer must complete the required number of stickers to qualify for the redemption of one (1) Limited Edition Starbucks Coffee 2018 Planner. A combination of up to two (2) promo cards will be allowed, provided that the 9 featured plus 9 core beverages have been purchased. Excess stickers for combined cards will be forfeited.
Once all stickers are completed, customer must submit the Starbucks® Christmas Traditions Promo Card/s to redeem one (1) Limited Edition Starbucks Coffee 2018 Planner from any Starbucks store in the Philippines.
Customer may choose from the available planner designs/sizes at the store at the time of redemption.
Tampering with and/or transferring of stickers to obtain the required number of stickers will render all promo cards null and void.
Every purchase of a handcrafted beverage using a Starbucks Card will be awarded one (1) sticker and one (1) Beverage Star. Terms and conditions that apply to the Starbucks Card are available on www.starbucks.ph/card.
Single receipt bulk purchase of food and other retail items (merchandise, whole bean and Starbucks VIA®, Teavana®) worth at least ₱7,000 will entitle the customer to one (1) Limited Edition Starbucks Coffee 2018 Planner. Combination of receipts is not allowed.
Bulk purchase of gift certificates and Starbucks Card load/reload of at least ₱7,000 will not entitle the customer to a planner.
The following transactions and discounts are qualified for this promotion.
Senior Citizen discount
PWD discount
VAT Exempt
Personal Cup/Tumbler ₱5 discount
The following coupons and discounts are disqualified for this promotion.
Service Recovery Coupon
Free Tall Beverage Coupon
Customer Voice Redemption
Rustan Coffee Partner discount
Rustan Group of Companies discount
Starbucks Card Registration Treat
Starbucks Card Beverage Treat Redemption
Promotion starts on November 2, 2017. Stickers may be obtained from November 2, 2017 to January 8, 2018.
Redemption of the Limited Edition Starbucks Coffee 2018 Planner starts November 2, 2017 up to March 8, 2018, at Starbucks stores in the Philippines only.