Fish Curry in creamy coconut milk sauce made more delicious with pineapple tidbits…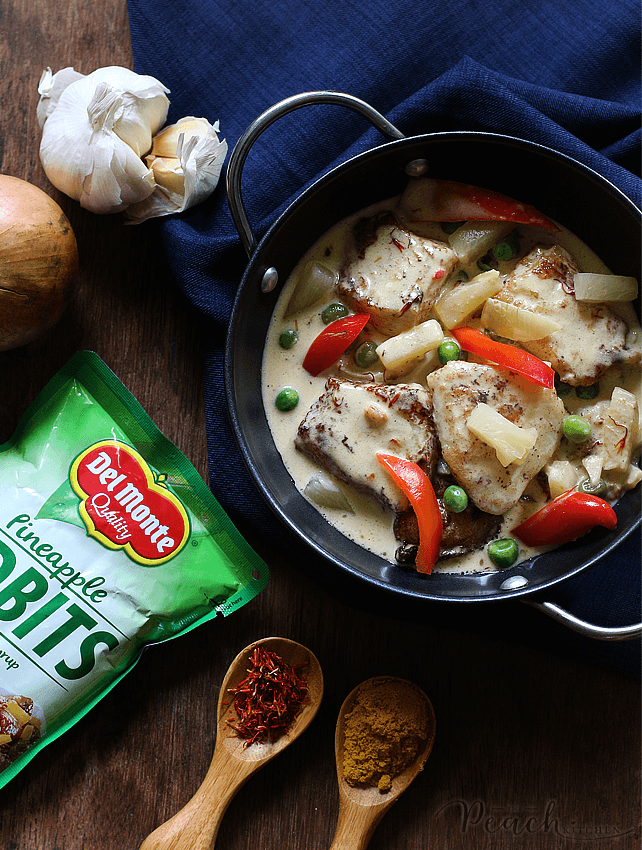 It's been a week after the holidays and I'm sure just like us, you're wishing you can still extend it. That happy, giddy festive feeling of gift giving, reunions, and of course, indulgent delicious food to enjoy!
Well, we are back to healthy eating here at home. But healthy eating doesn't mean that it has to be tasteless and boring. Yesterday, I prepared this healthy and delicious Fish Pineapple Curry. It's a bit like our favorite Chicken Curry only it uses fish and it has Del Monte Pineapple Tidbits that gives it a sweet and tangy flavor. I didn't know curry could taste more delicious with pineapples in it.
I'm saying it's healthy because it has less cholesterol than chicken. It is also high in protein needed for growth, development, and repair of body tissues. And it contains niacin that helps break down carbohydrates, protein, and fats in the body.
I'm sure your family will love this as my family does.
Below is the adapted version. I couldn't find any labahita fish so I used sole instead. I also put more curry powder since our family love a strong curry flavor.Click here for the original recipe.
To know more Del Monte recipes, drop by www.lifegetsbetter.ph
Print
Fish Pineapple Curry
500g

sole fillet, cut into chunks

1/2 tsp

salt

1/2 tsp

pepper, black

1/4 cup

oil, for frying

1/2 Tbsp

kasubha

1 Tbsp

hibe

1/4 cup

white onion, chopped

1/4 cup

garlic, crushed

1/2 Tbsp

oil

1/4 Tbsp

ginger, cut into strips

1 tbsp

curry powder

1 Tbsp

DEL MONTE Sweet Chili Sauce (

325g

)

1/2 cup

coconut milk

1/4 tsp

salt

1/2 cup

green peas, frozen

1

pouch DEL MONTE Pineapple tidbits, drained, reserve syrup

1

red bell pepper, cut into strips

1/2 cup

coconut cream
Instructions
Marinate fish in the reserved pineapple syrup, salt, and pepper for 30 minutes. Fry until golden brown. Set aside.
Pound together the next 4 ingredients. Sauté in oil until golden brown. Add ginger, curry powder, DEL MONTE Sweet Chili Sauce, and coconut milk. Season with salt. Simmer for 2 minutes.
Add green peas, DEL MONTE Pineapple Chunks, fish, and bell peppers. Simmer for 5 minutes. Stir in coconut cream and simmer for 2 minutes.
Notes
TIP: If you're using coconut cream in can, no need to buy separate cans of coconut milk and coconut cream.Just use coconut cream and thin it out with a bit of water and you have coconut milk.
♥ If you make this recipe, be sure to snap a photo and tag @thepeachkitchen on Instagram (OR hashtag it #thepeachkitchen). I'd love to see what you cook!