The sweet and spicy pineapple glaze of this Spicy Soy Pineapple Chicken Wings is what makes it finger lickin' good!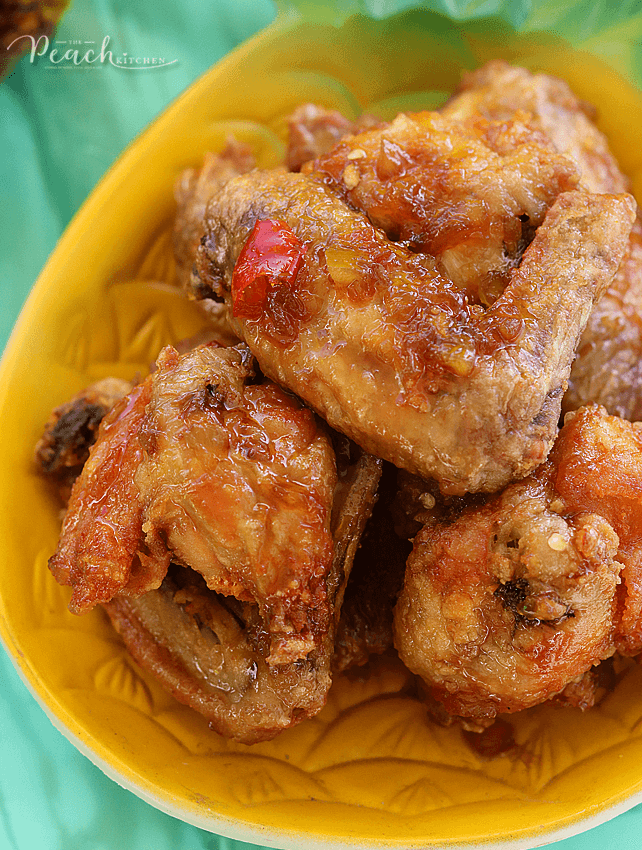 You're probably wondering about the lack of update the last couple of days…. I was out being cooked (check out my photo below!) Just kidding! I was out with family on vacation-slash-advance birthday celebration of Twinkle. It was fun and we were eating all the time!
I'm still out of it and I haven't had time to digest that I'm already at home and it's the first of June. So while I am putting myself together, I'm sharing with you this other version of the Pineapple Glazed Wings I shared a month ago.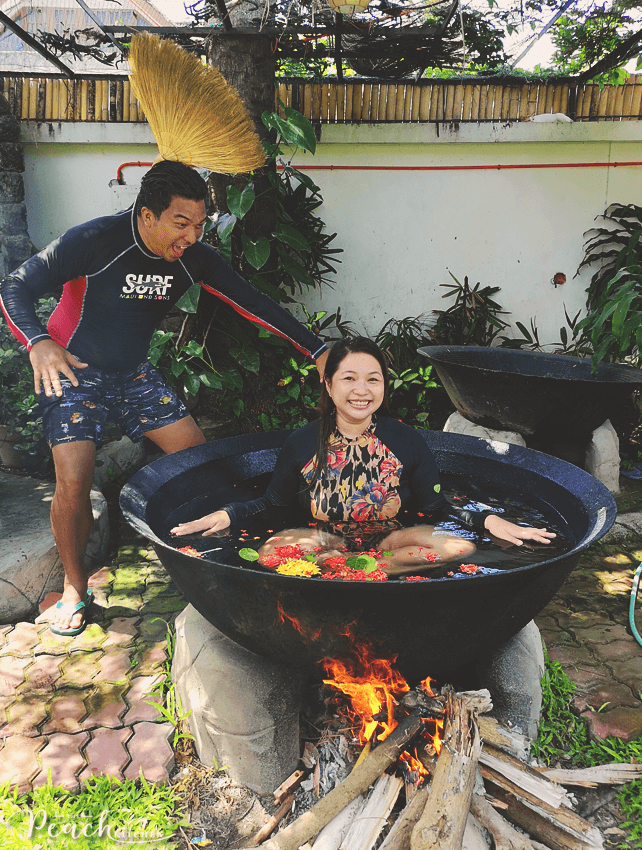 This other version is actually the version taht made it to Twinkle's Pineapple Party (which I have yet to share at www.mommypeach.com, ahuhu, pabili ng time). This one uses less ingredients and more that we already have in our kitchens like pineapple jam, soy sauce, siling labuyo, and brown sugar.
To make the soy pineapple glaze, I combined the pineapple jam, orange juice, soy sauce, brown sugar, and siling labuyo in a pot. I brought it to a boil and simmered it until it thickens. Kung medyo, ayaw nyo na maghintay, you can also thicken it with cornstarch slurry. Juts combine 1 tbsp cornstarch with 1- 2 tbsp water, then whisk the slurry into the sauce a little at a time until you get your desired thickness.
That siling labuyo (or bird's eye chili) is what makes the sauce spicy. If you want it spicier, you can simply add more siling labuyo.
OTHER RECIPES YOU MIGHT LOVE…
Spicy Soy Pineapple Glazed Wings
Ingredients
1kg chicken wings
1 cup flour
½ tsp salt
½ tsp pepper
½ tsp garlic powder (optional)
cooking oil
soy pineapple glaze
1 cup pineapple jam
1⁄2 cup orange juice concentrate
¼ cup soy sauce
¼ cup brown sugar, packed
1 pc bird's eye chili (siling labuyo), sliced into four
Directions
Make the sauce: Put everything in a saucepan and bring to a boil. Simmer until sauce thickens or you can also thicken it with a cornstarch slurry by whisking slurry into the sauce a little at a time until you get your desired thickness. Turn off heat and set aside.
Combine flour, garlic powder, salt and pepper in a plate and mix well.
Dredge the chicken wings with seasoned flour until coated.
Heat oil in a wok/pan and fry chicken wings until golden brown.
Coat each chicken wing with soy pineapple sauce mixture. You can brush it, put into a container and shake ---just make sure you coat each one.
Enjoy!
Notes
The nutrition information provided are only estimates based on an online nutritional calculator. I am not a certified nutritionist. Please consult a professional nutritionist or doctor for accurate information and any dietary restrictions and concerns you may have.
Nutrition Facts
Serving size 0 g
Servings per container 8
Amount per serving
Calories 495

Calories from Fat 144

% Daily Value*
Total Fat 16g
25%
Saturated Fat 4g
20%
Trans Fat g
Cholesterol 111mg
37%
Sodium 719mg
30%
Total Carbohydrate 46g
16%
Dietary Fiber 1g
4%
Sugars 24g
Protein 39g
* Percent Daily Values are based on a 2,000 calorie diet. Your daily values may be higher or lower depending on your calorie needs.
♥ If you make this recipe, kindly snap a photo and tag @thepeachkitchen on Instagram (OR hashtag it #thepeachkitchen). I'd love to see what you cook!