These Gardenia Delicia Stuffed Pancakes are something that you'll look forward to waking up in the morning…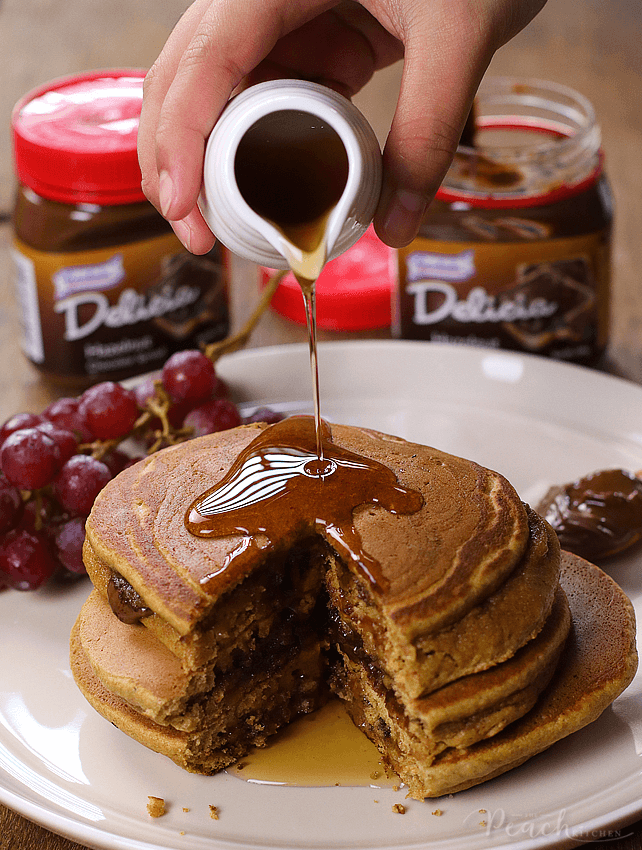 It's one of the most stressful week of the quarter for us. It's Ykaie's exam week! Eeek! It's during this time that she's the most pressured and nervous. Nakakaloka! Wala naman pume-pressure sa kanya at ilang beses na kaya syang nakapag-exam sa buong buhay nya? hehehe. Well, mommies, I'm sure you can relate. Most of her time is spent for review and sometimes, she asks me to wake her up early so she can do a quick review in the morning while having breakfast.
She asks me to wake her up at 4am pero ayaw naman gumising!!!  Sasabihin pa nya sa akin sa gabi "mommy, pilitin mo kong gisingin ha, kahit ayoko, pilitin mo ko."
Hay naku, it's one of the most daunting tasks of a mom in the morning, I swear!
But of course, as a DEL mom, I found a solution! Wake her up with a delightful breakfast…
It all starts with Gardenia Delicia, of course! Ykaie and Twinkle both love Gardenia Delicia Chocolate Spread especially the Hazelnut variant 'cause it tastes really good. It actually tastes like the leading brand of hazelnut chocolate spread but what I love about it is that it's budget-friendly at ₱99 a jar!
Ykaie loves it spread on Gardenia Classic White Bread and eat it as a sandwich for breakfast. But as a DEL mom, I have a few tricks up my sleeve on how to make Ykaie forget the pressure of her exams, even for a little while, in the morning.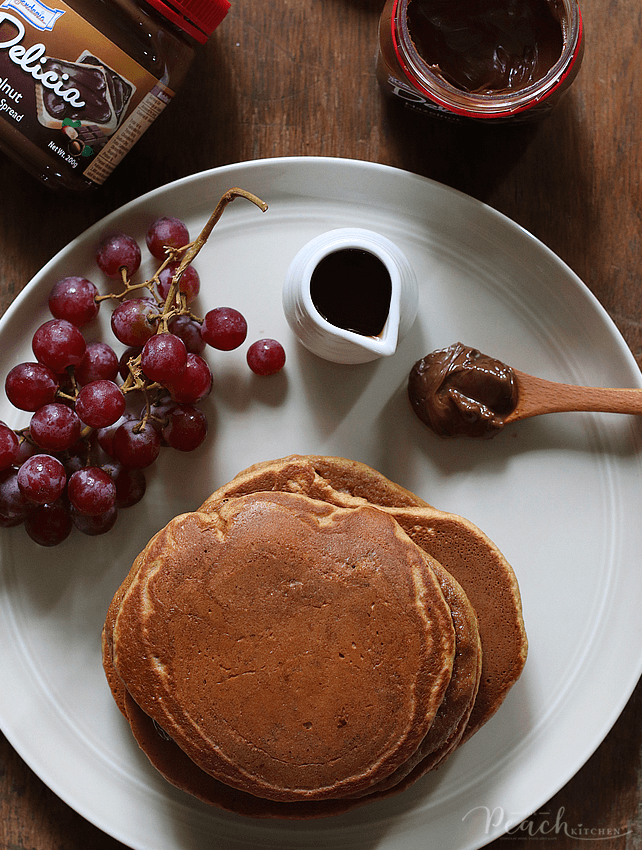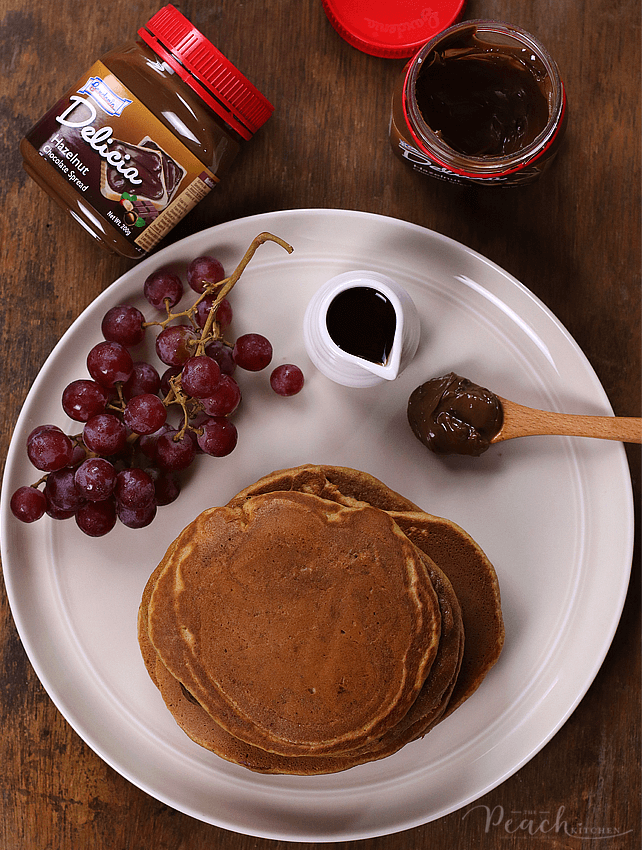 I know how much Ykaie loves pancakes as well, so what I did was I made her Delicia Stuffed Pancakes for breakfast! As a DEL mom, I want to serve not only something that would energize her but also something that's delicious and I know she'd love.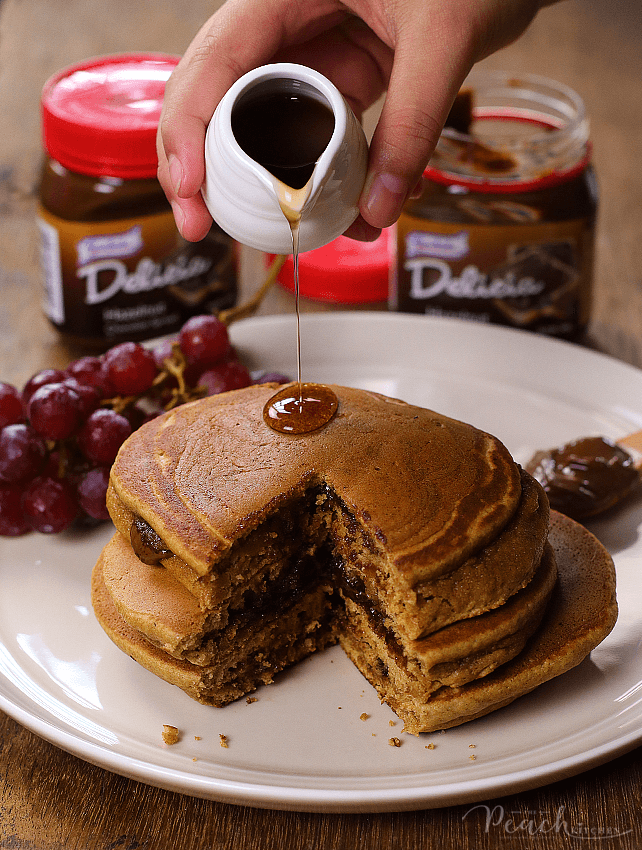 It's easy and healthy too because I used a wheat pancake mix.
What I did was make Gardenia Delicia coins by placing 1 tbsp servings of Gardenia Delicia in a parchment paper. I spread it until it forms (about) 2-inch circles. I made 4 coins for that one box of pancake mix. Then I put it for 1 hour in the freezer for it to harden. The reason why I did this is for the pancake to have even stuffing plus it's easier to handle. I tried doing it the lazy way by spooning it onto the pancake batter while cooking. I ended up with uneven stuffing which it turn resulted with the stuffing oozing out of the pancake even before it's cooked. You can make the coins the night before then leave it in the freezer so you'll have the it ready in the morning.
Just make your favorite pancake batter, then scoop out ¼ cup in a buttered non-stick skillet. Put one of the coins on top of your pancake, seal it with another ¼ cup and cook it until bubbles appear. Then it's time to flip. Just repeat the process until you've cooked everything. You can serve these pancakes with bacon, egg, her favorite fruit, topped with butter and maple syrup OR AS IS. Yes, it's already good as it is. One of the best pancakes I've had, actually.
Just look at Ykaie's smile.. she really loves these pancakes… Si Twinkle? Well, mas type nya pa rin ang Gardenia Delicia on a spoon. But I'm sure I'll come up with something she would love as well.
How about you mommies? How do you delight your kids? Do you have a Delicia recipe as well? Well, hold on to that and Stay tuned on my upcoming Gardenia Delicia giveaway.
Check out my other Gardenia Delicia recipes below. Click on the link to visit the page.
Banana Oat Scones with Delicia Glaze
Grilled Delicia Marshmallow Sandwich
Print
Gardenia Delicia Stuffed Pancakes
Gardenia Delicia Hazelnut SPread
butter for cooking pancake

1

box of your favorite pancake mix + egg, vegetable oil, milk or water
Maple syrup (optional)
Instructions
Make Gardenia Delicia coins by spreading 1 tbsp of Gardenia Delicia Hazelnut Spread into a small circle onto a piece of parchment paper. Make as many coins as how much stuffed pancakes you want to make. Freeze it for 1 (or more) hour.
Prepare your favorite pancake mix into a batter by mixing it with egg, vegetable oil, and milk.
On a nonstick skillet with a tsp of melted butter, scoop about ¼ cup batter onto the hot pan. Place one Gardenia Delicia coin onto the middle of the pancake batter, then top it off with another ¼ cup batter.
Cook until bubbles appear on the surface and the edges look dry.
Turn over and remove from pan when cooked.
Repeat until you've exhausted your pancake batter and gardenia delicia coins.
Serve pancakes as is or with butter and drizzled with maple syrup.
♥ If you make this recipe, kindly snap a photo and tag @thepeachkitchen on Instagram (OR hashtag it #thepeachkitchen). I'd love to see what you cook!