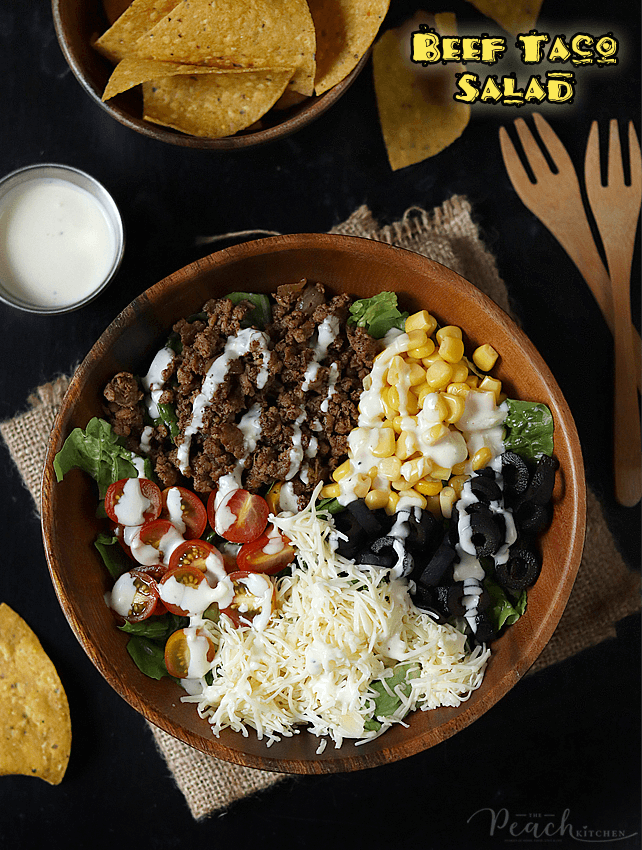 As if you didn't know already… Taco Salad is a staple here at home because…
a. we absolutely love TACOS!
b. THIS is the only salad that Ykaie eats.
c. it's great for using leftover ground beef tacos from the previous night.
d. it's healthy and DELICIOUS!
Oh, and it's easy to do too!
Twinkle doesn't appreciate tacos yet, though… so it's ulam and rice for her. She likes anything fried so I keep a stock of pork neck or chicken pieces in the freezer.
Our rule at home is to try anything once — have a bite of whatever it is that's on the table — and if you don't like it, then you can eat something that you like. This way, I get to introduce them to different kinds of food without pressuring them to eat it or like it. And you know what, the food grows on them later on. O ayan ha mga mars, tip yan sa mga kids na picky eater or yung mga hindi adventurous eater.
It's very easy to make this. All you have to do is have these ingredients on hand — lettuce, tomatoes, corn kernels, black olives, cheese, and of course your ground beef and taco seasoning. Taco seasoning can be homemade or store bought. You can also add avocados, tortilla chips, and onions if you prefer.
For the dressing, you'll need sour cream, garlic, lemon juice (or calamansi juice), salt and pepper. Just combine it and chill in the fridge for use later.
All you have to do is cook the ground beef and the seasoning. And layer it all on a big bowl. Drizzle with the dressing and serve it on the side and voila! You have your yummy and healthy Beef Taco Salad.
OTHER TACO RECIPES YOU MIGHT LOVE…
Print
Beef Taco Salad
ground beef taco
500g

ground beef

1

pack taco seasoning, dissolved in 3/4 cup water

2 tbsp

cooking oil

3

cloves garlic, minced

1

white onion, chopped

2

heads Romaine Lettuce, cut into pieces

1 cup

cherry tomatoes, cut in half

1 cup

con kernels

1 cup

grated cheddar cheese

1 cup

sliced black olives
dressing of choice, OR
Creamy Garlic Dressing
1 cup

sour cream

6

cloves garlic chopped finely

2 tbsp

lemon juice or calamansi juice
salt and pepper to taste
Instructions
Make the Garlic Dressing: combine all ingredients and mix well. Taste and adjust salt & pepper then place into the refrigerator to let the flavors marry.
Cook the Ground Beef Taco: Heat oil in a pan and sauté the garlic and onion until translucent. Add the ground beef and cook until brown. Pour in the taco seasoning dissolved in water and mix well. Simmer until the liquid has evaporated and ground beef is cooked.
Layer lettuce on your serving plate and then assemble all the other ingredients on top.
You can serve the dressing drizzled on top of the salad or separately.
Serve immediately. Enjoy!
♥ If you make this recipe, kindly snap a photo and tag @thepeachkitchen on Instagram (OR hashtag it #thepeachkitchen). I'd love to see what you cook!