So Halloween is finally over, you guys, and now it's time to feel the magic and joy of the incoming Christmas. At Starbucks, welcoming the season is serious business. Of course, Ykaie and I had to join them.
After all, welcoming the season with delicious beverages that deliver the holiday cheer in each sip has become the tradition. But beyond their cozy red cups, it brews something even more heartwarming. This year at Starbucks, the blend is the magic – it's where all the things we love about the season come together to make our Christmas experiences extra special.
Starbucks hosted a grand Christmas launch with a magical blend of nostalgic traditions, merry activities, and festive food at the SM Mall of Asia Music Hall.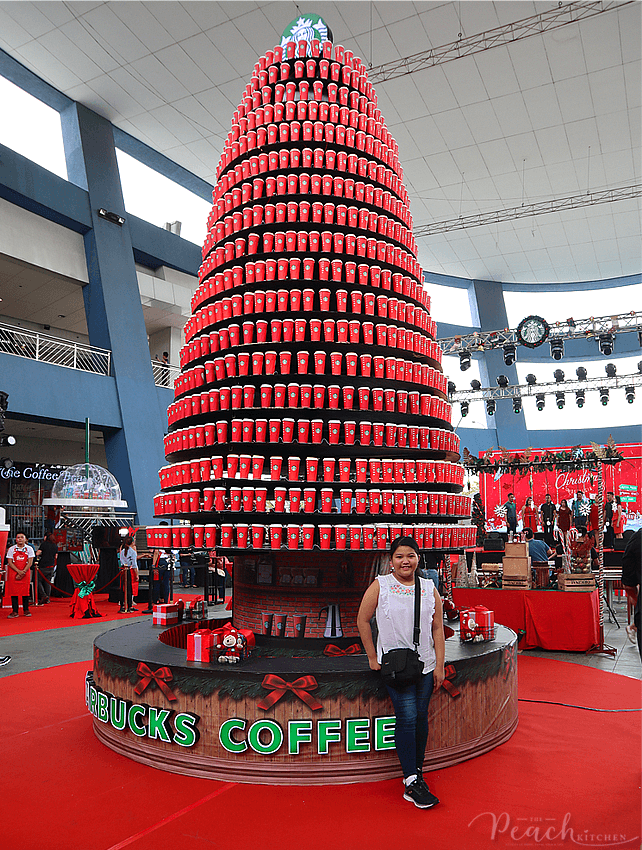 Aside from two giant nutcrackers which stood at the lighted entrance of the enchanting Christmas world, we were also welcomed by a massive Christmas tree made with Red Cups and adorable Starbucks Bearista Bears, as well as a Starbucks Express train that circled around the Christmas village.
Sip A Cup Of Magic
In the spirit of Christmas traditions, Starbucks is serving up delightful beverages for the season… two are returning favorites (hello, toffee nut crunch latte!) and one is simply something you must try…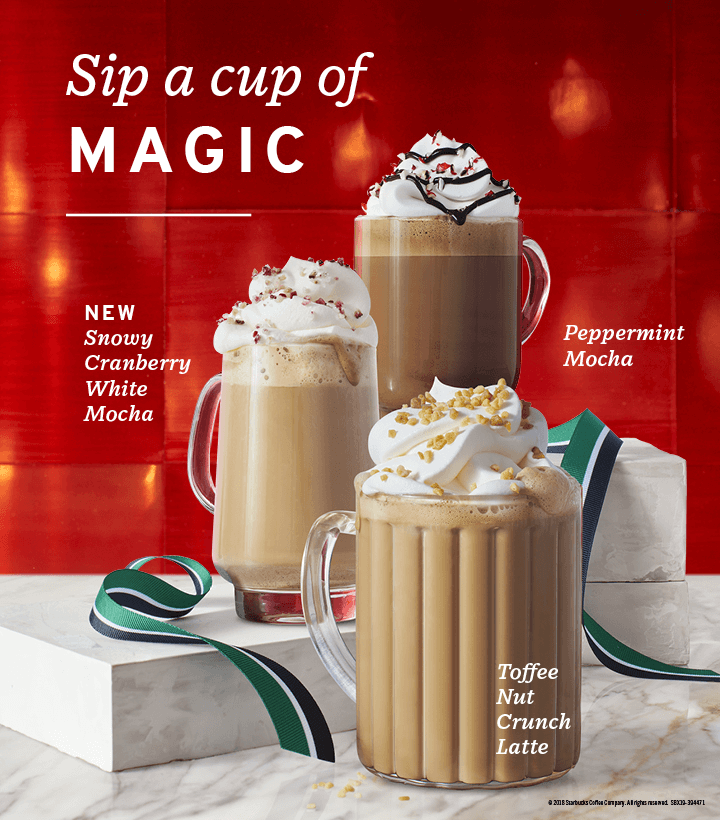 TOFFEE NUT CRUNCH LATTE (Tall – ₱ 175 | Grande ₱ 190 | Venti ₱ 205)
Ring in the Christmas season with the subtle caramelly sweetness of Starbucks Toffee Nut Crunch Latte, topped with whipped cream and toffee crunch. The rich buttery toffee flavors and aroma of toasted nuts make the perfect partner for Starbucks espresso roast.
PEPPERMINT MOCHA (Tall – ₱ 175 | Grande ₱ 190 | Venti ₱ 205)
Indulge in the traditional holiday flavors of Peppermint Mocha, a combination of espresso and steamed milk sweetened with flavors of chocolate and peppermint. Topped with whipped cream, mocha drizzle and candy cane pieces, this festive beverage is just too good to resist!
SNOWY CRANBERRY WHITE MOCHA (Tall – ₱ 175 | Grande ₱ 190 | Venti ₱ 205)
Starbucks signature espresso combined with steamed milk and a toasty white chocolate sauce, then topped with whipped cream and festive cranberry sugar sprinkles.
All drinks are available hot, iced, and in ice blended beverage format.
FESTIVE EATS
The Starbucks Christmas tradition won't be complete without these festive christmas food items that goes great with the holiday drinks…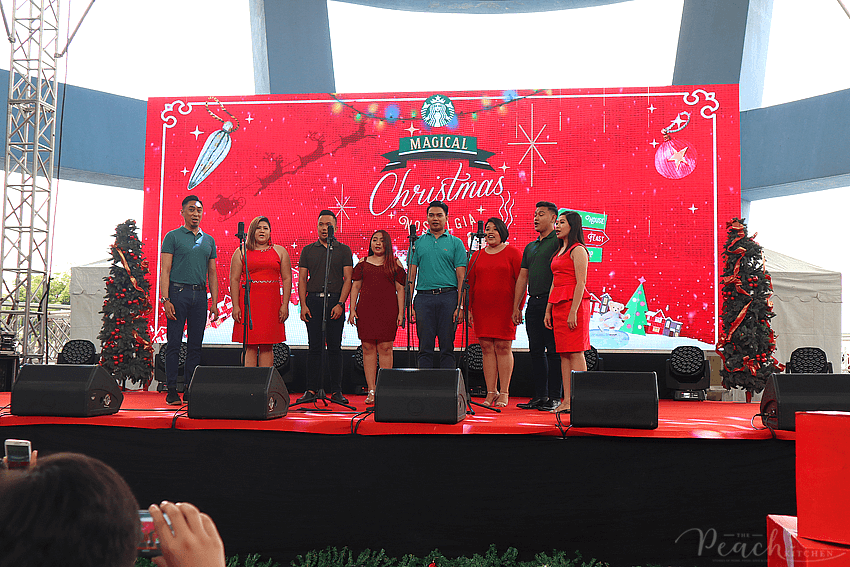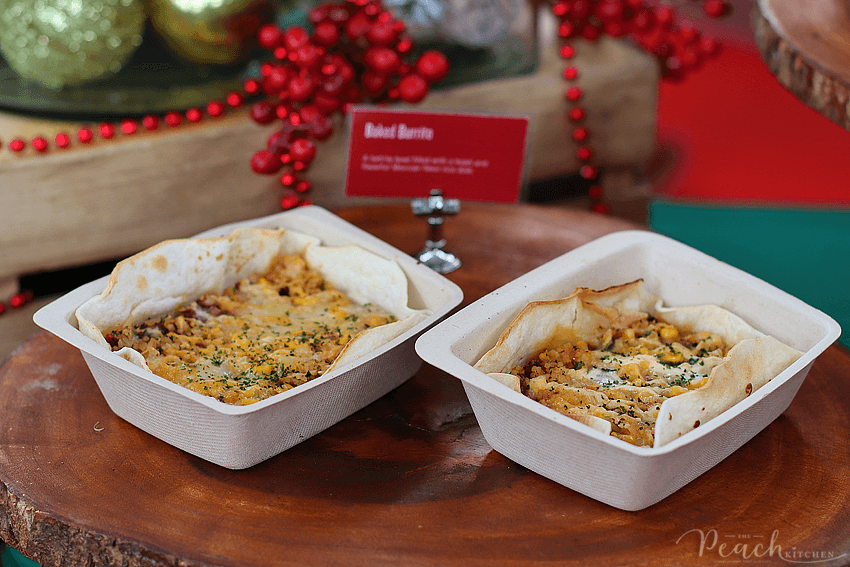 BAKED BURRITO (₱185) – A tortilla bowl filled with a heart and flavorful Mexican flavor rice dish.
CHOCOLATE OAT CHEESECAKE  (₱195/ slice|₱2,145/ whole)
Layers of creamy dark chocolate, milk chocolate and vanilla white cheesecake on a chocolate oat crust.
VANILLA BLUEBERRY CAKE  (₱175/ slice|₱1,575/ whole) – Layers of light vanilla cake and blueberry compote finished with milky cream frosting and blueberry cookie crumble. This is so good!
BAKED CHEESE TART  (₱75) – Buttery and flaky crust filled with velvety cream cheese and finished with sugar glazed drizzle. This was Ykaie's favorite among the bunch.
And this was my favorite…CRANBERRY PISTACHIO TURKEY FLATBREAD  (₱105)
Cranberries and pistachio flatbread topped with chicken, turkey sausage, spinach and cheese.
Oh, and they have a Starbucks Bearista mascot this year too!
After feasting and posing with the bearista, Ykaie and I joined the activities they prepared. First up, we sang Christmas carols at the 'Christ-Must Carol' game station.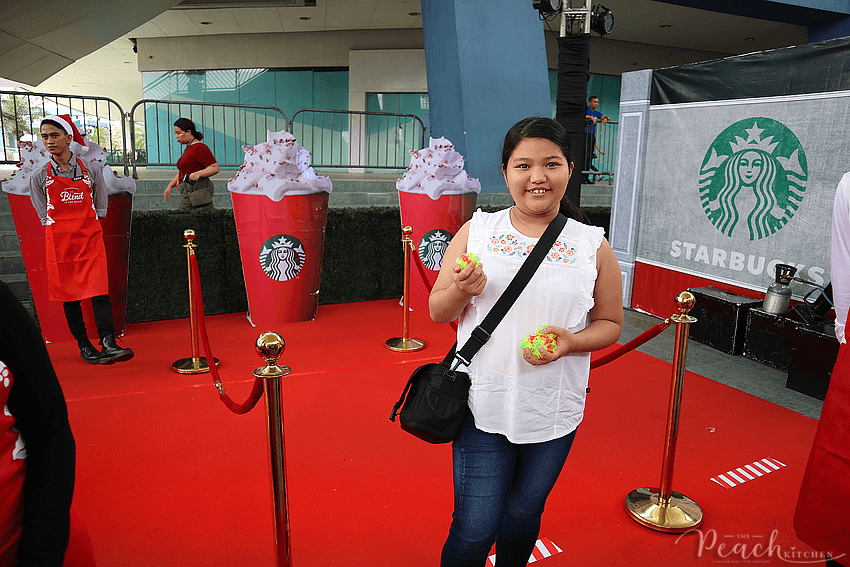 Ykaie joined the "Snowy Cranberry" game where they tossed toppings on the giant Snowy Cranberry Drinks.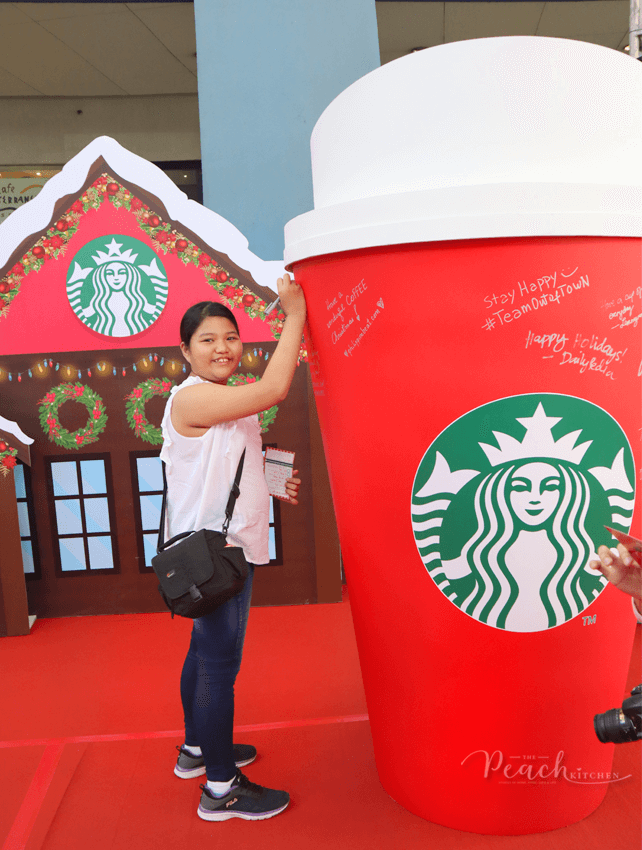 She also scribbled her pledge to spread cheer and goodwill for the holidays on a larger-than-life Starbucks Red cup.
Christmas wishes were sent in a special mail box to santa….
We were also able to capture this holiday memory on a cool Snow Globe 360º photo booth that had a magical virtual snow effect.
STARBUCKS CHRISTMAS MERCHANDISE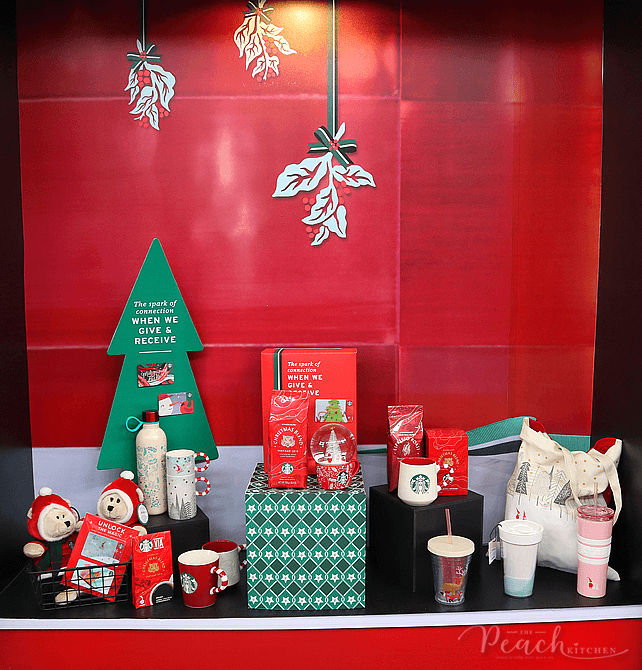 Christmas Starbucks Card
Celebrate the joy and magic of the season with our newest Snowman Card, Holiday Tree Card and the Maligayang Pasko Card. Available each for an initial activation amount of ₱300 per card.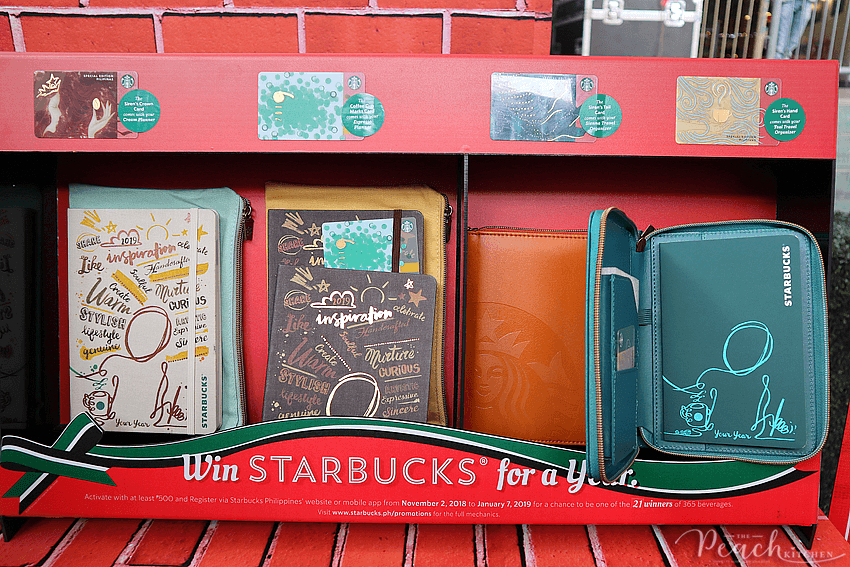 It's also that time of the year when they're launching the Starbucks Planner 2019 and the Starbucks Travel Organizer… will tell you more about this on my next post.
Merry Christmas Starbucks Team! Congratulations on such a magical Christmas Launch! I'm looking forward to using both my Starbucks Planner 2019 and my travel organizer next year.